If you had to pick one part of this team that completely fell apart this year, it was the defense. The Avalanche defense looked so lost most of the year that it was never a question of if there would be a ridiculous defensive lapse, just when. The goaltending suffered as a result of this as well.
Here's the report card.
Defenseman
Tyson Barrie: Grade – C

Barrie finally solidified himself in the lineup for the Avalanche this season. He started to show glimpses of the strong offensive defenseman that the Avalanche want him to be. He still has some work to do in his own zone, but it is becoming apparent why the Avalanche believed that Kevin Shattenkirk was expendable.
Jan Hejda: Grade – B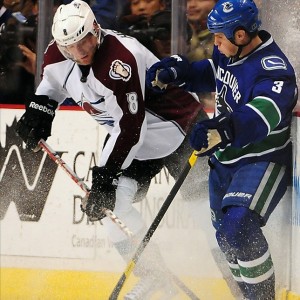 Jan Hejda has had a pretty solid season for the Avalanche, all in all. Despite not really having a consistent partner in his pairing, Hejda played solidly in his own end and helped create chances offensively with his great shot.
Greg Zanon: Grade – Whatever is less than an F
Zanon was a perplexing signing during free agency, made worse by the fact that he is horrible at hockey. He's undersized, but doesn't have the benefit of the speed that most undersized defenders have. His skating his horrid, his decision making is just plain bad, he has a negative physical presence and constantly takes unnecessary icing calls. Zanon is probably the worst free agent signing from last season in the entire NHL.
Matt Hunwick: Grade – C+
Matt Hunwick is a perplexing player. There are times when he is so strong and makes such great plays, and there are others when you just sit there and go, "Was that Greg Zanon that made that play?" Hunwick moves up in my book and gets a C+.
Shane O'Brien: Grade – C
Shane gets a solid C because he was probably the most unfairly treated person on this team. Somehow, some way, O'Brien found his way into the Joe Sacco doghouse and only ended up playing in 28 games. He had four assists and was even on the plus/minus in those games. A season ago, O'Brien was lauded by fans as a hard-working, glue guy that sticks up for his teammates and plays with an edge. The type of guy you really want in the locker room. Suddenly, and inexplicably, this season people have made him the goat and unfairly so. O'Brien found himself in the press box while guys like Greg Zanon and Ryan O'Bryne stunk up the ice night in and night out.
Erik Johnson: Grade – D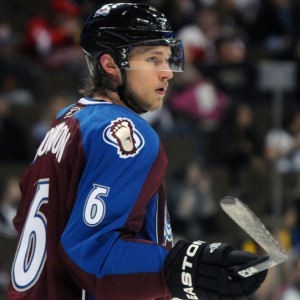 Really down year for EJ. No goals offensively, struggled defensively at times, seemed to start to turn things around and then he got hurt. No doubt this is a year that Johnson wants to forget, and quickly. Hopefully he will be back with a vengeance at the start of next season.
Stefan Elliott: Grade – Pass
Elliott only played in 18 games, ended up with a goal and three assists. He struggled early in the year, was sent down to Lake Erie for a while but managed to work back into the Avalanche lineup by the end of the year. He still has a ways to go, but he gets a pass on the pass/fail scale.
Ryan Wilson: Grade – Incomplete

Poor Ryan Wilson. Once again he had to deal with some injuries of a sensitive nature that never really let him get into the swing of things in the season. He gets an incomplete and hopefully we will, one day, see a fully healthy season from Ryan Wilson.
Goaltenders
Semyon Varlamov: Grade – D
Varly started off the season so well. He was the reason that the Avalanche were even in so many of the games that they played after being constantly left out to dry by his teammates. As time wore on, however, his confidence simply was shot. It's hard to blame a guy for getting deflated when his team constantly gives up so many quality scoring chances against, but one thing Varly didn't do very well was battle through the adversity. As a goalie, you simply need to be able to battle more. Varlamov has one more year left on his contract, and he's going to have to make it a good one if he wants to be the solution in Colorado for the long term.
Jean-Sebastien Giguere: Grade – B
Giguere gave the hockey world the most memorable story line of the season earlier after he ripped his team a new one for caring more about going to Vegas than playing the season out. Jiggy was in net for all of the road wins that the Avalanche had this season, and proved to be a strong locker room presence once again. He's a keeper, and more of the players on the team need a heart like his.