After losing 11 out of their last 14 games, the Colorado Avalanche find themselves firmly ensconced in last place in the Western Conference and in the penultimate spot in the overall standings, tied in points, but with a few games in hand on the lowly Florida Panthers.  Although the Avs are not mathematically eliminated from playoff contention just yet with 15 games left and 10 points back of the eighth and final playoff spot in the West, they are for all intents and purposes out of the playoff picture.  The Avs have drafted in the top three twice since 2009 with Matt Duchene taken third overall in 2009 and Gabe Landeskog selected second overall in 2011.
If the season ended today, the Avs would likely end up with the second overall pick and be guaranteed to pick no lower than third overall.  If the Avs are able to fall below the Panthers and finish in dead-last, they would have a 25% chance to win the lottery, down from 48.2% in previous years due to the league's new draft lottery system, which will take place on April 29th.  So with playoff about as likely as Jim Mora's Colts, let's take a look at whom could end up in an Avs sweater come draft day.
Seth Jones
The 6'4″, 206lb. defenseman is the projected No. 1 overall pick for the upcoming 2013 NHL Draft.  Anyone who has watched the Avs this season knows all too well how abysmal their defense has been.  Jones, a surefire rising star on the blueline could help Erik Johnson rise to the superstar status he is capable of and along with up-and-comers Tyson Barrie, Stefan Elliott, and Duncan Siemens, Jones could really shore up the future of the Avs defensive core for years to come.
Jones also has strong ties to Denver.  His father is former Denver Nuggets power forward Popeye Jones and Seth Jones began playing hockey at age five because of advice given to him by Avalanche legend Joe Sakic.  Jones played for the Littleton Hawks and Colorado Thunderbirds before moving to Dallas at age 12.  Getting drafted by the Avs would be a dream come true for Jones, who like fellow top picks Matt Duchene and Gabe Landeskog, grew up a fan of the Burgundy and Blue.  Even if the Avs do not win the draft lottery, they should strongly consider trading up for the Seth Jones pick.  Here's a nice video of Seth and his dad:
Jonathan Drouin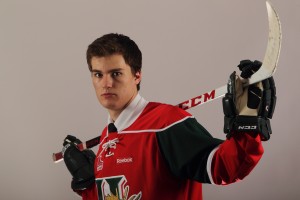 The top-rated forward in the NHL draft is Halifax Mooseheads left winger, Jonathan Drouin.  Right now, the Avs only have two true top-line forwards, Gabe Landeskog and P.A. Parenteau.  Guys like Jamie McGinn and Steve Downie can play on a top line, but on a great team, those are your third line wingers.  Milan Hejduk will likely hang them up after this season and David Jones has been very underwhelming to say the least this season after signing a nice contract extension.  So while the Avs desperately need to revamp their defense, an upgrade at wing would do them good as well.
At 5'11", 176lbs., Drouin is far from a power forward, but does boast good speed and is said to have the best hands of any player in the upcoming draft.  Here is a taste of what he can do.
His talents could look very pretty on a line with Matt Duchene and P.A. Parenteau indeed.
Nathan MacKinnon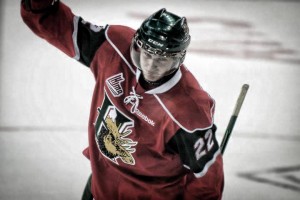 If the jersey on Nathan MacKinnon in the above picture looks a lot like the one worn by Jonathan Drouin, it's because they are teammates with the Halifax Mooseheads.  In fact, MacKinnon is Drouin's center.  If Drouin is the best forward of the 2013 draft class, MacKinnon is probably a close second and it can even be argued that some of Drouin's success comes from playing alongside MacKinnon.  MacKinnon hails from the same hometown as Sidney Crosby, the best hockey player in the world today, so expectations for the young center will certainly be high.
Like Drouin, MacKinnon will not overwhelm you with his size, but the talent and skill are certainly there.  The problem with MacKinnon joining the Avalanche is that he's a center, and right now, that is one position where the Avs are organizationally deep.  On the current roster, the Avs have Matt Duchene, Ryan O'Reilly, Paul Stastny, John Mitchell, and Mark Olver as its centers with prospects Joey Hishon, who has finally been able to resume his hockey career after a long, arduous battle back from a concussion and Michael Sgarbossa in the system as well.  With that said, if the Avs do end up selecting third overall and Jones and Drouin are taken, MacKinnon is the obvious choice.  With a pick that high, you take the best player available and worry about the details later.
Whether it's one of these three highly talented young players who will be wearing an Avs jersey on draft day, this should be the last time the Avs draft this high for quite a while (barring a Phil Kessel/Tyler Seguin-type trade in the Avs' favor).  In the late 90s and early 2000s, we were accustomed to automatic division titles and contending for Stanley Cups each and every year.  One more top pick for the Avs and then it better be a long string of playoff runs and hopefully some Stanley Cup wins as well!