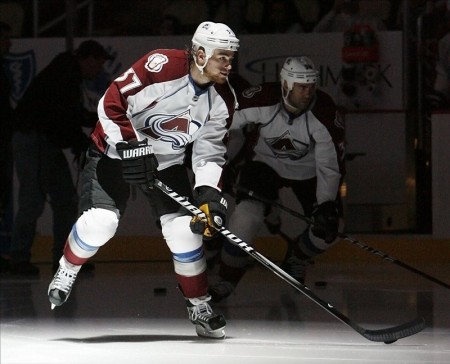 There were no heroes in the Ryan O'Reilly contract dispute, only villains. From Greg Sherman and Avalanche management to Ryan O'Reilly himself and finally the Calgary Flames, all sides can be painted as villains here. Sherman and O'Reilly's people handled the contract negotiations very poorly which quickly led to the stalemate. The Calgary Flames then jumped in and signed O'Reilly to an offer sheet, a move while perfectly legal, is frowned upon in the NHL as breaking the code and violating an unwritten rule of etiquette.
On the surface, the final outcome is that O'Reilly will remain with the Colorado Avalanche, at least for now, and collect paychecks bigger than probably even he anticipated. Although Avs management and many fans soured on O'Reilly because of the process, clearly he is the winner due to his salary for he next two season.
The Facts
The Avs probably could have gotten him cheaper than his current two-year, $10 million contract which pays him a $2.5 million signing bonus, $1 million prorated this year, and a whopping $6.5 million next season, had they negotiated instead of standing firm on their reported offers of two years, $7 million or five years, $17 million. I'm sure Sherman loved paying O'Reilly a hefty signing bonus as a reward for holding out too. Would he have accepted a two-year bridge deal of $8 or $9 million? We'll never know. The Avs would have saved themselves some cash if they would have offered and it could have been spread out more favorably, split down the middle rather than the back-loaded contract he eventually signed. The $6.5 million next year is important because that is the minimum qualifying offer the Avs will have to offer O'Reilly after next season to further retain his services.
The What Ifs
However, if the Avs had negotiated further with O'Reilly people and offered him $8 or $9 million over two years, if would certainly have been seen as a slap in the face to rising superstar Matt Duchene, who wasted no time singing a team-friendly two-year, $7 million contract last summer. Duchene said was fine with signing for under his market value and then earning the big payday on his next contract. So far, Duchene is doing exactly that. He trained with Pittsburgh Penguins superstar Sidney Crosby over the summer and made significant changes to his diet and approaching the halfway point of the lockout-shortened season, Duchene has unquestionably been the Avs best player.
Clearly, it wouldn't not have looked for the Avs to comply with the demands of Ryan O'Reilly, who did have a very good season in 2011-2012, but prior to that was pretty much just a defensive forward while Duchene graciously accepted less despite his market value being higher.
When the Calgary Flames stepped in and signed O'Reilly to the offer sheet, the ball was no longer in the Avs court and they had no choice but to match the contract unless they wanted to lose his talents. So while Duchene may not be thrilled that the team's current third line center will be making $3 million more than him next season, Duchene may be even more motivated to step up and prove his worth going forward and the Avs, although they will be grossly overpaying O'Reilly next year, did not have to risk spitting in one face of one of their young stars to appease another.