So what are your plans for Monday afternoon at noon eastern? For the Columbus Blue Jackets, they hope it's the start down the path towards their first win of the season.
The Blue Jackets play the Detroit Red Wings at Little Caesars Arena in the first game of a two-game set. Monday's game starts at noon.
Will The Blue Jackets Be Ready?
You don't often see noon eastern starts in games especially during the week. Coming off of two losses in Nashville, it's imperative that the Blue Jackets find their legs early and start on time.
Head coach John Tortorella knows his team must start on time.
"Just start on time," Tortorella said. "I think (for) the away team, it's easier to start on time versus the home team when people with families stuff like that. It's a quick turnaround. I'm glad we got in here a little bit earlier than we were planning with a practice in the afternoon."
The team will hold morning meetings at 10:10 and 10:30 and then it's game time already.
From a player's perspective, they know they have to do whatever it takes to be ready come puck drop. Seth Jones says there isn't much that changes in the way he prepares for these kind of games.
"You just have to get your blood flowing and your legs going earlier than usual," Jones said. "Both teams are in the same boat. We want to come out start hard early and have a good first period and take it from there. The key is to get a good warmup and come out guns blazing in the first."
Zach Werenski said that these starts can be good for the team. In his case, he gets a chance to quickly erase the memory of a bad turnover in the third period Saturday night.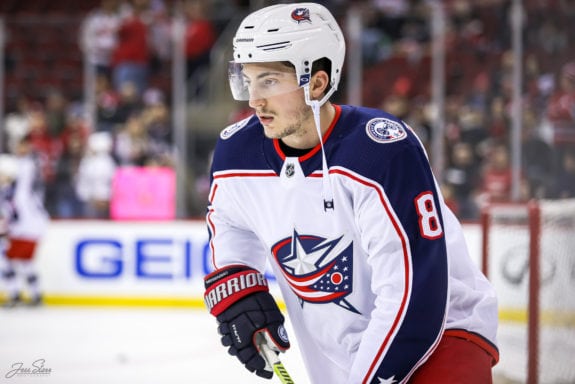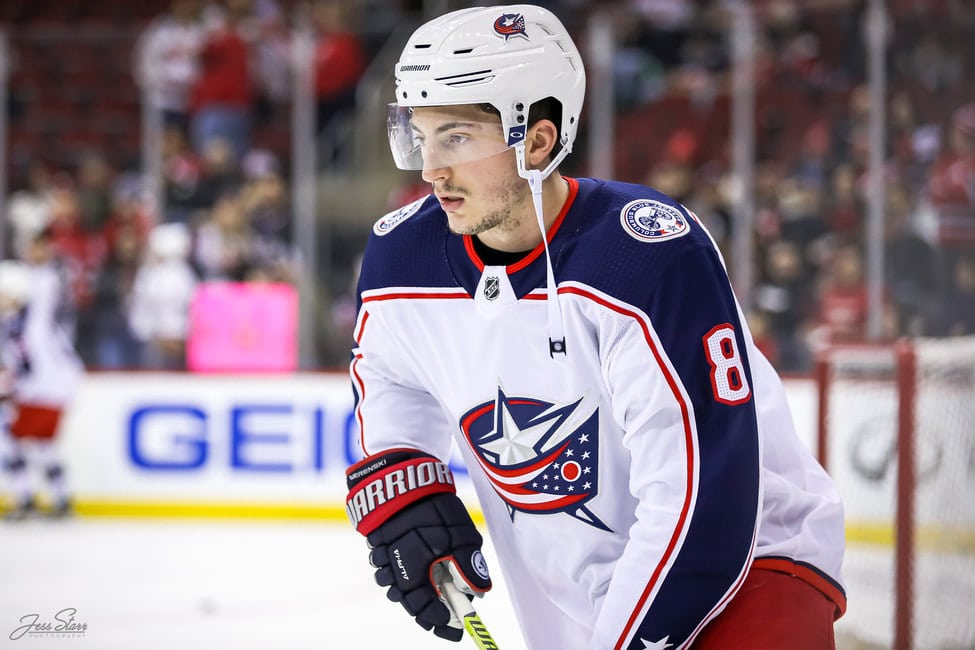 "It could be kind of good for us in a sense. You just wake up and play hockey," Werenski said. "For me since (Saturday night's) game, all I can think about is the third period with the turnover to Forsberg and a couple other plays. Hopefully I can forget about that and as a team, we can move on and try to get a win."
This game in Detroit Monday is a huge game for the Blue Jackets just so that they can get their footing on this season and find a way to win their first. The key for both sides will be the start. Which team will be ready when the puck drops just after 12:00. That could go a long way in determining the outcome.
The GBU: Game 2
Good: Michael Del Zotto. The recently signed defenseman is off to a great start with the Blue Jackets. He has a pair of assists in his first two games and is tied for the team lead in scoring with Alex Texier. His assist on Nick Foligno's goal was a thing of beauty. He executed a perfect give and go and had a wide-open path to the net. His shot was stopped by Jusse Saros, but Foligno was right there to finish it off. Del Zotto has been the most noticable defenseman in the very early going. I would expect he remains in for the foreseeable barring injury or otherwise.
Bad: Werenski's turnover. He knew it too. As soon as Filip Forsberg got the puck and had a 2-on-1, he knew it could be bad news. Just like Thursday night, it was. Forsberg's goal gave Nashville a 2-1 lead. That started the Blue Jackets down a slippery slope in the third period. If they hope to right the ship, these kind of mistakes need to be cut out.
Ugly: Odd-man rushes against. After Texier's deflection tied the game, the Predators scored three unanswered goals to win 5-2 thanks in large part to defensive breakdowns by the Blue Jackets. Goalie Elvis Merzlikins was hung out to dry on most of those. We hardly saw this last season. Jones does not think it's a result of a new offensive approach. But whatever the reason is, it needs to be fixed fast.
Related: Blue Jackets Hope Texier Can Handle Center Ice Now
Looking Ahead
As for the game Monday, Tortorella said there were some things they were sorting out for the lineup, so no final decisions had been made yet, including the goaltender. I expect Joonas Korpisalo to start, but we won't know until warmups most likely.
This is a different Red Wings team the Blue Jackets will be facing. Thomas Greiss is now in net. He knows the Blue Jackets from his time with the Islanders. They just beat the Carolina Hurricanes on Saturday. This game is no gimme. The Blue Jackets better be ready.
The second game of this set is Tuesday night at 7:30. If the Blue Jackets somehow lose these games and head home 0-4 with games against Tampa Bay coming up, we might start to see some panic. As of now though, there's no panic within the Blue Jackets. They know they need to clean the mistakes up.