The long-term plan of the Columbus Blue Jackets is to slot Alex Texier in their lineup as a center. But thanks to some regulars out of the lineup, Texier is getting his shot now.
There could be more to this than meets the eye.
Setting the Scene
During the offseason, both John Tortorella and management admitted that they'll look at Texier at center over time. But with Max Domi and Mikko Koivu joining the team, it was expected that Texier would start on the left side in the top-six.
However Koivu is in Covid protocol and will miss at least one more game. While the Blue Jackets could have put others in Koivu's place such as Nick Foligno or Boone Jenner, each of which have played their share at center, they chose Texier to play there for now.
This is a curious decision given the current circumstances around the team.
The Blue Jackets know what they have in Foligno and Jenner. But they need to see what they have in Texier. Can he handle the role now? How long will it take him to adjust to the position? These are things the team is evaluating.
Texier will get another shot to play center on Saturday night in Nashville. He is expected to play with Nick Foligno and Liam Foudy.
But there is one very important factor we should consider as to why this could be happening.
The Dubois Effect
We know the entire hockey world is watching this one. Will Dubois be on the Blue Jackets all season?
We don't know the answer to that. It's as easy as if Jarmo Kekalainen gets an offer he can't refuse, he'll pull the trigger. But if Dubois does get dealt soon, there would be a rather large hole at center ice.
Maybe, just maybe, the Blue Jackets are gauging how ready Texier is for a role at center. Why shouldn't they look?
Dubois clearly doesn't want to be in Columbus. The Blue Jackets have to look at what's next when this deal gets done. Why not give Texier some time at center in a bottom-six role?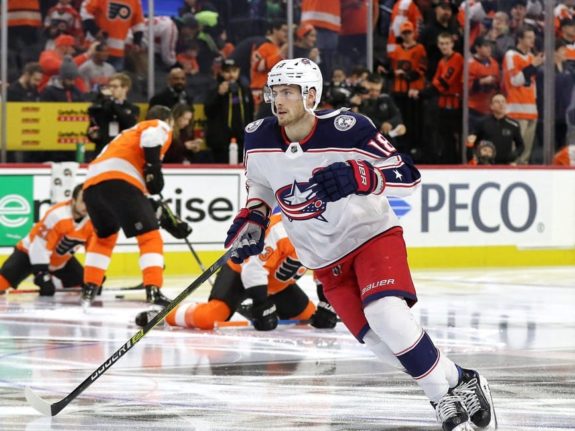 Texier is already filling in for Koivu so he could slot in at center in the event of other injuries. Perhaps he can play a bigger role should his performance warrant that.
Deep down, I have to imagine the Blue Jackets are hoping Texier can hold his own now. If he is able to, that would open up some possibilities in a trade.
As it stands, the Blue Jackets need a young, controllable center coming back. But they might be able to consider more futures as well if Texier can show well.
Regardless, I do not think it's an accident that Texier is the one playing center in place of Koivu. These might be early regular-season games, but they're important ones to determine how the rest of this season could go.
The Blue Jackets are hoping Texier can handle center ice now. We'll see how he handles Saturday. Then we'll see what happens when Koivu is ready to return.
Related: 2020-21 Columbus Blue Jackets Preview & Predictions
The GBU: Game 1
We are starting a new feature for this season. It's called the GBU. What does it stand for? It's the Good, Bad and Ugly.
For each game we write about this season, we will share one good thing, one bad thing and one ugly thing about the game that stood out. Let's start with the good.
Good: Mikhail Grigorenko. He and his line was about the only good thing the Blue Jackets had going offensively. They didn't score but they did generate chances. The play that stood out was when Grigorenko held onto the puck and got Predators goalie Jusse Saros out of position. He then tried going around the net to score only to have Mattias Ekholm's stick prevent the goal. His patience and creativity stood out. In a search for offense, this signing could prove pivotal. We'll see if his line can continue this trend.
Bad: The Third Period. It was still anyone's game at 1-1 when the third began. But the Predators controlled the period because they constantly had the puck. The Blue Jackets chased and got tired. Even when they got the puck, they could do nothing more than clear because they had no energy. They eventually lost 3-1. But the 2-1 goal was a result of unfortunate friendly fire.
Ugly: David Savard hits…Cam Atkinson? Savard can lay the hits. But in this case, he undercut Atkinson. With both players out of the way, the Predators got a two-on-one with their best sniper controlling the puck. Filip Forsberg buried it and buried the Blue Jackets' chances to win. Hopefully that collision isn't a sign of things to come this season.
Looking Ahead
The Blue Jackets will finish their opening set with the Predators on Saturday night. Expect some line juggling with Boone Jenner playing with Max Domi and Cam Atkinson. Elvis Merzlikins will also make his season debut.
They'll stay in Nashville Saturday night and then will practice Sunday at Bridgestone Arena before hopping on a flight to Detroit for a noon eastern start Monday. Because of the Martin Luther King holiday, the game has an early start and will be available on NBCSN as part of a quadruple header.
---
---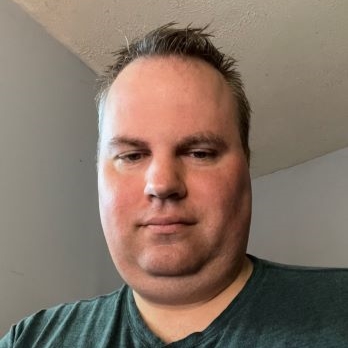 I am a fully credentialed writer who covers the Columbus Blue Jackets, Cleveland Monsters and Erie Otters as well as the Ontario Hockey League and NHL Draft. The 2022-23 season will mark nine seasons with the Hockey Writers. I am also the site's Credentials Manager. Please take note of the updated Twitter handle: @mark_scheig.