So how about that game in Glendale Saturday night?
The young Arizona Coyotes scored a pair in the second period to take a 2-1 lead. Goaltender Mike Smith kept it that way almost to the end.
Almost.
#CBJ up to 40+ shots on goal and they're really pushing for an equalizer here. Hard not to get frustrated, but they've kept the pedal down

— Rob Mixer (@RobMixer) December 4, 2016
Never Say Die Blue Jackets
The Columbus Blue Jackets kept attacking, taking their game to another level in the third period. The Jackets outshoot the Coyotes 23-4 in the period. But it was a great play along the wall, followed by a great pass, that finally led to the tying goal.
Alexander Wennberg on the team's 49th shot beat Smith to even the score at two. Nick Foligno won the puck on the wall, which led to Brandon Saad making a great centering pass to Wennberg. The never-say-die Blue Jackets are a real thing. This time, despite the heroic performance of Smith, it earned the Jackets at least a point.
Next was overtime. There was chance after chance after chance. Breakaways were not converted. There were several odd-man chances missed. The entire five minutes was heart stopping, end-to-end action. But, nobody scored. So as is life, this epic game would go to a shootout.
Cam Atkinson wasted no time in beating Smith. Then Sam Gagner put the dagger in the Coyotes. Blue Jackets win 3-2, continuing their winning ways.
Backup Curtis McElhinney stopped 32 shots to win his first of the season. Teammates mobbed him after the game because he was the reason they were in the shootout to begin with. Although not nearly as busy as Smith, McElhinney stood tall and made game-saving stops. You could tell how appreciative McElhinney's teammates were of his performance as they left the ice. Brandon Dubinsky hugged McElhinney and gave him some encouraging words of thanks. This moment symbolized the night for the Blue Jackets.
As good as that was, and as good as the Blue Jackets are playing, they have not accomplished anything yet.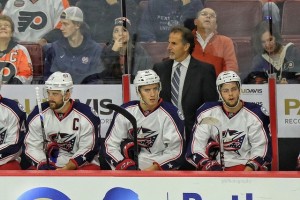 Nothing's Accomplished Yet
Wait, what? What do you mean they haven't accomplished anything yet? They have the fewest regulation losses in the league. If they keep winning, they could be first overall.
Yeah, I get all that. They've had some nice moments, even some historic ones in terms of their franchise. But they haven't accomplished anything yet. The job is just beginning. There's still 59 games left in the season. They haven't clinched a playoff spot yet.
Ask John Tortorella if they've accomplished anything, and you'll get the same answer. In fact, he's on record as saying they haven't accomplished anything yet. That's just the way he wants it too.
Don't get me wrong. The Blue Jackets are off to a great start this season given what the expectations were coming in. There's a lot to celebrate in terms of what's happened to this point. But thanks to the gruelling nature of the NHL schedule, it's only going to get harder from here.
As great as the comeback win was Saturday night, it's two points in the standings. The Blue Jackets still sit in third place in their division. Granted, they have games in hand. Even with the fewest regulation losses in the NHL, there are two teams with more points.
There's work left to do. The Blue Jackets don't have time to sit around and celebrate their early season success. They must get ready for a rematch Monday night against Arizona. Think the Coyotes don't want to exact revenge on the Blue Jackets after the way Saturday night ended?
That's the message Tortorella is trying to send to his team. They're winning and it's great. But they can't get too high on themselves. Opposing teams will see Columbus on the schedule and will give their best effort to try to knock off a top team.
"Frustrated would be a good word, but its even worse than that. At some point you'd like to see your team move forward," goalie Mike Smith pic.twitter.com/dlFpVdFCPr

— FOX Sports Arizona (@FOXSPORTSAZ) December 4, 2016
The Blue Jackets Focus
The Blue Jackets are still trying to earn league-wide respect. This kind of start helps, but there's a long way to go. First, they must qualify for the playoffs. At that point, you have a tangible accomplishment. Then they can worry about what they do with their opportunity.
The Blue Jackets have one thing on their mind. That's their next game. They must prepare for an angry Arizona team. They cannot and will not look ahead.
The Blue Jackets are getting national attention (and rightly so) for their start. If Tortorella had his way, he wouldn't want the attention on his team. They know they have more to do. He doesn't want the Jackets to focus on the praise most are giving them. He wants them to handle their business as they normally would.
So far, mission accomplished.
The important takeaway here is perspective. It's great to see the team off to a good start. It's even better seeing them handle themselves the right way given their success. That arguably has been one of Tortorella's best accomplishments to this point. He has the team ready to play every night. He has them fighting to the end. It's this business-like approach that has the Jackets primed for future success.
Columbus hasn't accomplished anything yet. They keep this up, and the accomplishments will happen soon enough.