Despite a 39-year Stanley Cup drought, the Philadelphia Flyers have showcased a collection of players considered to be fan favorites. Bobby Clarke, Pelle Lindbergh, and Eric Lindros are a few of many. But what about those who left the organization only to announce that they were coming home to Philadelphia? Here are the top six Flyers who returned to the Flyers after leaving the City of Brotherly Love.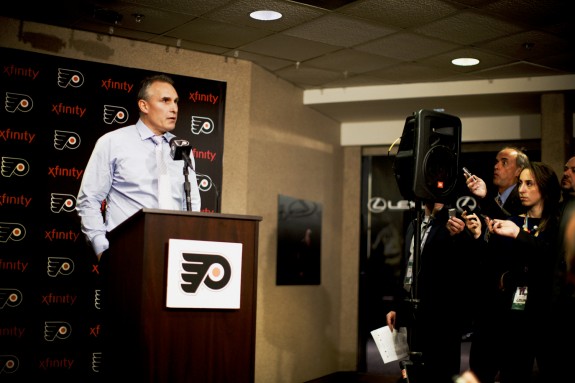 6. Craig Berube
Statistically speaking, Craig Berube's name won't headline any franchise records for the Flyers. That is, unless, the category is penalty minutes. In that case, Berube's name is ninth all-time among members of the orange and black to sit in the sin bin. But the current head coach of the Flyers mirrored the identity of the team he now leads, which makes his multiple returns to Philadelphia sentimental.
As an enforcer for the Flyers for parts of six seasons, including the 186-87 team that lost to the Edmonton Oilers in the Stanley Cup Final, Berube shared in the high's and low's of the roller coaster ride that Flyers fans know all too well. In fact, it was the 1987 loss to Edmonton that Berube recalled to be one of his worst memories when he talked with The Hockey News back in 2009.
"I guess losing in the Stanley Cup final; Philadelphia vs. Edmonton and then with Washington against Detroit."
Craig Berube is the 18th head coach in Flyers history. This was, at the start, his seventh season as a Flyers assistant coach.

— Sarah Baicker (@sbbaicker) October 7, 2013
Fun fact: Craig Berube and Dallas Eakins have the lowest combined body fat of any two coaches in NHL history.

— Dan Tencer (@dantencer) December 29, 2013
Berube may have tallied only 10 goals throughout his two tours with the Flyers, his 1,054 games played with five teams, including the Flyers, led to his most recent return to Philadelphia resulting in a coaching career that now positions him behind the current team's bench.
"Berube is the right man for the job. You can see it in Berube's everyday interaction with players, the amount of reverence they have for him – even when he cracks a joke with his dry wit. How respected is Berube? He played for the Flyers, Flames and Capitals during his career – and all three teams wanted him back for a second stint." — Frank Seravalli, philly.com
Berube's contributions to the Flyers, as well as the discernment he brings to his coaching approach, makes his return to Philadelphia not only pleasant, but relevant.
https://twitter.com/PhillySportPast/status/453932769765515264
5. Rick Tocchet
Rick Tocchet's name may be associated with the enemy now that he's an assistant coach for the Pittsburgh Penguins, but that doesn't negate the multiple tenures in Philadelphia as a Flyer.
The former head coach of the Tampa Bay Lightning broke into the league with the Flyers, spending seven and a half seasons with the orange and black. After 42 games of the 1991-92 season, Tocchet was dealt to Pittsburgh, where he'd go on to win a Stanley Cup that very season.
"I said, 'I came from a team that's rebuilding,' recalled Tocchet. 'I got traded to the Penguins, to an All-Star team. There is no way I am going to sit in the stands watching the playoffs.'"
Tocchet's time in Pittsburgh turned out to be brief, however, as he was on the move again after 51 games into the 1993-94 season. Overall, the two-time Flyer made stops in Los Angeles, Boston, Washington, and Phoenix (on top of Philadelphia and Pittsburgh). After coming home to Philadelphia in 2000, Tocchet helped the Flyers reach the Eastern Conference Finals by scoring five goals and adding six assists over a stint of 18 playoff games. Coincidentally, Tocchet's efforts aided the Broad Street Bullies in eliminating the team he won a championship with in the Conference Semifinals.
"He was the type of player that stood up for his teammates," said former teammate, Keith Acton. "He's the kind of teammate that you really respected."

"A physical player that finished his checks and could play that grinding game which all fans would respect, but certainly in Philly they really respected that kind of play"
If the reports are true, I think it's super rad @RealRocket22 will be an asst. coach for the Pens. One of the smartest hockey minds I know.

— Sarah Baicker (@sbbaicker) June 25, 2014
Since re-joining the Penguins this past offseason, Tocchet has a good idea of how he'll be received in Philadelphia now that he's assisting Pens head coach Mike Johnston. After all, he did get booed by Flyers fans on draft night.
"Former Flyers player and analyst now Penguins assistant coach Rick Tocchet couldn't even feel the love while he was making the Penguins selection. Funny how things change so suddenly." — Brian Nestel, Broad Street Buzz
Tocchet left Philadelphia before for Pittsburgh, albeit it was a trade. But the former grinder spent nearly a decade away from Philadelphia before returning. Who knows if history will repeat itself one day in regard to his coaching career?
As of today, though, there's still a part of Rick Tocchet in Philadelphia. His nine-game consecutive goal streak lives as tops in franchise history to this day.
4. Mark Recchi
Number four on the list of best returns to Philadelphia is the three-time Stanley Cup winner who just happened to be part of the trade that sent Rick Tocchet to Pittsburgh in 1992. And although Mark Recchi spent parts of five seasons throughout his illustrious career with the Pittsburgh Penguins, he spent close to a decade with the Flyers between two tours.
After winning a Stanley Cup in Pittsburgh in 1991, Recchi joined the Flyers, giving Philadelphia his best overall career production. Recchi's first two full seasons with Philadelphia were monstrous, pitting together back-to-back 100 point seasons. His 53 goals and 123 points in the 1992-93 season stood to be his all-time best, despite the team failing to earn a berth in each season Recchi was present in his first go round.
"He may never have reached the ultimate goal with the Flyers, having to win his three Stanley Cups elsewhere, but Recchi was one of the best players in Flyers history during his 10 seasons in Philadelphia, and while his first five years he was an offensive dynamo on bad teams, his second five years was as a veteran who knew how to play the game, and who the fans fell in love with, who had a significant influence on several future Flyers – most notably Simon Gagne." — flyers.nhl.com
Mark Recchi (10/2/02), Mike Richards (2/8/06) and Mike Knuble (2/2/08) have also done it for Flyers since 1987. Three goals on 3 shots.

— Frank Seravalli (@frank_seravalli) January 27, 2013
Recchi would go on to spend parts of five seasons with the Montreal Canadiens before coming home to Philadelphia a second time – in 1999. And after scoring 34 goals for the Habs in the 1996-97 season, Recchi would never reach the 30-goal threshold again in his career. He did, however, collect 91 points in his first full season back with the Flyers in the 1999-00 season.
Recchi would go on to lead the Flyers in points the following season with 77, and later in the 2003-04 campaign with 75.
"Philly is a great town, very similar to Boston as a sports' town," Recchi recalled. "I really enjoyed my time there. I thought I warranted staying (in 2005-06), but things happen for a reason. It's part of the game. It wasn't a bad deal. I ended up winning the Stanley Cup."
The now retired ex-Flyer suffered three concussions with Philadelphia throughout his two stays, which makes his 627 points in 602 games with the Flyers even more remarkable.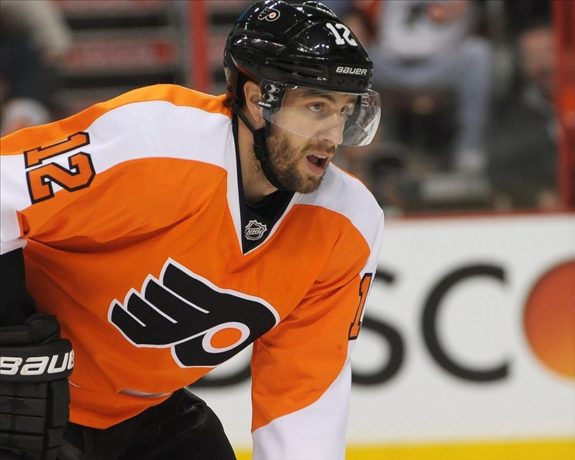 3. Simon Gagne
Upon Simon Gagne's first departure from Philadelphia, he was Philadelphia's longest-tenured player. After scoring 524 goals in 664 games over 10 seasons, former GM Paul Holmgren traded the long-time Flyer to the Tampa Bay Lightning for what seemed like a bag of pucks. All it took the Bolts to acquire Gagne was Matt Walker and a fourth-round draft pick.
"Anytime you're talking about a young man that has brought as much to the organization that Simon has, it's very difficult," said Holmgren after the trade.
For Gagne, however, things worked out. After finishing the 2010-11 season with the Lightning, where he would add 40 points in 63 games, he signed as a free agent with the Los Angeles Kings. There, he joined former Flyers, Mike Richards and Jeff Carter, who would end up winning the Stanley Cup in 2012.
Gagne's longevity in Philadelphia, as well as his memorable Game 7-winning goal in the 2010 Eastern Conference Semifinals against Boston, were the biggest factors in the city's adoration for Gagne. That embrace was received in 2013 when the Kings traded Gagne back to the Flyers for a conditional fourth-round draft pick.
Kings GM Dean Lombardi, who has roots with the Flyers himself, traded the underutilized Gagne after he appeared in only 11 games of the 2012-13 season.
"This is a good player that I've known a long time, and I know that if he would have wanted to go anywhere, that would be the place he wanted to go," Lombardi explained. "Given that we had to do this, if we can, I would certainly put him someplace I know he'd be happy."
Gagne would wrap up the 2012-13 season with the Flyers with five goals and six assists, including a goal in his first game back with the old orange and black.
"A highlight video of Gagne's first stint with the Flyers was shown during the first period, officially welcoming the popular forward back to Philadelphia, where he spent his first 10 NHL seasons before being traded to Tampa Bay in 2010.

"He seemed unaware of the video, at first, but then acknowledged the cheering crowd with a half-wave. Gagne received a louder ovation when he took a pass from Brayden Schenn feed and slammed a shot past Holtby for a 3-0 lead." — nj.com
Gagne's second tour of duty for the Flyers didn't last as long as his first, and it ultimately ended worse than his first departure. After Gagne expressed a serious interest in returning for the 2013-14 season with the Flyers, GM Paul Holmgren apparently told the veteran forward to "hold tight." Gagne was never brought back, and has been out of hockey since his recent invite to the Boston Bruins' training camp this year.
"We're always signing old, ex-Flyers! Bring up the kids!"

"Oh, look… Gagne's gonna be a Bruin…"

"WE SHOULDA NEVER LET HIM GO!"

— Mikey D, O&BP 🤙🏼🏴‍☠️ (@MikeyD_OandBP) August 15, 2014
"I had my meeting with [general manager] Paul Holmgren before the free-agent market opened and he told me to hang tight," recalled Gagne. "I thought I was going to be with the Flyers. That didn't work the way it was supposed to. I made the mistake of telling team employees the Flyers were the only team I wanted to play for this season. I got caught up."
Even if Gagne ends up making the Bruins squad this season, it's only fitting that when his time to retire does come, that it's done as a Flyer.
This day in 1974 @Bernieparent extended his NHL-record for most wins in a season w/ his 47th http://t.co/fOWhOiH9Xm pic.twitter.com/78Xn3h4tPr

— Hockey Hall of Fame (@HockeyHallFame) April 7, 2014
2. Bernie Parent
In the beginning, there was Bernie Parent. The only Flyers starting goalie to lift a Stanley Cup appeared in 38 games in Philadelphia's inaugural season, posting a 16-17-5 record as a second-year netminder in the league. His struggles would continue, as the 20-win benchmark eluded the young goaltender.
"…Originally drafted by the Boston Bruins, he was selected by the Philadelphia Flyers in the 1967 expansion draft. He struggled at times during the early years of his career and found himself sent to the Toronto Maple Leafs in a trade during the 1970-71 season. The trade proved to be a blessing though, as Parent backed up another legendary goaltender, Jacques Plante." — Andrew Rodger, XHockey
Parent's return to Philadelphia in 1973 may not have garnered as much fanfare as that of Simon Gagne or Mark Recchi, but the Montreal native would end up achieving what neither of the mentioned ever did in Philadelphia. It's because of Parent's back-to-back Stanley Cup championships that the events following his return trumped the news of it.
"In 1974, the Flyers won the Stanley Cup, Parent pitching a shutout in the final game. In 1975, the Flyers won the Stanley Cup, Parent pitching a shutout in the final game.

"In the 40 years since, no Philadelphia athlete, active or retired, has enjoyed more popularity." — Jack McCaffery, Daily Times
The five-time All Star ended up finishing his career with the Flyers, posting winning records in the six seasons since being traded back from Toronto. After the 1978-79 season, Parent retired with a pair of Stanley Cup championships, two Conn Smythe Trophies, and a couple Vezina Trophies to add to his legendary fame.
The Hall of Famer remained with the organization that brought him back in 1973, serving as a goaltending coach, in which he tutored both Pelle Lindbergh and Ron Hextall to Vezina Trophies respectively.
The secret to being happy is accepting where you are in life and making the most out of every day. http://t.co/xIIifJs3rB

— ICU Investigations Inc (@ICUinc_PI) March 20, 2014
And although Parent is now away from a formal coaching position, his influence is still mightily heavy. In February of last season, Flyers goalie Steve Mason was growing frustrated with the team's struggles. A chat with Bernie, however, resulted in a quick turnaround that brought about the Steve Mason that earned the starting job in the first place.
"It was just a really enlightening conversation with a great goaltender in his prime and my goaltender coach as well," said Mason.
At 69, Parent is still front and center in Philadelphia, consistently contributing to philly.com. And although his two seasons away from Philadelphia seem minuscule in comparison of others mentioned, the life and career of Bernie Parent automatically make his return a celebratory event.
1. Ron Hextall
As if Ron Hextall needed any introduction. The first goalie to score a goal in both Flyers history, and NHL post-season play, now serves as the current GM of the Flyers. And when it comes to Philadelphia, there's something in the water that keeps the 50-year-old coming back. How else do you explain the four-time 30 game-winner's third return to Philly?
"Obviously I'm excited about it," said Hextall after being named Flyers assistant GM in 2013. "Quite frankly, it came together in a very short period of time here. I had a brief conversation with Homer at the draft and then it just kind of steamrolled toward the resolution that happened today. It's obviously a little bittersweet for me, I had a great time in L.A. … In this decision, I'm sure you guys were going to ask what it was all about. I don't have anything earth shattering except to say it was a gut feeling.

"There were a lot of little things," he added, "… but in the end, I'm following my gut here to what I think is the right move."
I always thought it was strange Ron Hextall wasn't working for the Flyers. Nice to see he's back in Philly as assistant GM.

— Brian Costello (@bcostellothn) July 15, 2013
But before Hextall was dubbed hockey's next "can't miss," executive wise, he lamented a legacy between the pipes in Philly. It was for the Flyers that Hextall began his career with, and it was the Flyers he ended his (playing) career with. Over the course of 11 seasons in orange and black, Hextall created a legacy that is sure to stand long after he leaves hockey.
When Hextall left the crease for good in 1998, he left behind a legacy littered with records, accomplishments, and reputation. To this day, the current Flyers GM holds the NHL record for most penalty minutes by a goalie in a single-season (113), and holds five Flyers all-time records. With an all-time great in Bernie Parent before him, Hextall's 240 career wins for Philadelphia, as well as his 45 playoff wins leaves him in exclusive company. And that's before delving into his offensive prowess.
"He spent the majority of his playing career with the Flyers and is, to this day, one of the best goalies the team has ever had. His return to the organization is the only excuse that we needed to remember his wild playing days (that, and it's the middle of July and it's a fun thing to do).

"Hextall won the 1987 Vezina Trophy and added the '87 Conn Smythe though the Flyers lost the Stanley Cup Final to Edmonton in seven games. Along with his ability to stop a lot of shots, he brought an incredible level of physicality to the position and rewrote the record book when it comes to goalies and the penalty box. In each of his first three seasons in the NHL, he tallied at least 100 penalty minutes. Hextall was suspended multiple times over the course of his career and still holds the career record for most penalty minutes by a goalie with 584. There's nobody else even close." — Adam Gretz, CBS Sports
Hextall's Conn Smythe Trophy made him only the fourth player to win the award while playing for a losing team in the playoffs at the time. Jean-Sebastien Giguere has since been the fifth as of 2003. Furthermore, Hextall wasn't even the first Flyer to accomplish the unwanted feat. Reggie Leach holds that accolade, winning the Conn Smythe in 1976.
4 goalies won Conn Smythe as member of losing team in SCF. Crozier(DET) '66, Hall(STL) '68, Hextall(PH) '87, Giguere(ANA) '03. Just sayin.

— Mike Morreale (@mikemorrealeNHL) June 14, 2014
But that's neither here nor there. After all, Hextall established an identity predicated on toughness and attitude. He was also quite the stick handler, holding the Flyers' all-time record of points scored by a goaltender with 28.
Hextall's growing legend in his first stint with the Flyers mattered little, however, when the team was neck-deep in the Eric Lindros sweepstakes. Hextall, who publicly let his disapproval of a trade be known was ultimately shipped to Quebec, where he'd spend only one, notwithstanding successful, season with the Nordiques.
"For Lindros, the Nordiques got goaltender Ron Hextall, defensemen Steve Duchesne and Kerry Huffman, centers Mike Ricci and Peter Forsberg, a 1993 first-round draft pick, future considerations and $15 million.

"Initially, Hextall and Ricci were contemplating not reporting to the Nordiques but seem to have reconsidered." — Lisa Dillman, Los Angeles Times
The following year, Hextall found himself in Long Island, the current landing spot of former Flyer, and current Islanders GM Garth Snow. Thanks to the NHL's expansion, adding the Florida Panthers and the Mighty Ducks of Anaheim, Hextall was part of a deal that sent Mark Fitzpatrick to Quebec. But Hextall's impending return to Philadelphia wasn't quite complete.
"Ron is OK with this trade," said Hextall's agent, Steve Mountain back in 1993. "He likes the East Coast, and the Isles are a good, young team."
Hextall's return to his familiar conference didn't quite turn out the way former Islanders GM Don Maloney had envisioned, though. In 65 games for the Isles, Hextall posted a pedestrian 27-26-6-5 mark, which was mirrored by a disappointing .898 save percentage.
In September of the following year, fans cheered at the Spectrum upon hearing the news that Ron Hextall was coming home to Philadelphia.
"When the trade information was displayed on the video screens at the Spectrum last night during the Flyers' 2-1 loss to Quebec, the news was greeted by a resounding cheer." — Bob Ford, philly.com
After being waived following the 1998-99 season, Hextall retired and immediately joined the Flyers front office. But in 2006, Hextall left yet again. This time to join the Los Angeles Kings to become Dean Lombardi's assistant GM.
"We didn't want to lose Hexy, but I think it's a move in the right direction in his career," said former Flyers GM, Bobby Clarke. "He was very important to us, but he was also in our organization behind [assistant general manager] Paul Holmgren."
"I think it's good for his career," added Clarke. "He came to us and wanted to try for the assistant position in Los Angeles, we gave him permission and Dean Lombardi hired him. We wish him the best. He was a good man for us and we hate to lose him, but if it's best for his family and his life then I think he's got to do it."
Although Hextall went on to win a Stanley Cup with a group of former Flyers in 2012 with the Kings, he inevitably returned. The rest is… well you know… history, history in the making, or something along those lines.