While masses of hockey fans are salivating for the upcoming NHL season to commence, it's never too early to look ahead at potential GM of the Year candidates. After all, an NHL general manager's job is never idle. But with so many factors contributing to earning the five-year-old award, how in the world can anyone be deemed a front-runner in August?
A closer look at first-year Flyers GM Ron Hextall, however, may just lend an answer at what may seem to be a pre-mature question.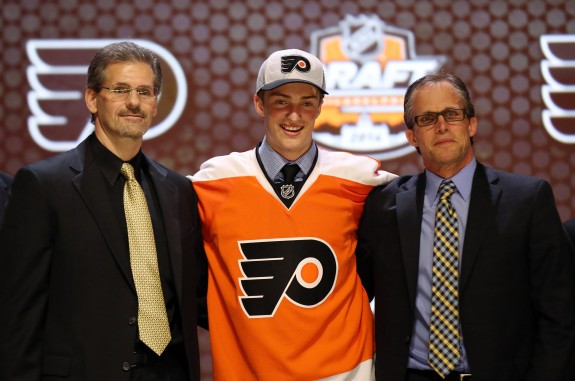 Thriving Over Circumstances
Philadelphia's Ron Hextall is one of seven NHL GM's who will be entering their first full season as general manager of their respective teams. And while each of the seven have been handed their own set of circumstances, the hand that's been dealt to Hextall manifests enough uniqueness to arguably brand his team's situation as not only the most difficult, but the uttermost intricate.
"Hextall inherited a financial mess. The quicker he gets out of it, the quicker he can start putting his fingerprints on the team." — Sam Carchidi, philly.com
Unlike Conditions in Carolina or Calgary, just to name a couple, Hextall was handed a playoff team with little to no room to make significant improvements without changing the face of the organization. Even first-year Penguins GM Jim Rutherford had enough cap space to function comfortably as he quickly bettered his team, while creating even more room on the payroll.
"There's a bit of an imbalance right now," said Hextall shortly after this year's draft. "We've got our young forwards, most of them are on our team, (but) our young defensemen, most of them are still out. But they're going to come  together with the young forwards, and now we have to kind of come underneath and bring some young forwards along."
Since then, Hextall has been busy squeezing every available penny. He's re-signed 22-year-old Brayden Schenn, as well as backup goalie Ray Emery, to fiscally modest deals. And after losing Kimmo Timonen to a career-threatening blood clotting injury, Hextall spent wisely on Michael Del Zotto.
Its amazing that GM Ron Hextall could convince Columbus to take @NHLFlyers Scott Hartnell in a trade

— Howard Eskin (@howardeskin) June 23, 2014
And then there's the "immovable" contracts. Hextall was handed a roster with seven contracts with either a NMC, or a NTC. And while he's yet to find a way to move Vincent Lecavalier's $4.5 million yearly cap hit, he did wipe Scott Hartnell's long-term deal off the books. In trading for Umberger, Hextall has shown the wisdom of a parent that looks out for the long-term well being of his child.
No, it wasn't popular at first. But just like eating your vegetables, Umberger's presence is better for the team, while having his speed and defense allows for the trade to grow on you over time.
"On the surface, this trade isn't very sexy. In fact, this deal has little to do with this coming season or the season after that. This trade is more about three years from now in gaining more flexibility with the salary cap. Hextall alluded to that point Monday when he spoke with Mike Missanelli on 97.5 FM The Fanatic in Philadelphia.

"Hartnell has five years remaining on his contract at $4.75 million, while Umberger has three years left at $4.6 million and will become an unrestricted free agent after the 2016-17 season." — John Tuscano, Penn Live
It's this type of restraint and vision that's led to not only a boring offseason for Flyers fans, but a team that plans to continue to compete while accumulating talent in the prospect pool. And although the GM of the Year isn't primarily predicated on building for the future, it's another feather in Hextall's cap, nonetheless.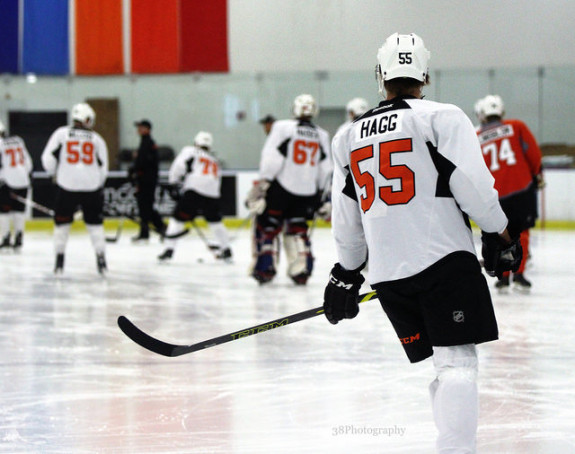 Patience With Youth
Former Flyers GM Paul Holmgren has received his share of criticism when it comes to giving up on prospects. Even the most loyal to the new Flyers president, including myself, are forced into submission with this critique. After all, it's not that the Flyers lucked out with Luca Sbisa turning into an above average defenseman as much as it was the old model of pulling the plug on young talent that was already in the NHL. When the traded draft picks are added to the equation, Hextall's patient approach is a breath of fresh air for the organization and their fans.
It was because of Hextall's foresight that Michael Del Zotto was signed in lieu of rushing one of the highly lauded prospects such as, Shayne Gostisbehere, or Robert Hagg.
"I don't want to put a kid in a situation who is not ready for it," Hextall said after announcing Timonen's recent injury. "The way to protect yourself is to add a veteran if possible."
https://twitter.com/Hope_Smoke/status/497532144768811008
With the cap space being what it is, the easiest thing for Hextall to do would have been to hand the keys over to one of the kids. But Hextall's clairvoyance seems as if he's looking into a crystal ball. Ultimately, what would happen if and when one of the pups struggled? And in that scenario, what would the backlash be if these growing pains were to cost the Flyers games and ground in the standings?
"It's been said a million times recently, but the point needs to be driven home again that rushing a prospect through the system before he's NHL-ready isn't the Hextall way. It's not what he did when he was part of the Los Angeles Kings' player management nervous system and that philosophy has worked out pretty well for those guys." — Greg Paone, CSN Philly
It's Hextall's commitment to his philosophy no matter what the situation displays that will bring a Stanley Cup to Philadelphia sooner rather than later. And while Paul Holmgren was responsible for turning the organization around in 2007, his style was clearly aimed at winning at the present moment at all costs.
You all realize this is going to end with Ron Hextall hiring Brent Sutter and the Philadelphia Flyers winning the Stanley Cup, right?

— The Royal Half (@theroyalhalf) October 7, 2013
Under Dean Lombardi in Los Angeles, Hextall was present for the every day in's and out's of building a championship team. And during his brief tenure as Holmgren's assistant GM in Philadelphia, the former goalie brings the Flyers the best of both worlds.
"I think the biggest thing that I learned out there was how important it was to hire people," said Hextall. "And little ways to hire the right people. Because if you don't have the right people, you're not going to be successful. And when we went out there we pretty much redid the whole infrastructure of the organization."
Hextall knows how to build a championship caliber team because he helped build one already, and had his finger prints on the Kings' most recent Stanley Cup. But does that play into the first-year GM's bid to winning the GM of the Year award?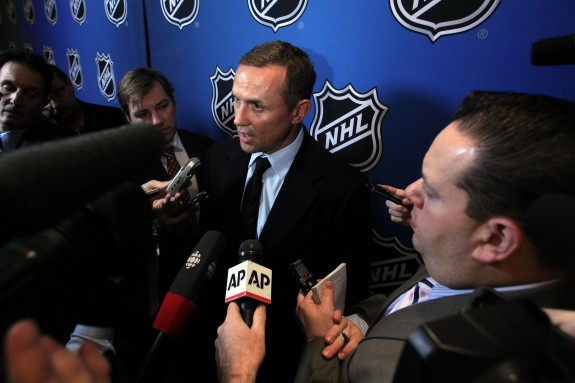 Who is the Real GM of the Year Front-Runner?
It's been a busy offseason for a good portion of NHL GM's. Jim Nill picked up from where he left off last season, landing offensive headliners, while Dale Tallon and Brian MacLellan were like children with a blank check at Toys R Us. But simply spending money alone doesn't land a general manager the GM of the Year award alone.
A year off of winning the award himself, Pittsburgh's Ray Shero not only presided over the highest paid team in the league last season, he was also fired. Bob Murray, on the other hand, left Las Vegas this past year with the award, despite Anaheim's payroll of just a touch above $63 million. That was 20th in the league in case anyone was keeping score.
In terms of overall success, both Dean Lombardi and Glen Sather erected teams with payrolls outside of the top 10 league-wide. Lombardi's Kings won the Stanley Cup with the 11th highest paid team, and that was after trading for Marian Gaborik and his $7.5 million cap hit. Sather, however, had the Rangers at 19th in payroll. A little more impressive considering Brad Richards' $6.666 million cap hit.
Hextall, on the other hand, would love to be in a position of a moderate payroll. Instead, relief will come in the form of Chris Pronger's movement to the LTIR later this year. But even with one arm tied behind his back while wearing a blindfold, Hextall has appeared to have found a way to make it work.
"Back when Peter Laviolette was fired as head coach, Ed Snider told one reporter that the Flyers did not need a change in culture. A couple trades, one draft and a few days of free agency later, the culture of the Flyers has begun to shift. Hextall knows the Flyers have a young and skilled core. He knows he can build for the future and still keep a competitive team." — Tom Foti, Broad Street Buzz
With everything previously mentioned, Hextall's transition on the fly should make him the early front-runner for GM of the Year. But in its five-year history, not one winner of the award took home the hardware in the same year their team won the Stanley Cup. And with Stan Bowman and Dean Lombardi winning multiple championships without winning the award, the real questions is: who cares about GM of the Year?
Take nothing away from the past five winners. But for Ron Hextall, much like his former mentor in Lombardi, a Stanley Cup will go a lot further than an NHL Award. It's just that the approach he's taken to this point should put him in the driver's seat for said award.
Andy is a contributor for The Hockey Writers, covering the Philadelphia Flyers. He holds a Bachelor's Degree in Communications from Walsh University. He enjoys spending time with his family, golfing, and reading. He is married with a daughter. You can follow Andy on Twitter @ADudones.