1) Alexander Ovechkin Takes Home the Rocket Richard Trophy (Again).
It's no secret that Ovechkin is a natural goal scorer, and it'd be no surprise to see him take home his 5th Rocket Richard trophy in 8 seasons after the season is over. Regardless of the defensive problems Ovechkin has had, his goal scoring has never suffered. If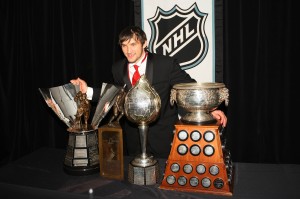 Ovechkin and Backstrom can find a solid playmaker to fill the other wing, Ovechkin could easily meet or surpass his 51 goal mark from last season.
2) Alexander Ovechkin Snags The Art Ross.
This one is a little less likely, however it is still very feasible. As mentioned above, if the first line can find a permanent fit on the opposite wing, that line could become even more dangerous than it already is. It's also important to factor in the addition of Matt Niskanen. You have to imagine that Niskanen will get more powerplay time on the blue line with the Capitals this season, and his playmaking abilities could fit right in with Ovechkins scoring threat. With Ovechkin among the league leaders in powerplay TOI/game, it's easy to see how his point total could benefit.
3) Barry Trotz Leads Washington Back to the Playoffs!
This headline is relatively easy to envision in early April. Adam Oates was running a broken system, it's that simple. Many different aspects of the team suffered, most notably Braden Holtby. Trotz brings in a revamped defensive system, something that the Capitals have been desperately in need of (Check out this article on what Ovechkin expects out of the new system here), and brings in a lot of experience from his 15 seasons in Nashville. The new defensive expectations, combined with the offensive firepower the Capitals posses, could really make the Capitals a hard team to play against. Don't expect them to falter and be walked over down the stretch this season.
4) Brooks Orpik To Miss Rest of Season With Post-Concussion Syndrome.
Everyone remembers the shots that were fired last December when the Boston Bruins and Pittsburgh Penguins played an awfully ugly game at TD Garden. The game included James Neal deliberately kneeing Brad Marchand in the head, and of course Shawn Thornton knocking out Brooks Orpik with a sucker punch. Orpik only missed 10 games, but registered just 6 points after he
https://www.youtube.com/watch?v=GuVq-TZ7AJM
returned from injury and really struggled to find his game again. Flashback to 2011, Chris Pronger was hit in the eye by a stick, returned to play, and then Post-Concussion Syndrome hit so hard that he was forced to stop playing the game, despite the Flyers still having to pay him. It's a situation the Capitals could find themselves in if Orpik is hit the wrong way, or has reoccurring symptoms, and it would not be pretty.
5) Braden Holtby Loses Starting Job
Holtby is coming off a season marred with many different issues, and the biggest issue was confidence. When Adam Oates came into Washington, he wanted to change the way Holtby challenged the shooter by having him play deeper in the net. This backfired immediately. Holtby's play has mightily suffered the past two seasons, and at times, he just looks lost in the net. Of course, the defensive issue did little to help, but regardless, there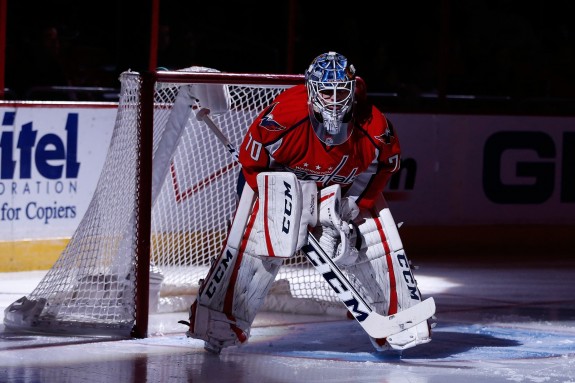 is no denying that Holtby wasn't anywhere close to the goalie that he was in 2011-12, especially with the numbers he put up in the playoffs that season. The goaltender the Capitals were leaning on to become a stud in net, had become just an average goaltender, and that is the last thing the team needed. And surely, the 'rental' of Jaroslav Halak at the end of last season probably didn't give Holtby any type mental boost either. If Holtby wants to solidify himself in net, he's going to need to show that he can regain his old form and show the same quickness and agressiveness he showed a few seasons back. If he doesn't, don't be surprised to see him riding the pine a lot during this season.