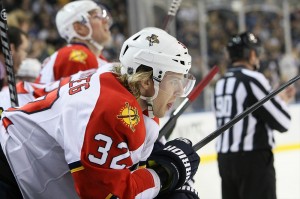 The Florida Panthers are still clinging to the top spot in the southeast division, although their margin has slimmed to a single point.  After a quick 2 game, 2 day trip through Pennsylvania saw the Cats earn just one point, the upcoming 4 game home stand becomes vitally important.
On Thursday, the Panthers lost to the suddenly streaking Philadelphia Flyers in what can only be described as an embarrassment of an effort.  The final tally was 5-0, and the play on the ice was just as bad.  Undisciplined penalties, lackluster power plays, defensive breakdowns, wasted chances, they were all there.  At a time when every point is so vital, the fact that the Panthers could lay such an egg in game 66 of the season is disappointing to say the least.
There wasn't much time to regroup for Florida, however, as Friday night saw them visit the red hot Pittsburgh Penguins.  If there was ever going to be a pushback game, this was it.   While the Panthers ended up losing in a shootout, the on ice performance was 180 degrees from the previous night.  Florida answered Pittsburgh's physicality, scored the first goal of the game for just the 4th time in the last 14 games (oddly enough, posting just a 1-1-2 record in those 4 games), withstood a late Penguins push, and earned a crucial point.
Now comes one of the most crucial weeks in recent Panthers history.  Home games against 13th place Carolina, 12th place Toronto, and 10th place Buffalo have become near must wins.  Also this week is a game against the Boston Bruins, who are just 3-3-0 in March.  After this 4 game home stand, Florida will play just 4 of their last 11 games of the season in south Florida.  And although just 3 of their last 15 games are against teams currently holding higher point totals, nothing can be taken for granted.  With the Washington Capitals starting to mount a late season charge, along with the Winnipeg Jets and Sabres hanging around, the Panthers can ill afford to lay any more eggs, especially on home ice.