Out of all the Toronto Maple Leafs players that have had their names thrown around in trade talk, James van Riemsdyk has been relatively safe.
There's good reason for that. At only 26-years old, van Riemsdyk is still young enough to with the Leafs through a rebuild. By the time the Leafs are contending again, JVR would be one of veteran leaders on a team of youngsters. However, could the Leafs be persuaded to trade their best offensive player? After all, it's already happened once this off-season.
It would take a heck of a package to pry JVR from the Leafs. He could presumably fetch the Leafs as much, if not more than they got for Phil Kessel. Why? First, his age. Second, his cap hit. van Riemsdyk carries a $4.25 million cap hit for the next three seasons. That's not bad for a player that should continue to trend upwards in terms of his offensive production.
The Return
The first piece involved in a return would obviously be a first-round pick. After that, a top prospect should also be involved. With those two pieces taken care of, either another prospect or two or a young NHLer aged 22-25 would also be part of the return.
There would definitely not be a shortage of suitors if the Leafs were open to trading him. Although, with his name not really being on the trade market, it will take a serious offer for the Leafs to consider it. So a team has to think that JVR is a piece they can add to their lineup to help make a push for contention. Like Kessel, van Riemsdyk could be that secondary offensive option on a team that needs more scoring.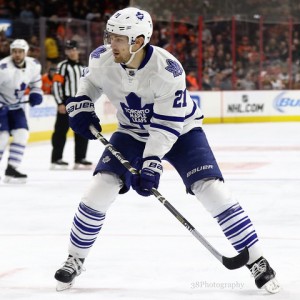 He might also have the most tradeable contract of the bigger-name Maple Leafs. Some might balk at the three years remaining on the deal, but no one can argue that he is a bargain cap-wise.
The problem with trading JVR is that the Leafs would pretty much be left with nothing on the wings in terms of high-end offensive talent. Without JVR, the Leafs best offensive player would be Nazem Kadri. He's already got enough pressure on him this season. Trading van Riemsdyk would also take a bit of excitement away from Leafs games this season. They may be rebuilding, but the Leafs have to be at least watchable this season.
With all that said, the Leafs are not likely to trade van Riemsdyk. They would certainly entertain offers if they were serious enough. It's just a question of how many serious suitors there would be.