After pulling off an enormous trade on July 1st, acquiring Phil Kessel from the Toronto Maple Leafs, the Pittsburgh Penguins will face great expectations for the 2015-16 season. Despite having arguably one of the league's best top-six, there are some gaping holes beyond that. The bottom-six looks extremely weak. Their defence is young and injury prone. And Marc-Andre Fleury never seems to be a sure deal throughout the course of an 82-game season.
After reaching the Stanley Cup Finals two years in a row, the Penguins post seasons have left fans wanting much more. Since then, Pittsburgh has won just four playoff series in six years. That's not nearly enough for a team that boasts two of the most dominant players in the world. Now that they've put almost all their marbles in the pot to acquire Kessel, the pressure to win will be amplified even further. But there are still some very important aspects of their roster that need to be figured out.
How Will Kessel Adapt to the Penguins Game?
There's no doubt, it isn't simple to come to a new city and a new team and be able to fit in with their system right from the get-go. When Kessel went from Boston to Toronto, his production slipped a bit, before returning to normal the next season. That being said, Boston was clearly a better team than the Leafs at the time. After having an off-year in 2014-15, Kessel will be extremely excited to join such an offensive team and be able to play with arguably the best hockey player on the planet. The question no one can answer yet is, what kind of chemistry can Kessel form with either Crosby or Malkin? If there's instant chemistry, Kessel should be a 40-goal scorer this year. If not, he may only get 25 for the second year in a row. But you can't predict chemistry, so the Penguins will have to hope an excellent playmaker bonds with an elite goal scorer. For a successful season though, they will absolutely need them to play well together.
Will They Get Enough Depth Scoring?
The Penguins top-six is definitely elite. However, the bottom-six is a much different situation. Even with the first two lines producing as they are expected, it is very, very tough to win without solid depth scoring as well. Last season, Brandon Sutter stepped up and scored 21 goals as the Penguins third-line center. Losing Blake Comeau, Steve Downie, and Nick Spaling will definitely hurt the Pens' depth, as those role players added another 35 goals and 92 points. Those spots have yet to be filled, and the Penguins don't exactly have much high-end scoring talent coming up in the system right now. That leaves a huge question mark as to who is going to produce in the bottom-six. With the acquisition of Kessel, Pascal Dupuis could be slotted into a third line alongside Beau Bennett. Dupuis was sidelined most of last season due to a blood clot in his lung. Bennett, a 23-year-old, hasn't developed as quickly as expected, but could still form a solid third line centred by Sutter. As for the fourth line, the Penguins will need to make some signings quickly or play, virtually, an AHL line.
Is the Blue Line Healthy and Experienced Enough?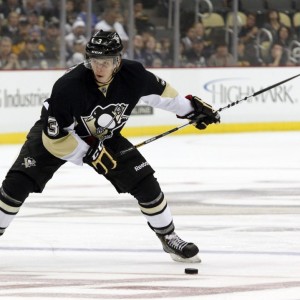 The Penguins defensive core raises some serious questions. Kris Letang is an elite defender who puts up big points, but is extremely injury prone.He has not played a full season in four years. Olli Maatta, a former 22nd overall pick, was showing flashes of excellence in his second NHL season. He looked like a top-pairing defenceman, until the injury bug struck. Maatta was diagnosed with a cancerous tumour on his thyroid gland that had to be removed. Then, after a very brief return in December, Maatta needed shoulder surgery which would sideline him for the rest of the season. Pittsburgh absolutely needs these two defensemen to be healthy in 2015-16 to have any shot at being a serious contender. After their top pairing, the talent drops off significantly due to losing both Christian Ehrhoff and Paul Martin to free agency. The team will likely ice Rob Scuderi, Ben Lovejoy, and Ian Cole in some order to start the year. Derrick Pouliot is a dark horse to make the roster. As a 21-year-old, he had 24 points in 31 games for Wilkes-Barre/Scranton of the AHL. Regardless, the Penguins blue line is extremely young, with very little experience. If the injury bug strikes again, it could spell the end of any Stanley Cup hopes.
---
If the Penguins hope to live up to the outrageous expectations placed upon them for the 2015-16 season, they will need to find an answer to these three questions. With the current holes in their roster, Pittsburgh could turn in yet another letdown of a year to their loyal fan base. Of course, with being a superstar like Kessel comes great responsibility. He will be one of the main aspects of their roster harped upon in either success or failure. Finding a way to fit in early will be key to a strong season for him. The bottom-six also face higher expectations, at both ends of the ice. They will be relied upon to produce more offence than last season, where the top-six was unable to win games on their own goal production. Lastly, the Penguins need to shoo away the injury bug. It bit them hard last season, and the results showed. A healthy roster could mean great things for the Pittsburgh Penguins in 2015-16.
What do you think the Penguins must do to ensure success next season? Let us know in the comments below!