Eventually, sure. That is obvious. But what about this upcoming season?
I've polled my friends that participate in our annual hockey pool and it's official: If they can't get it themselves, everyone is hoping that I get the #1 overall pick.
That is because I have declared that I'll take Connor McDavid with the top pick and they all think I'm making a huge mistake, and, as all Fantasy Gurus know, when someone picks someone  you wouldn't have, you basically move up a spot.
So the question becomes: Should I actually follow through and pick McDavid first overall? and also possibly, What the Hell am I thinking?
Well, I'll tell you.
Reason #1: His Skill
Connor McDavid is – by consensus – the best player to enter the NHL since Sidney Crosby, who scored 102 points in his rookie season.
And, the best player of all time – Wayne Gretzky – said that McDavid is actually even better than Crosby.
Not only did #99 give the vote of confidence to McDavid as the best player to enter the league "in 30 years," but according to that same Sportsnet article, the "majority" of scouts believe that at the same age McDavid is superior to Crosby.
Good enough for me.
But, there is the very real fact that he'll step into the NHL and be one of, if not the very best player in the league. He's that good."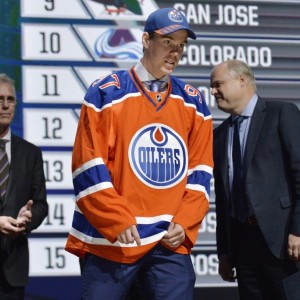 Reason #2: No Other Consensus Pick
There is no consensus #1 overall pick anyways. We're coming off a season in which six points separated the top five.
Who do you pick: Crosby is injury prone. Malkin is injury prone. Benn followed up his Art Ross by having surgery. Ovechkin……I don't know, he's barely ever missed a game and he's always at the top of the standings, but I'd have a hard time taking him first overall, mostly because I have better options on the wing and would prefer to pick a C first overall.
Backstrom? No. Hudler? Yeah right. Seguin? Coming off a knee injury and supposedly predisposed to hip injuries. 
Tavares – Maybe.  Stamkos? Stanley Cup Final and emergence of Johnson cast at least a little doubt. Getzlaf? 17 points decline from the year before. Kane? first? I don't know.  Tarasenko? Do you really buy into the breakout that hard?
Virtually any of these guys would make a good first overall, don't get me wrong, but none of them are clear-cut ahead of the next guy.  Since there's no consensus, since there's no "right" or "wrong" I'm going to go with McDavid if I get the first pick. No risk, no reward.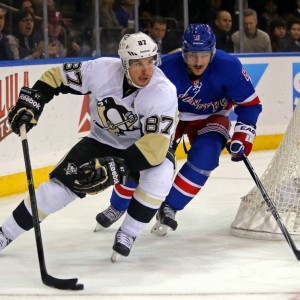 Reason #3: He'll Be Gone If You Wait
McDavid isn't making it to the second round. It doesn't matter if first-0verall is too soon, if that's your pick, that's your only chance to get him because unless you are playing in the worst and easiest league of all time, he's not making it to your second pick.
I'm basing this off a twelve-team league, by the way.  Maybe, you can make him the first pick of the second round, but I have to say, if that's the case, you better win your league, because your league is weak.
Reason #4: His Teammates
The Oilers are going to score a ton. I think they'll be a no-doubt Playoff team, but even if you don't, you have to admit they have an insane amount of offensive talent.
McDavid, Hall, Nugent-Hopkins, Eberle, Yakupov, Draisaitl, Schultz, Sekera.
Any combination of that is going to be among the NHL's best power-plays.  They are going to score goals at a rate that can only be quantified as "ridiculous."
McDavid will have an elite winger by his side from the second he steps into the league. Whether Hall, Eberle or Yakupov, one of them is going to ride shot-gun for a lot of points, but also prevent defenses from focusing solely on McDavid.
Furthermore, because of the Oilers depth of offensive skill, teams who elect to put all their best players out against the McDavid line will be burned by other lines, and so may be forced to balance their defense and ultimately give McDavid less pressure than he'd get were he to be on a team where he'd be the only offensive threat.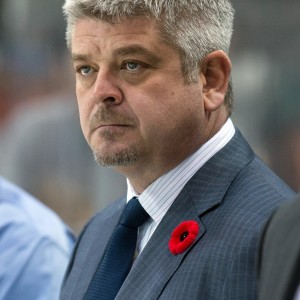 Reason #5: The Coach
On top of everything else, new Oilers head coach Todd McLellan, in his seven seasons coaching the Sharks, had them ranked seventh, fourth, sixth, thirteenth, twenty-fourth, sixth and fifteenth in goals per game.
Four top-ten finishes in seven years indicates that, if given a talented roster, McLellen will coach a style of game conductive to offense. Only once in seven years that he's coached in the NHL did his team fail to be among the top half of teams in terms of goals-scored.
I believe then, that it's logical to assume that the Oilers will play a style of hockey that allows their offensive stars – including McDavid – to flourish.
Reason # 6: Risk Vs. Reward
A lot of people fail to grasp the most basic tenet of fantasy sports: luck rules. You can be the smartest, most informed player in your league, but injuries, random variance, unexpected downfalls or career season will wreak havoc on your preparation.
If you play in a head to head league, then luck is even more of a factor: How many times do you lose 7-3 to the best player of the week, only to look at everyone else's stats and realize that you would have beaten any other player in the league by a wide margin, and that a guy you would have beat 9-0 puts up big numbers against the league dud?
Because luck is the biggest factor in determining the winner of a hockey pool – especially if you play in a good league where everyone is knowledgeable – then you have to take a big risk in order to potentially win big. If you don't you're just letting luck decide everything.
Now, don't use this strategy if you're clearly the best player in your league, but if you have a tough league, you have to get creative or you might as well flip a coin. Last year I attempted to do this by going big on Nathan Mackinnon, and while it ultimately failed, I probably wouldn't have won even if I made the safest pick at the time.
In hockey pools, a safe conservative strategy is for people who want to lose.
Conclusion:
My friends might not agree, most of my readers might not either. But, I've gone through the reasoning and I am fully prepared to not only select McDavid in the first round,  no-matter where I am slotted in my draft, but to reclaim the Fantasy Hockey Title that has eluded team Young Money since the 2011-12 season.
The fact is, he's on a good team that will score, that has coaching that can be counted on to be offense-oriented, he's surrounded by other elite players, he's amazing, no one has more upside and finally, there isn't a consensus pick anyways, so the opportunity cost of picking him is less than it might be, if say, Crosby didn't have a history of concussions.
If I get the chance, I'll be picking McDavid in the first round, hopefully first overall.
Thanks for reading.
Covering the Leafs for the Hockey Writers.