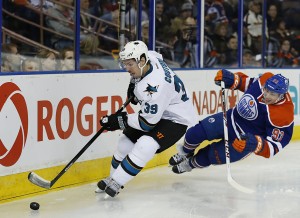 Lost in the midst of Joe Pavelski's All-Star snub and an infamously unlucky season from Patrick Marleau has been Logan Couture. The fifth year center is quietly having his best offensive season to date, currently on pace for 30 goals and 72 points. The 30 goals would be two shy of his career high 32 set back in his Calder Trophy nominated 2010-11 but the 72 points would eclipse his career high 65 set in 2011-12.
Team Leader
Couture's Corsi-for percentage and goals-for percentage are both down a tad this year as the Sharks have struggled as a team five aside. A year ago even strength was a strong suit of their game, and the lower team numbers are why you see decrease in these statistics for No.39. For instance, Couture's goals for per 60 minutes of ice time is down from 3.10 to 2.56 but last year he was fourth on the Sharks in this category and this year he leads the team. Thus far this season both Pavelski and Marc-Edouard Vlasic have better goals for percentages than Couture but that 2.56 mark in goals for per 60 means the Sharks are most effective offensively speaking when Couture is on the ice.
In other words, while the 6'1″ 200 pound Couture isn't as dominant a puck possession player as Thornton, he actually is a more dynamic generator of goals. Thornton controls the game along the boards and has been significantly better in the face-off circle than Couture, but Logan is the better finisher. At even strength Couture is underrated offensively as he is an equal opportunist shooting and passing. This two-on-one goal seen below came earlier this season against Dallas. Couture freezes goaltender Anders Lindback by staring at the net and looking as if he is going to shoot before delivering a no-look pass right on Brent Burns' tape.
As great as Thornton is, he isn't the same threat to shoot that Couture is with the puck. Goalies can rather safely cheat to the pass with Thornton but Couture is much less predictable with the puck. This isn't to say Couture is better than Thornton just yet. Thornton's ability to slow the game down and possess the puck is still incredibly valuable, and it was evident when he was out how much San Jose's power-play missed No. 19. Couture however is well on his way to being a top flight scoring center. If not for the 2012-13 lockout and a hand injury last season, Couture would currently be on pace for the fifth straight 30 goal season to start his career. OK, technically last year he was on pace for 29, but that is still ridiculous goal scoring production at the start of his career. Couture is just 25 years old and already has two thirty goal seasons in his first four years. Marleau didn't register his first 30 goal season until he was 26. If Couture can stay healthy he has a chance to reach 200 career goals by the time he is 27.
Not only is Couture on pace for career offensive numbers but he takes on more and more responsibility as the years go on. He has always killed penalties but against the Ducks on Thursday it was his line that went up against Ryan Getzlaf and Corey Perry. In the past, that would be Thornton's role but Couture continues to get more tough matchups. Thornton still sees plenty of top opponents and sees tougher zone starts but Couture is likewise getting used in shut down minutes. When the Philadelphia Flyers were in town, it was the Couture line that opened the game against Claude Giroux and Jakub Voracek. In that game the Couture line scored and held the Giroux line off the score-sheet. Going up against other teams top lines on a frequent basis is certainly a sign that Couture could be captain material.
Captain Couture?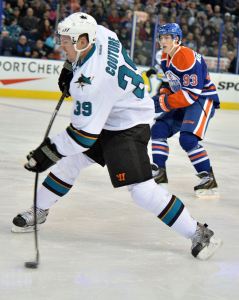 This season the Sharks have gone with no captain and four alternates. Considering Couture isn't one of those four players, one might think he's far down the list for next captain. That said, if and when the Sharks decide to appoint a captain, Couture could have as good of a chance as anyone. Pavelski and Couture are currently tied for points, both play the power-play and the penalty kill and both would be terrific choices. However, Couture is five years younger and in terms of longevity and continuity in leadership positions, San Jose may want to go with the more youthful captain. Defenseman Marc-Edouard Vlasic certainly has some pull as well but the majority of Sharks captains and alternates in recent years have been at the forward position. Around the league top centers are often captain, Giroux, Jonathan Toews, Sidney Crosby, John Tavares, Ryan Getzlaf, etc. Chances are the Sharks next captain will be either Pavelski or Couture.
So who has the edge? Many would say Pavelski but if the Sharks really want to symbolically move away from the Thornton and Marleau era, Couture as captain would better signify a youth change. Pavelski has been with the Sharks since 2006-07 and is already 30-years-old. He would be a terrific captain but Couture does everything on the ice that Pavelski does and could take over the captaincy role for a longer period of time. Personally, the captaincy role is overblown and talked about way too much. With the Sharks going from Patrick Marleau to Rob Blake to Joe Thornton to alternates over the last few years, there has been many discussions about the symbolic "C". Well, giving it to Couture, who consistently is a dynamite force every season and is just entering his prime would probably put an end to that talk. If given the role, it is difficult to imagine him not keeping it for the next five years minimum.