Stop the presses – after losing 11 straight games to start the season, the Arizona Coyotes won twice last week! Sure, they're still the only team in the NHL without a regulation win, but things are moving in the right direction in Arizona.
Four Games, Four Points
After suffering a record-tying eleventh consecutive loss to start the season on Oct. 28 against the New Jersey Devils, the Coyotes started their week on Monday against the Philadelphia Flyers. After Brendan Perlini scored a power play goal early in the third period to give the Coyotes a 3-0 lead, it looked like Arizona would coast to an easy victory. However, the Flyers had other ideas, as they scored three unanswered goals in the final 18 minutes (including two with the goalie pulled) to send the game to overtime, where Alex Goligoski ultimately gave the Coyotes their first win of the season with just 14.4 seconds remaining in the extra frame.
Following their victory in Philadelphia on Monday, the 'Yotes headed to Detroit to take part in their first back-to-back of the season against the Red Wings on Tuesday night. After trailing 4-1 after two periods, the Coyotes made it interesting with two goals in the third, but they were unable to complete the comeback as Darren Helm scored an empty netter to give Detroit the 5-3 victory.
After returning home from Detroit, the Coyotes began a brief two-game homestand against Jack Eichel and the Buffalo Sabres. For the 10th time this season, the Coyotes managed to score first, but they would allow the next five goals (including a shorthanded tally that came off of a 2-on-0 rush) to fall behind 5-1. Similarly to Tuesday's game, the Coyotes made a late comeback bid, but were again unable to finish it and dropped a 5-4 decision.
After an overtime victory and two near-comebacks in their previous three contests, Saturday's game against the Carolina Hurricanes marked the Coyotes' first complete effort of the season. Buoyed by a second-period Clayton Keller goal, his tenth of the season, the Coyotes and goaltender Antti Raanta nearly earned a shutout victory but conceded a tying goal to Jordan Staal with less than three minutes remaining in regulation. Following a scoreless overtime, the game headed to a shootout, where Keller and Derek Stepan scored for Arizona to give the 'Yotes a 2-1 victory.
…Patrick who? #ClaytonCalder pic.twitter.com/S4X8r1ps0h

— Arizona Coyotes (@ArizonaCoyotes) November 5, 2017
On the Road Again
Following Saturday's victory over the Hurricanes, the Coyotes headed out onto the road once again – they'll start a three-game trip on Monday night in Washington, D.C. against Alex Ovechkin and the Capitals. Despite Arizona's recent struggles (and Washington's recent regular-season success), the teams have split the last eight matchups in the series. Puck drop is scheduled for 7:00 P.M. local time (5:00 P.M. in Arizona) at Capital One Arena. Note that the game will start an hour later than usual in the Valley of the Sun due to the end of daylight saving time around the country.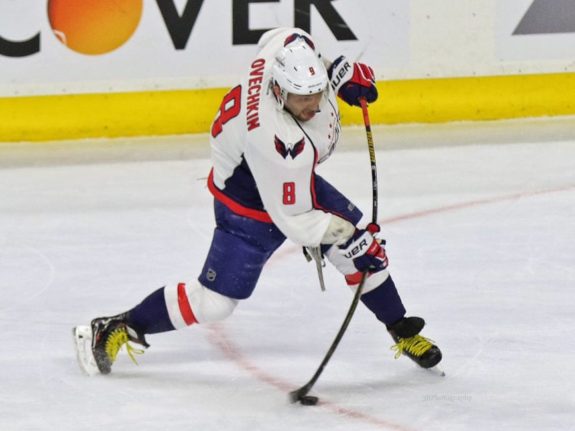 From there, the Coyotes will head to Pittsburgh to take on the two-time defending Stanley Cup champion Penguins on Tuesday night. Although the Coyotes defeated the Penguins at home in overtime last season, Arizona has had absolutely no recent success at PPG Paints Arena, as they've suffered 7-0, 6-0, and 3-2 losses in their last three trips there. Puck drop is scheduled for 7:00 P.M. local time (5:00 P.M. in Arizona) in the Steel City.
On Thursday, the Coyotes will make the trip to the Gateway to the West for a matchup against the St. Louis Blues. This series has been incredibly one-sided over the past few seasons – the Coyotes have lost 11 straight games in regulation to the Blues dating back to their last victory on Nov. 12, 2013, with the aggregate score being 45-14 in those 11 games. Puck drop is scheduled for 7:00 P.M local time (6:00 P.M. in Arizona) at the Scottrade Center.
Arizona will return home after their game in St. Louis and will finish out the week with their fifth Saturday night home game in six weeks against the Winnipeg Jets. The Jets are off to a good start to their 2017-18 season – they're 7-3-3 through 13 games and are getting outstanding goaltending from Connor Hellebuyck, who has a .932 SV% and has yet to lose in regulation. Saturday's game will be a later-than-usual start in Glendale, as puck drop is scheduled for 8:00 P.M. at Gila River Arena.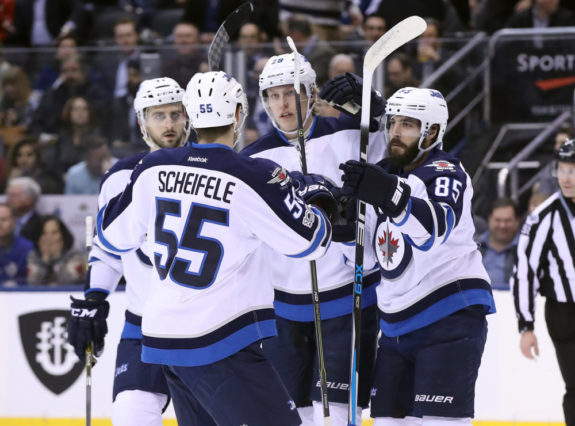 Keller Earns High Honors
There's no doubt that fans in Arizona already know that Clayton Keller is the league's most exciting rookie. His 16 points this season lead all rookies, and his goal total of 10 puts him fourth in the entire NHL behind only Nikita Kucherov, John Tavares, and Alexander Ovechkin.
He's been Arizona's best player this season by far, and the league itself seems to have taken notice of Keller's play as well, as the NHL named him as the Rookie of the Month for October.
Your Rookie of the Month for October is @ClaytonKeller37!

More: https://t.co/ky8XSTeGis pic.twitter.com/AbTBhT3951

— NHL (@NHL) November 1, 2017
It's hard to imagine where the Coyotes would be without Keller's production – he's either scored or assisted on 16 of the 39 goals (41%) that Arizona has scored this year and has been the only consistent offensive contributor for the team through the first month of the season. With Rookie of the Month honors already locked up for October, Keller is clearly the frontrunner for this year's Calder Trophy. Will he stay hot and take home the hardware?
Pacific Division Roundup
The first month of the 2017-18 NHL regular season is officially over, and the Los Angeles Kings find themselves in first place in the Pacific Division. Here's how Arizona's other division rivals fared last week:
Anaheim Ducks (6-6-2, 14 points)
Last week: 0-2-1 (3-1 L vs TOR, 5-3 L vs NSH, 2-1 SOL at SJ)
Analysis: After returning home from a four-game road trip – one in which they earned six of a possible eight points – the Anaheim Ducks struggled badly last week as they lost all three of their games and scored just five goals in the process. Things won't get much easier this week, as the Ducks will host two of the league's top three teams in the Los Angeles Kings and Tampa Bay Lightning at the Honda Center.
Player of the week: Derek Grant – 3 assists, +3
This week: Tue vs LA, Thu vs VAN, Sun vs TB
Calgary Flames (8-6-0, 16 points)
Last week: 2-0-0 (2-1 OTW vs PIT, 5-4 SOW vs NJ)
Analysis: The Flames played just two games last week (both at home), but made sure their fans got their money's worth out of the week's action – they beat the defending champion Pittsburgh Penguins in overtime on Thursday, and defeated the Metropolitan Division-leading New Jersey Devils in a shootout on Sunday. They'll look to stay hot with two more home games this week.
Player of the week: Sean Monahan – 2 goals, assist
This week: Tue vs VAN, Thu vs DET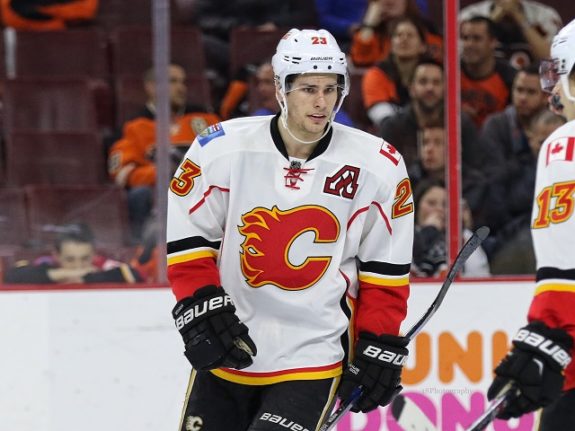 Edmonton Oilers (4-8-1, 9 points)
Last week: 1-2-0 (3-2 L vs PIT, 6-3 W vs NJ, 4-0 L vs DET
Analysis: Things continue to go downhill in Edmonton. The Oilers won just once last week, and are now 3-8-1 since shutting out the Flames on opening night. This team looks nothing like the Oilers squad that we saw last year – could Edmonton's magical 2016-17 season have been a fluke for a franchise that has failed to qualify for the postseason in 10 of the last 11 years?
Player of the week: Connor McDavid – 5 assists
This week: Tue at NYI, Thu at NJ, Sat at NYR, Sun at WSH
Los Angeles Kings (10-2-2, 22 points)
Last week: 1-1-1 (4-2 L at STL, 5-3 W vs TOR, 4-3 OTL vs NSH)
Analysis: The Kings continue to roll – they picked up a big victory over the Toronto Maple Leafs on Thursday night, and battled back to earn a point on Saturday against the Nashville Predators after trailing 3-0 in the third period. Los Angeles has earned points in all but two of their games this season, and the franchise is once again looking like a Stanley Cup contender.
Players of the week: Tanner Pearson – Goal, 4 assists
This week: Tue at ANA, Thu vs TB, Sun vs SJ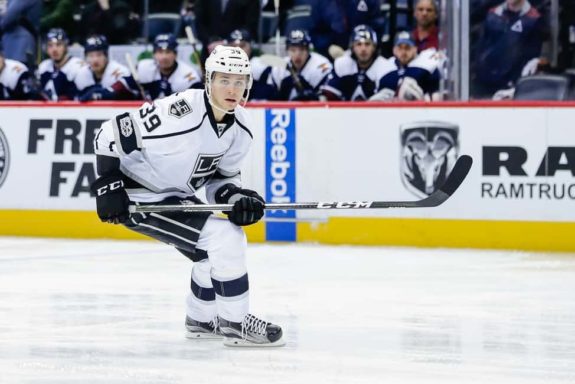 San Jose Sharks (8-5-0, 16 points)
Last week: 3-0-0 (3-2 W vs TOR, 4-1 W vs NSH, 2-1 SOW vs ANA)
Analysis: After a 1-3-0 start, it looks like the Sharks have things figured out – they're 7-2-0 since Oct. 17 and continue to get outstanding goaltending from Martin Jones, who has allowed two goals or fewer in each of his last eight starts.
Player of the week: Martin Jones – 3-0-0 record, 60 saves on 64 shots (.938 SV%)
This week: Wed vs TB, Sat vs VAN, Sun at LA
Vancouver Canucks (7-4-2, 16 points)
Last week: 1-1-1 (2-1 OTL vs DAL, 2-0 L vs NJ, 4-2 W vs PIT)
Analysis: The Canucks stayed hot last week – they picked up three of a possible six points against some tough competition and are 5-1-1 in their last seven games. Vancouver hasn't allowed more than two goals in a game since Oct. 19, and is looking like a legitimate playoff contender in the Pacific Division due to their solid defense and goaltending.
Players of the week: Brock Boeser – 3 goals, assist, +2
This week: Mon vs DET, Tue at CGY, Thu at ANA, Sat at SJ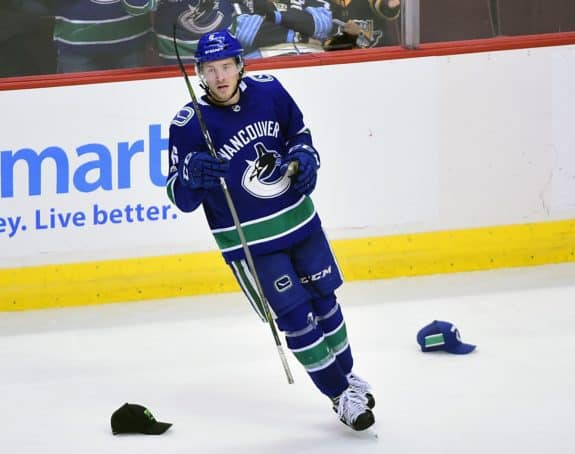 Vegas Golden Knights (9-4-0, 18 points)
Last week: 1-3-0 (6-3 L at NYI, 6-4 L at NYR, 2-1 L at BOS, 5-4 W at OTT)
Analysis: It was a rough week for the Vegas Golden Knights – they lost third-string goaltender Oscar Dansk on Monday against the Islanders and were forced to turn to fourth-stringer Maxime Lagace, who allowed four or more goals in three of his four appearances during the week. There's still no timetable for Marc-Andre Fleury's return, so the Golden Knights will have to continue to find ways to win without him.
Players of the week: Jonathan Marchessault – Goal, 4 assists
This week: Mon at TOR, Tue at MTL, Fri vs WPG
The Coyotes got things moving in the right direction last week with two victories. Can they continue to build momentum this week?
A lifelong Phoenix resident, Louis has been following hockey since 2010, has covered the Arizona Coyotes since 2015, and has been playing hockey since 2020. So far, Louis has visited eight NHL cities, and one of his personal goals is to eventually make it to all 31 NHL arenas. For any questions or concerns, contact the writer via Twitter @LouisPannone.