At this point, there is no question the Arizona Coyotes are sellers. In the course of seven days, Chayka engineered two major deals but the return for two veteran players leaves pundits scratching their heads.
In deals that sent defenseman Michael Stone to the Calgary Flames on Feb. 20 for a third round pick and conditional pick in  2017 and center Martin Hanzal (along with center Ryan White) to the Minnesota Wild on Feb. 26, Chayka did not negotiate for any veteran players in return. Instead, he continues to stockpile draft picks and the uncertainty of opting for picks that may never make the NHL or have an impact remain suspect.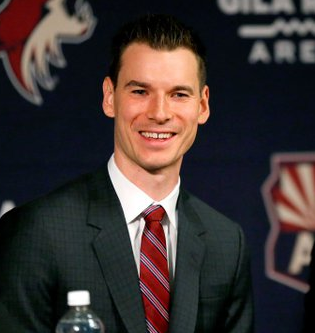 In a conference call with reporters during Sunday's 3-2 victory over the Buffalo Sabres before 13,432 at Gila River Arena, Chayka discounted the fact that these deals only brought back draft picks. Rather, he focused on the possibility of other young centers, like Christian Dvorak, jumping in and making a contribution now that Hanzal is gone. At the same time, without Hanzal, one of the Coyotes' biggest weaknesses, lack of strength and now depth at center can be exploited.
"This was not an easy day and we hope to be buyers in the future," Chayka told The Hockey Writers. "We've talked with Hanzal and his agents since last summer about a contract, but nothing could be worked out. I felt the deal was prudent because this enables us to continue to grow with the younger players we have."
At 30-years-old, Hanzal becomes an unrestricted free agent at the end of the season. Chayka explained that Minnesota management did not want to part with any roster players, so they bartered their future sending picks instead.
The Return For Hanzal
To obtain Hanzal, considered one of the better two-way centers in the league, the Wild gave up a first and second round pick as well as a conditional pick, which depends on how the Wild finish in the Stanley Cup playoffs.
Because the Coyotes had difficulty negotiating a new contract with Hanzal and his representatives, the loss should not be disappointing.
"(Hanzal) is an unrestricted free agent, simple as that," Tippett told The Hockey Writers after Sunday's game. "He's an unrestricted free agent without a contract at the end. The position that our group is in right now – the building process we're going through – these are just steps that you have to take. Marty Hanzal has been a big part of this organization for a long time. He's a very good person, obviously a very good player. There are steps that we're taking and we have to do to move forward."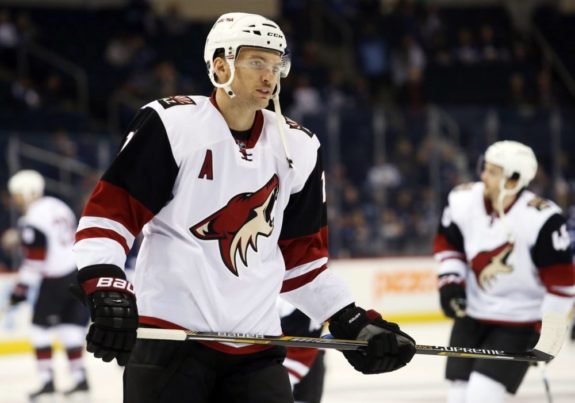 Asked if the Coyotes will call up players from their AHL Tucson affiliate to fill the void left by Hanzal, Chayka said there was nothing immediate.
As far as the upcoming schedule, the Coyotes embark on a three-game, Eastern road trip. By the time they return to the desert to face the Carolina Hurricanes on March 5, it's likely several new faces will wear Sedona Red at Gila River Arena.