For six seasons, Radim Vrbata provided the Arizona Coyotes with a strong offensive punch. In 428 regular season games spanning six seasons, the Czech forward scored 137 goals and 288 points with the Coyotes. Now, Arizona faces their former teammate's new team for the first time this season as they travel to Vancouver for a Friday night matchup with the Canucks. Here is a look at Vrbata's time in Glendale with the Coyotes, along with what he has accomplished so far in Vancouver.
The Arizona Years
During his first season with the Coyotes in 2007-08, Vrbata amassed 27 goals and 59 points in 76 games. After a one-year hiatus spent between the Tampa Bay Lightning and two Czech Republic teams, Vrbata returned to Arizona in 2009. In every season Vrbata played with the Coyotes, he ranked in the team's top five in scoring. His ability to put the puck in the net played an important role in getting Arizona to three consecutive playoff appearances. During the 2011-12 campaign, which saw the Coyotes reach the Western Conference Finals, Vrbata set career highs in goals (35), points (62), game-winning goals (12), and plus-minus rating (+24).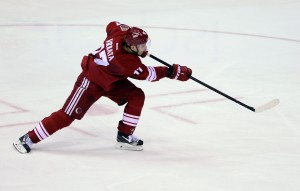 Arrival in Vancouver
Vancouver marks the sixth team that Vrbata has played for in his 13-year NHL career following Arizona, Tampa Bay, Chicago, Carolina, and Colorado. His scoring touch has remained solid, as he has notched 13 points in 15 games, including seven points on the power play. Vrbata has worked well with the Sedin twins, with four of his six goals being assisted by both Henrik and Daniel. Despite missing Vancouver's previous two games with a leg injury, Vrbata looks to be alright for the game against the Coyotes. Coming into Friday's game, Vrbata is fourth on the Canucks in scoring, behind the Sedins and Nick Bonino.
Arizona has already been burned by one of their top scorers from last season when Mike Ribeiro had a goal and an assist for Nashville back on October 21. This will be a tougher task for the Coyotes to handle as the Canucks have one of the best offenses so far this season (7th in goals per game). Arizona will need to find a way to shut down Vancouver's production, as well as their ex-teammate, if they want to escape British Columbia with two points on Friday night.
Charles Woodall-Pike is a journalist who writes about the Arizona Coyotes for The Hockey Writers.