Along with USA Hockey, hockey in the state of New Jersey has grown tremendously. There are more high school teams across the state today then there were 10 years ago. Hockey players really develop however in travel hockey, and there has also been an increase in those programs as well. According to an article from jerseymanmagazine.com, published in 2013, right before the Prudential Center hosted the NHL Draft, the total number of New Jersey players being drafted from the Garden State is increasing. In the summer of 2013 there had been 46 players overall from New Jersey drafted to NHL teams and 23 of those players were drafted after the year 2000.
NJ Hockey is on the Rise
The level of competition is increasing internally and playing against that better competition routinely makes one a better hockey player. According to njhockey.org, a website run by Jonathan Yardley, there were 108 teams in NJSIAA (New Jersey State Interscholastic Athletic Program), affiliated leagues in the 2003-2004 season. In the 2013-2014 season that number increased to 130 teams. There are also several teams from South Jersey public schools that play in a separate league not recognized by the NJSIAA. According to unitedstatesofhockey.com in 1990-1991 there were 6,452 registered hockey players from New Jersey in USA Hockey. Almost 20 years later during the 2009-2010 hockey seasons there were 16,041 registered hockey players. It was a 148.6% growth increase in a time span of about 20 years. Even more recently in the 2012-2013 season there were 18,264 registered hockey players.
Pro Teams Can Influence Young Players
Successful professional teams can influence young players to play hockey. The New Jersey Devils run of three championships in 8 years (1995, 2000, 2003) definitely had an impact on the growth of the game in New Jersey. While no team recently has won a Stanley Cup in this area in over a decade, there have been a lot of successful playoff runs and seasons that could continue to add interest. The Flyers (2010), Devils (2012), and Rangers (2014) all had recent successful playoff runs that fell short in the Stanley Cup Final.
New Jersey is a unique state when it comes to what hockey team the residents are fans of. If you're not from the area it might be tough to understand. The most southern parts of New Jersey, because of its proximity to Pennsylvania, identify with the Philadelphia sports teams. People from that part of the state will most likely be Flyers fans. People from Central and Northern New Jersey are Devils, Rangers, and occasionally Islanders fans.
Jim Dowd Affect
For me personally growing up I was a New York Rangers fan, but my dad was a fan of the New Jersey Devils. I would go to their practices as a 3-year-old with one goal in mind, to get a puck. At one of these practices I met Jim Dowd and was in a photo in the paper with him for an article about how a hometown kid was playing for the New Jersey Devils. This was major news in the early 1990's as Dowd was only the second player from New Jersey to play in the NHL.
Dowd was a journeyman player in the NHL throughout his career. He still played in the best hockey league in the world for 15 plus seasons and by doing that he was a legend in New Jersey hockey. Dowd famously scored the game winning goal in Game 2 of the 1995 Stanley Cup Finals against the Detroit Red Wings.
Today in 2014 New Jersey hockey is better than ever and Dowd is a big reason for that because of his advocacy and promotion of the game, especially where he is from down in the Shore area of the state. Dowd has returned to his roots in New Jersey High School Hockey this season where he will be a coach.
Today it seems that there are players from the state of New Jersey entering the league often. Here are the noteworthy players from New Jersey in the NHL right now ranked from TIER III to TIER I, with TIER 1 being the elite players.
TIER III
George Parros
Parros is currently an unrestricted free agent in the NHL. Parros is an enforcer and has played for the LA Kings, Colorado Avalanche, Anaheim Ducks, Florida Panthers, and Montreal Canadiens. He played high school hockey for Delbarton, the top private school in the state of New Jersey for the past decade. Delbarton is a hockey powerhouse in NJ High School Hockey. Parros also stayed in state for his college hockey and played 4 years at Princeton. While at Princeton Parros had 52 points and 119 penalty minutes in 111 games. He was drafted in the 8th round of the 1999 draft before attending Princeton. He spent two seasons in the AHL and one season in the ECHL during the 2004-2005 lockout. He made his debut the following season with LA. In 2007 although he only appeared in 32 regular season games and 5 playoff games with the Ducks, he became a Stanley Cup Champion.
Trevor van Riemsdyk
The younger brother of JVR, Trevor van Riemsdyk made his NHL debut this season on the Chicago Blackhawks blueline. He starred at Christian Brothers Academy in Lincroft, NJ before playing two years in the EJHL for the New Hampshire Junior Monarchs. He played three seasons for the University of New Hampshire. Despite a very successful hockey career at every level, van Riemsdyk was undrafted. He signed a 2-year entry level contract with the Chicago Blackhawks in March. He has been able to log 3rd defense pairing minutes this season for the Hawks.
TIER II
Johnny Gaudreau
I am going to say this how it is. "Johnny Hockey" is the most skilled and talented hockey player from New Jersey. He made his debut in the NHL this season with the Calgary Flames who were lucky enough to select him in the 4th round of the 2011 draft. Gaudreau is a winner. He always has had to answer questions about his size for the higher levels of hockey. That has not stopped him at all. Gaudreau played at Gloucester Catholic in High School before leaving for the USHL for a season after his junior year. Despite constant questioning about his size, Gaudreau has stared at every level he has played at. He was a star in the USHL and won a National Championship as a freshman at Boston College in 2012. Gaudreau added a World Junior Championship Gold Medal to his resume in 2013 and scored 9 points in 7 games on the big stage. He also became New Jerseys 1st Hobey Baker Award winner in 2014 after scoring  80 points (36G, 44A) in 40 games. "Johnny Hockey" has 12 points so far this season in 16 games a rookie for Calgary and is a plus 9. He is going to be a star in the league.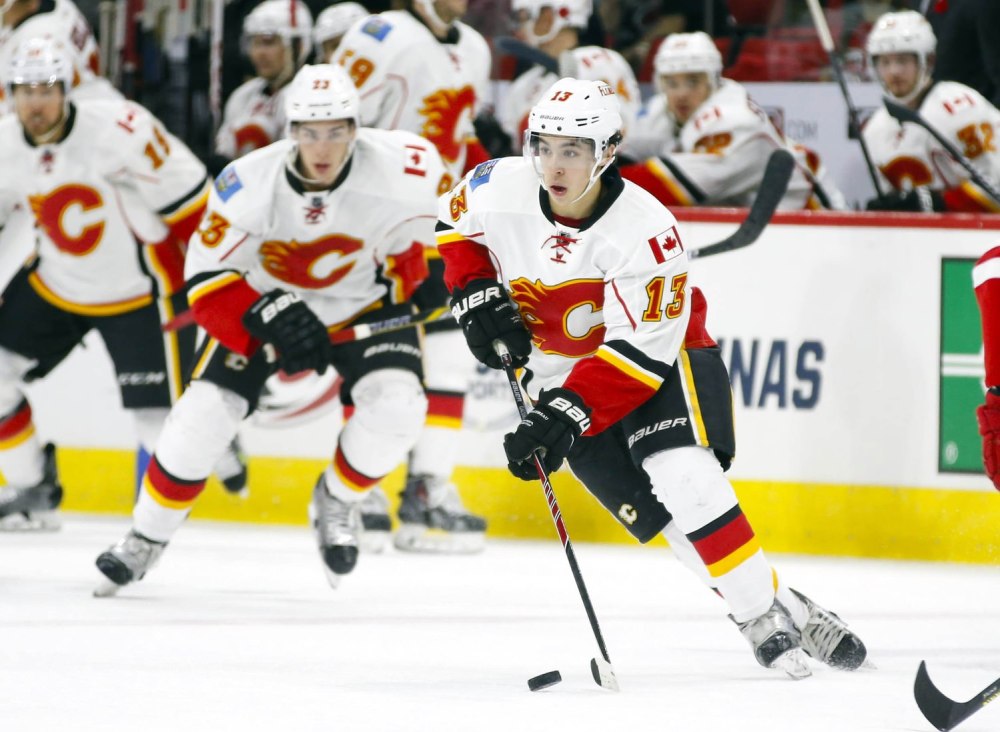 Kyle Palmieri
Palmieri a Montvale, NJ native is currently playing for the Anaheim Ducks. Palmieri played 2 seasons for St. Peter's Prep and also left for the United States Hockey League. Palmieri played for the United States National Team Development Program before playing at Notre Dame for one season. Palmieri played a few seasons in the AHL before finally establishing himself full time with Ducks in 2013. Last season he set a career high with 31 points in 71 games.
TIER I
Bobby Ryan
Bobby Ryan grew up in South Jersey, but never played NJ High School Hockey. He played four seasons in the Ontario Hockey League before being drafted second overall by the Anaheim Ducks in 2005. Ryan became a 30 goal scorer for Anaheim and put up four straight seasons of 30 plus goals. He was traded to the Ottawa Senators in the summer of 2013. Ryan signed a 7-year extension recently with the Sens. He is arguably the best pure goal scorer from New Jersey.
John Carlson
Carlson is a Colonia, New Jersey native and grew up playing for the New Jersey Rockets. He is the best defenseman ever to come out of New Jersey. Carlson played a season in the USHL for the Indiana Ice and a season in the OHL for the London Knights. In the OHL Carlson showed flashes of the very good two-way defenseman he would become. Carlson has a solid offensive game and can also play in a shutdown role. He was the hero of the 2010 World Junior Championships when the scored the overtime goal to give the United States a 6-5 OT victory over Canada. Carlson consistently puts up 30 plus points for the Caps and has become one of their best defenseman. Carlson can play in all situations for his team on the ice and was a member of Team USA at the 2014 Olympics. At only age 24 he still has room for improvement.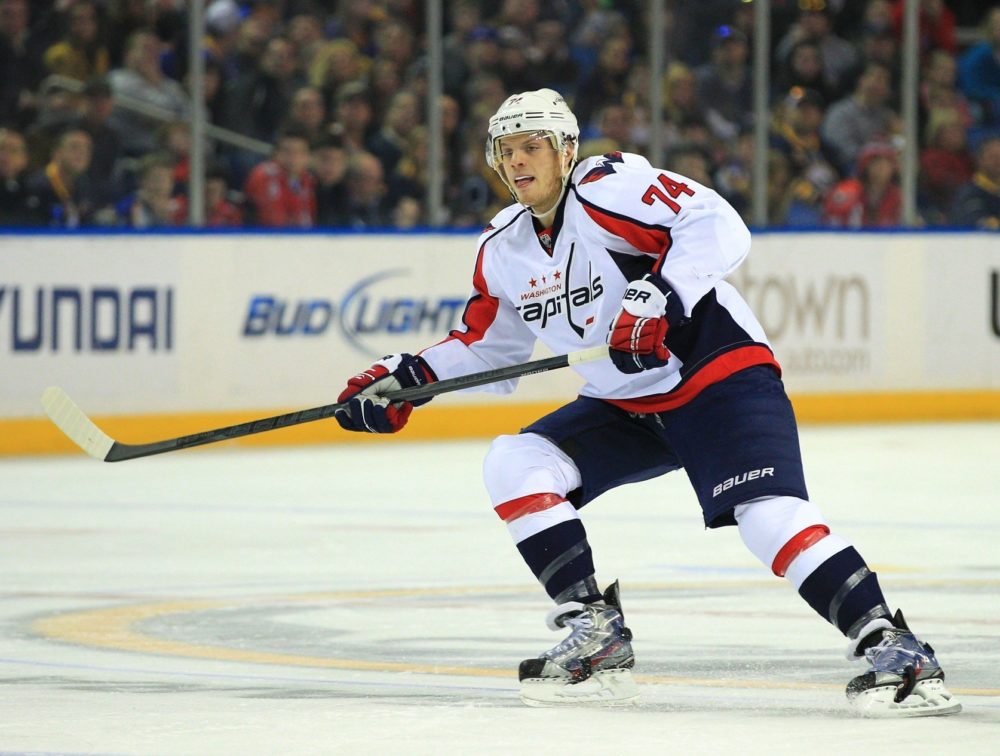 James van Riemsdyk
JVR won a state title with Christian Brother's Academy in 2005. He scored the game winning OT goal in the process. JVR is also a product of the United States National Team Development Program after he left CBA for his last two years of high school, to pursue higher levels of hockey. The 6'3 winger played two seasons at the University of New Hampshire in college before signing with the Philadelphia Flyers. JVR was chosen 2nd overall in the 2007 NHL Entry Draft by the Flyers. His best hockey of his career was played after his trade in the summer of 2012 to the Toronto Maple Leafs. JVR played all of last season on the teams top line with Phil Kessel, and Tyler Bozak. van Riemsdyk scored a career high 30 goals last season. He also played with his good friend Kessel on Team USA at the 2014 Olympics and scored 7 pts in 6 games. Playing on one of the best lines in hockey currently, JVR does not plan on slowing down anytime soon. He is also money in shootouts. JVR is one of the better power forwards in the league and is going to be a good player for a long time. No team relies on their top line for offense more than Toronto does with their JVR, Bozak, Kessel line. They are also one of the best lines in the NHL this season.
NJ Kids Contribute on the World Junior Stage
There is no bigger stage for a hockey player then the World Juniors if you are between the ages of 17-20 and an elite NHL prospect. Two New Jerseyans have contributed to the United States last two World Junior Championship Gold Medals in 2010 and in 2013. John Carlson scored in overtime in 2010 to win in Canada.
"Johnny Hockey" was a top forward for the 2013 team. Both teams were incredible and shows the continued growth of hockey not only in New Jersey, but here in the United States. In 2007 when Chicago and Philadelphia drafted Patrick Kane and James van Riemsdyk 1 and 2 overall respectively it was the first time in NHL history that two Americans were drafted 1 and 2 overall. It was a big moment for USA Hockey. As the game continues to grow in the United States, more and more top caliber NHL players from the USA will be playing in the National Hockey League.