Rankings:
Boston College
Minnesota
Wisconsin
Boston University
Harvard
Clarkson
Quinnipiac
North Dakota
Minnesota Duluth
Cornell
Game of the Week
#5 Harvard at #6 Clarkson, Fri. 11/14 at 7 p.m. EST
The Crimson will take on Clarkson in just their third game of the year. They looked good in the first two, defeating Rensselaer, 4-1, and Union, 5-2. They'll face a much stronger opponent this weekend in the Golden Knights, however, making this their first real test of the year. Picked to finish atop the ECAC standings in the preseason coaches' poll, this is Harvard's first opportunity to show why it deserves the nod. Emerance Maschmeyer will be back in net, and she should help keep Clarkson's offensive output down to a minimum. The Crimson have a number of players up front who can be counted on to score, and Miye D'Oench and Karly Heffernan have already been counted on in that regard. But Harvard's defense also needs to hold up against the Golden Knights' offense.
Bags packed. New kicks on. We've officially hit the road. pic.twitter.com/LaIhMmGfBe

— Harvard W Hockey (@HarvardWHockey) November 13, 2014
For Clarkson, freshman Shea Tiley will look to outduel Maschmeyer in goal at the other end. She's put up excellent numbers so far as a rookie, holding a .944 save percentage and 1.22 goals-against average. Harvard's shot totals have so far been high, so she'll be tested all game on Friday. The Golden Knights will also need big performances out of top forwards Shannon MacAulay, Cayley Mercer, and Genevieve Bannon, who have all adjusted to new roles as primary scorers this season. They need to be Clarkson's best players if the Golden Knights hope to spend most of the game down in the Harvard end.
Top-10 Teams in Action
New Hampshire at #1 Boston College, Sat. 11/15 @ 2 p.m. EST; #1 Boston College at New Hampshire, Sun. 11/16 @ 3 p.m. EST
#2 Minnesota at Ohio State, Fri. 11/14 @ 6 p.m. EST & Sat. 11/15 @ 2 p.m. EST
Minnesota State at #3 Wisconsin, Thurs. 11/13 @ 7 p.m. CST & Fri. 11/14 @ 3 p.m. CST
#4 Boston University at Connecticut, Sat. 11/15 @ 3 p.m. EST; Connecticut at #4 Boston University, Sun. 11/16 @ 3 p.m. EST
#5 Harvard at St. Lawrence, Sat. 11/15 @ 4 p.m. EST
Dartmouth at #6 Clarkson, Sat. 11/15 @ 4 p.m. EST
Rensselaer at #7 Quinnipiac, Fri. 11/14 @ 7 p.m. EST; Union at #7 Quinnipiac, Sat. 11/15 @ 4 p.m. EST
#8 North Dakota at Bemidji State, Fri. 11/14 @ 2 p.m. CST & Sat. 11/15 @ 2 p.m. CST
#9 Minnesota Duluth at St. Cloud State, Fri. 11/14 @ 7 p.m. CST & Sat. 11/15 @ 3 p.m. CST
Brown at #10 Cornell, Fri. 11/14 @ 3 p.m. EST; Yale at #10 Cornell, Sat. 11/15 @ 3 p.m. EST; Colgate at #10 Cornell, Tues. 11/18 @ 7 p.m. EST
What to Watch For
North Dakota heads to Bemidji for a huge WCHA series against the Beavers. In its last outing, Bemidji State tied and beat Minnesota on the road, taking five of six points from the Gophers. North Dakota is looking to turn things around after slipping into a five-game winless streak before the break. Of those five games, four have been decided by one goal or less (empty netters excluded), so UND has kept things close, but they'll need to see significant improvements in their execution this weekend. The Beavers have proven that they compete with and beat anyone, especially with Brittni Mowat in net, so this should be another very tight match-up that Bemidji State could very well take.
Dartmouth finds itself ranked 10th in the USCHO poll after a 4-0-0 start to the year. Sophomore Robyn Chemago has made a big difference in net for the Big Green; she holds a 1.25 goals-against average, .943 save percentage, and one shutout through four games. Forwards Laura Stacey, Kennedy Ottenbreit, and Lindsay Allen have all had hot starts so far and have provided Dartmouth with plenty of offense. This weekend, though, the Big Green will take on St. Lawrence and Clarkson. They won their last game against the Saints, 5-1, but if they hope to keep their spot in the rankings, they'll have to show they can compete like that all season.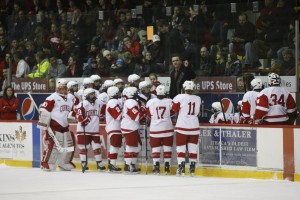 After four straight losses to start the season, Cornell welcomes Brown, Yale, and Colgate all in the coming week. Winning all three games is almost a must at this point, but it could be challenging, especially Saturday's game against the Bulldogs. Yale has gotten a lot of out of younger forwards Courtney Pensavalle, Eden Murray, and Krista Yip-Chuck, and their offense stands a very good chance against the Big Red if their more proven scorers can also chip in. For Cornell, Jillian Saulnier and Brianne Jenner will undoubtedly be counted on up front, but the team needs to see solid goaltending as well as some secondary scoring and offense.
Last week was a historic one for the Nittany Lions, who earned their first sweep in program history with a pair of wins over Colgate. This weekend, they'll head on the road to take on RIT. The Tigers started off the year 5-2-1, but have since gone winless in the last four, with an 0-2-2 record. This is the second CHA match-up of the year for both teams. Penn State will be looking to be competitive and earn a split here, while RIT is aiming for an improvement over its last CHA series, which saw the Tigers tie and lose to Lindenwood. RIT has veterans like Kolbee McCrea, Lindsay Grigg, and Celeste Brown leading the way, while sophomores Amy Petersen and Laura Bowman are playing really well for the Nittany Lions right now.