As the NHL kicks off round two of the 2023 Stanley Cup Playoffs, the Arizona Coyotes and others await their fate in the draft lottery, set for Monday, May 8 at 8 PM ET/5 PM PT. The potential of adding another future star to the Coyotes remains general manager Bill Armstrong's biggest priority, but not their only one.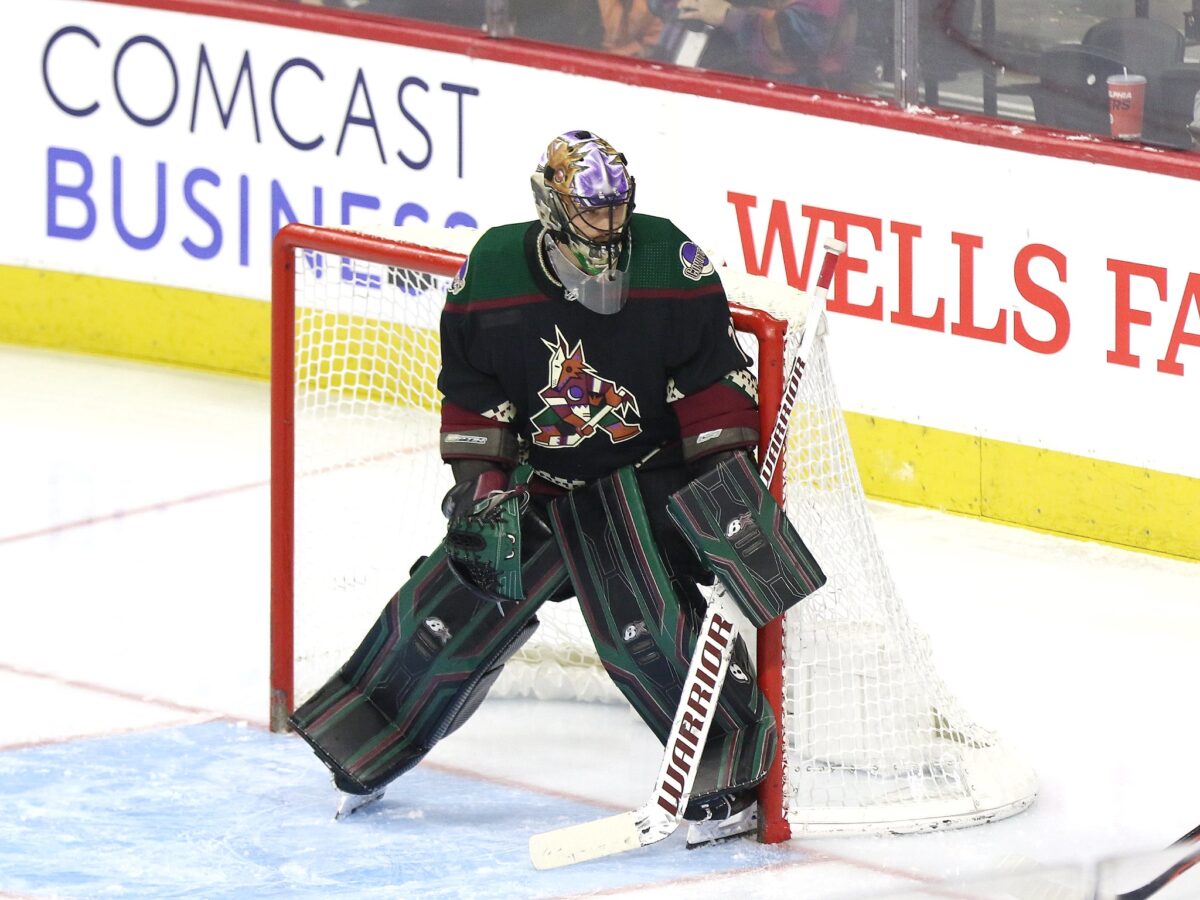 A few weeks ago, in our offseason recap and questions article, we noted that the Coyotes have a looming decision to make about their goaltending. No matter how hard they try to avoid it, it won't go away. With Karel Vejmelka, Connor Ingram, and Ivan Prosvetov on the roster by the end of the season, the Coyotes have a summer to decide who stays and who goes.
Breaking Down Coyotes' Trio in Net
At one point last season, the Coyotes seemed destined for a bottom-three finish, cementing their odds to land a top-three draft pick. While that's still a possibility, the team hurt themselves by catching lightning in a bottle after the All-Star break. This was due in part to the strong play of Ingram and Vejmelka, which led to speculation that Armstrong would move one of the two goaltenders for assets, despite many believing Vejmelka was the man to lead the team through their rebuild.
Related: Arizona Coyotes 2022-23 Season Recap and Offseason Questions
Insert Prosvetov, the 24-year-old Russian netminder who was once expected to be the future starter for the Coyotes. Playing on a make-it-or-break-it deal, the team called him up to end the season with seven games, going 4-3-0, with a 3.98 goals-against average and .880 save percentage. Despite the numbers, the organization saw a different version of the young netminder, who had a sharper focus, quicker movement, and a calmer demeanor, which caught the attention of coach André Tourigny.
---
Latest News & Highlights
---
But what of the Coyotes' main two netminders? Ingram finished the season 6-13-8, with a .907 save percentage and 3.37 goals-against average, while Vejmelka, in his second NHL season, went 18-24-6 with a .900 save percentage and 3.41 goals-against. All three posted less than stellar numbers, expected on a rebuilding club, but at times, stated their case for a starting job next season, leaving management with more questions than answers.
Coyotes' Next Man Up
As of now, both Ingram and Prosvetov head into the summer as unrestricted free agents, leaving management with a considerable hole in the crease. While defensive depth certainly remains a concern this offseason, the organization doesn't have much in their pipeline to replace the goalies if they both walk. After Vejmelka, Ingram, and Prosvetov, they have Tyler Parks (American Hockey League, AHL), David Tendeck (American Hockey League, AHL), Rasmus Korhonen (Liiga), and Anson Thornton (Ontario Hockey League, OHL). Thornton is expected to be the organization's next star but remains a couple of years away from being an NHL regular.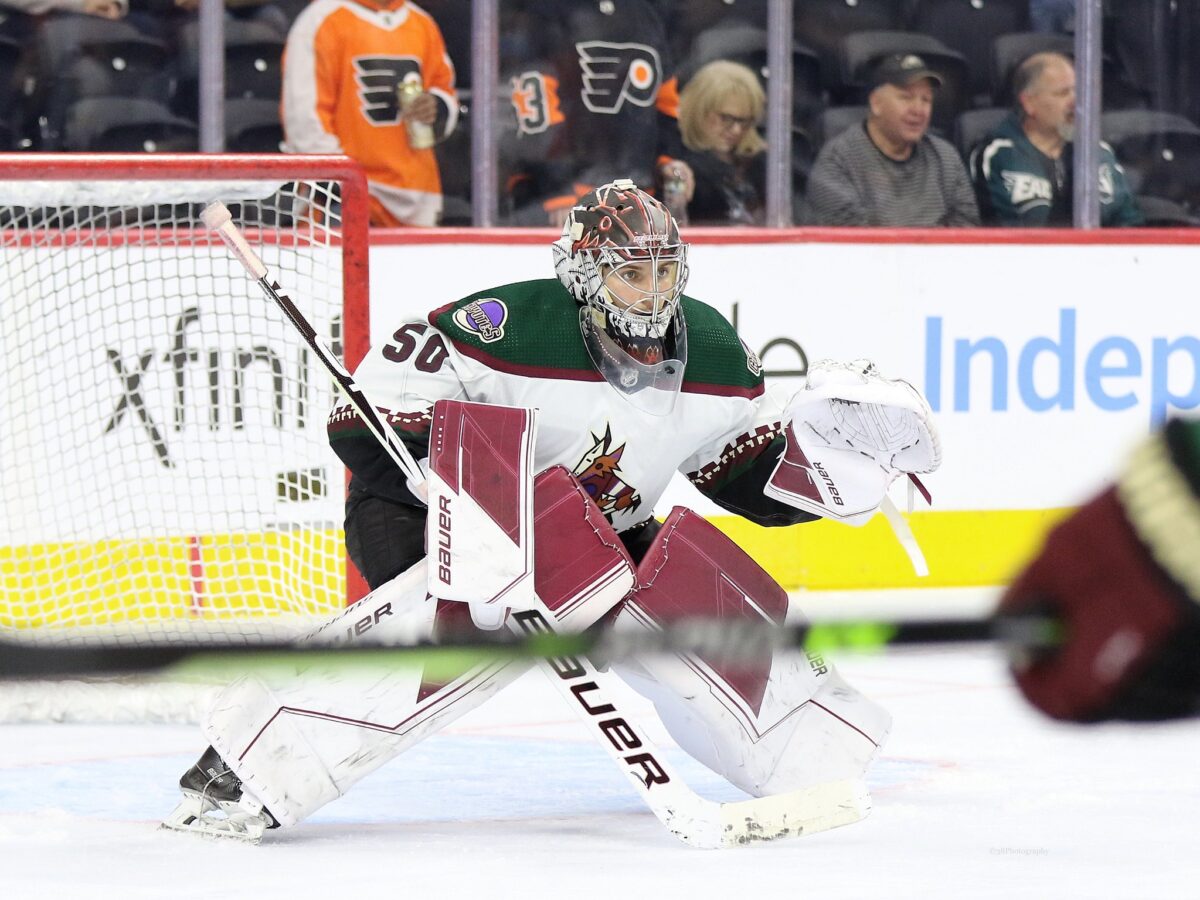 One thing the Coyotes can hope for next season is that whoever the team names as their starter on opening night can hope to take a step forward, as the team hopes to be more competitive and will need a reliable goalie who can backstop them to wins. They can also add depth to the position via free agency or trade. The Coyotes have a history of revitalizing and jump-starting a goaltender's career, as they did with Sean Burke, Nikolai Khabibulin, Ilya Bryzgalov, Devan Dubnyk, Mike Smith, and most recently, Darcy Kuemper, and Adin Hill.
What will happen this offseason remains a mystery. If the Coyotes want to make a statement next season, holes need to be filled and moves need to be made to stabilize the team's future. For now, we await the two biggest hurdles in the team's way, their May 16 arena/entertainment district vote, and next week's NHL Draft Lottery. For now, goaltending and defensive depth issues take a back seat, but rest assured, questions will be answered in time.