The clock is ticking and the possibility of the Phoenix Coyotes being re-located is as real as it's ever been for me.  Ever since the league took over the Coyotes, running it while looking for new owners, I always felt it was just a matter of time before a new owner was found. Well, it's been over four years and it's getting to be crunch time again.  If you're not familiar with the name Jerry Moyes, you're not alone.  It has been almost four years since he placed the Phoenix Coyotes into bankruptcy and most hockey fans have already forgotten that.  This ownership saga has gone on and on for so long that people in Phoenix and around the NHL have gone numb on the subject.
Let's go through a short list of the names rumored to be connected to Coyotes ownership over the past four years:
1. Jim Balsille
2. Jerry Reinsdorf
3. IceEdge Holdings
4. Matt Hulsizer
5. True North Sports and Entertainment
6. Greg Jamison
There have been other names associated with buying the Coyotes but these were the major players.  Balsille had no intentions of keeping the team in Phoenix.  He always wanted to move them to Hamilton, Ontario.  TNSE was waiting to purchase the Coyotes and move them back to Winnipeg if the NHL felt they were finished in Phoenix.  Reinsdorf, IceEdge, Hulsizer and Jamison were all willing to purchase the hockey team and keep them in Arizona which was and still is the NHL's preference.  These potential owners failed in their bids for one reason or another that are well documented and don't need re-hashing here.  For the first time in a long time, the NHL has stated through insider sources that even though it is still their preference to keep the team in Phoenix it will start looking into relocation options. A NHLPA source says to expect a decision before the start of the playoffs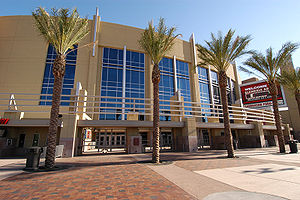 Ownership contenders or Ownership pretenders?
In the last couple of weeks, a couple of new names have surfaced as serious suitors to purchase and keep the team in Phoenix:
1. George Gosbee, a Calgary resident who is the head of AltaCorp which is an Alberta based investment bank tied to the Alberta treasury board.  Gosbee and a small group of investors are joining forces with Anthony LaBlanc (CEO) and his partners from IceEdge Holdings.
2. Darin Pastor, a Buffalo, NY area native who is the CEO of California-based Capstone Affluent Strategies which is a wealth management company.  His family has a history of involvement in pro-hockey so it's in his blood.
Alright, so what's next?  These are two serious options that Coyote fans should be excited about but I cannot stress the urgency of this situation.  This team needs an owner and whatever owner ends up buying this team, they need a commitment from the corporate community and the fans.  Jobing.com arena have wonderful luxury suites that are virtually empty.  This is where the corporate community comes into play.   These need to be purchased to create a major revenue source.  The fans may be asked for a season ticket commitment whether they are a full seat or a half seat.  If new owners are going to commit to the city, they may want to test the resolve of the fan-base.
I went through this once as a fan of the Winnipeg Jets.  The roller-coaster of emotions is something that can't be described.  The fans of the Coyotes got a small taste a couple of years ago when they were virtually thirty minutes away from being relocated to Winnipeg.
I have spent my winters in Arizona for the past five years and have re-connected with the ex-Jet now Phoenix Coyote franchise.  I don't think I could handle losing this team again.  I love spending my six months in Arizona and it wouldn't be the same without the Coyotes.
Fight For Your Team
If you are a fan of the Coyotes, I hope you take this seriously.  I think this is the last shot and it is REAL.  Tell your friends!  Scream from the rooftops!  Do whatever you can to let these new prospective owners know that you care and you will support this team!  I/we got lucky in Winnipeg and we got a NHL team back and I believe that was a million to one shot.  If the Coyotes leave Phoenix, they are not coming back.  Take it from me it hurts for a very long time !!!  Fight for your team.
Eerily quiet !!

It has been very quiet lately on the ownership front and I can't decide if this is good news or bad news.  Usually when the news is getting positive the parties involved tend to keep a tighter lid on leaking information.  The pessimists might say this is the calm before the storm and all hell is about to be unleashed with the announcement of the team moving.  WHICH ONE IS IT?