Stop us if you've heard this before – the Arizona Coyotes are sitting at the .500 mark so far this season.
It was true at this time last week, and, after the Coyotes split two home games to remain at .500, it's true again this week.
Considering that the team was 2-15-3 through 20 games last season, though, the start feels like a success in Arizona. Add in the fact that the Coyotes are finally starting to get healthy after injuries to Jakob Chychrun, Alex Goligoski, and Antti Raanta (although Jason Demers did suffer a potentially season-ending knee injury – a big loss), and there are plenty of reasons to feel good about the 'Yotes, even as they sit outside the playoff picture at the Thanksgiving cutoff.
Coyotes Week in Review
The Coyotes returned back home following their demolition at the hands of the Detroit Red Wings back on Nov. 13 at Little Caesars Arena, and they began a five-game homestand against the Western Conference-leading Nashville Predators on Thursday night. On the strength of goals from Michael Grabner and Jason Demers, the Coyotes held a 2-0 lead after two periods, and, despite being outshot 46-23 for the game, found a way to grind out a 2-1 victory in the third.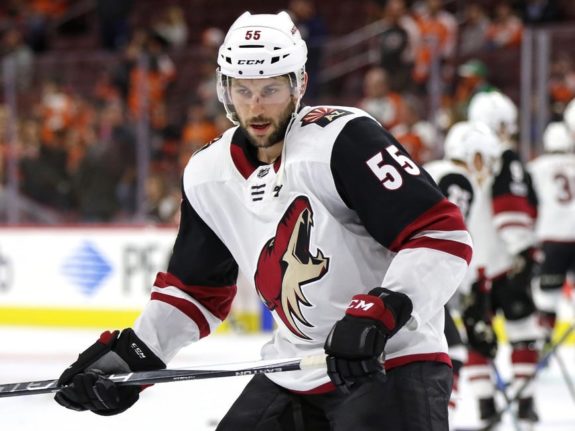 After dispatching the Preds on Thursday evening, the Boston Bruins came to town on Saturday looking to extend their winning streak over the Coyotes to 13 consecutive games. Arizona was in a hole early in this one after some sloppy defensive play in the opening minutes led to two quick Bruins goals, and, despite largely dominating the play for the rest of the game, it was a hole they ultimately could not climb out of as Jaroslav Halak stopped 32 of the 33 shots thrown his way to earn the 2-1 victory for his club.
A Look Ahead
Following their disappointing loss to the Bruins, the Coyotes had a few days off before their next game action, which will take place on Wednesday evening when the Vegas Golden Knights come to town. After going all the way to the Stanley Cup Final during their inaugural season, Vegas finally appears to be looking like an expansion team, as they've struggled badly en route to a 9-12-1 record through 22 games. The Knights were 15-6-1 at this point in 2017-18, so it's safe to say that they're well off of last year's pace. Will Vegas be able to recapture some of last season's magic against their desert rivals? We'll find out at 7:00 P.M. in the Valley of the Sun.
After enjoying the Thanksgiving holiday, the Coyotes will get back to work on Black Friday when they'll host the Colorado Avalanche in the first matchup of the season between the two Western Conference foes. The 'Yotes will have their work cut out for them in trying to shut down the "Rocky Mountain Line" of Gabriel Landeskog, Nathan MacKinnon, and Mikko Rantanen, who have combined for a ridiculous total of 83 points so far during the 2018-19 campaign. Puck drop is scheduled for 6:00 P.M. in Glendale.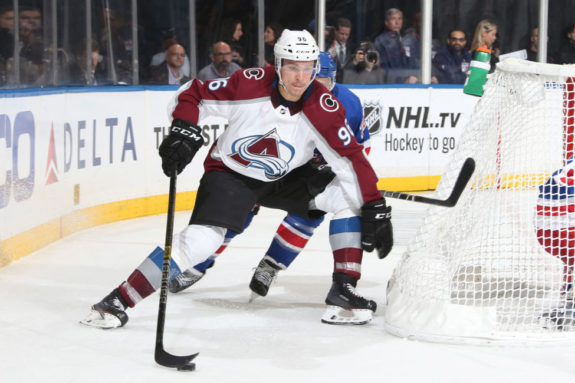 On Sunday, the Coyotes will wrap up their five-game homestand with a rare matinee affair against the Calgary Flames. Former Arizona goaltender Mike Smith will be in the building, but it's unclear at this point if he'll actually play – he has been outperformed in a big way by his backup, David Rittich, and he may have even lost his hold on Calgary's starting job, too. This one will get started at 1:00 P.M. at Gila River Arena.
The Coyotes will then kick off a short two-game road trip on Tuesday night in Minnesota against the Wild. The 'Yotes already have made one trip to St. Paul this season, when they suffered a 2-1 defeat back on Oct. 16 in the fifth game of the year. Can they pick up the W in the final game between these teams until March 31? Puck drop is scheduled for 7:00 P.M. local time (6:00 P.M. in Arizona) at the Xcel Energy Center.
Pacific Division Roundup
We're officially 25% of the way through the 2018-19 regular season, and it looks like the San Jose Sharks and Calgary Flames will be the teams to beat in the Pacific Division this year, as they're the only teams who have separated themselves from the rest of the pack. The race for the Pacific's third playoff spot remains wide open, though – could the Coyotes potentially play their way into postseason position as they get healthier?
Anaheim Ducks (8-9-5, 21 points)
Last week: 0-1-2 (5-0 L at VGK, 2-1 OTL vs TOR, 4-3 OTL vs COL)
Analysis: The Ducks have just eight wins this year and a minus-17 goal differential, but they find themselves in fourth place in the division on the strength of their league-leading total of five overtime losses. In a weak Pacific, Anaheim very much is a factor, and, if they can hang around until they get some key players back in the lineup, they could sneak into the postseason after a terrible start.
Player of the week: Brandon Montour – Goal, 2 assists, 10 shots
This week: Wed vs VAN, Fri vs EDM, Sun at NSH, Tue at TB
Calgary Flames (12-8-1, 25 points)
Last week: 2-1-0 (3-2 L vs MTL, 4-2 W vs CGY, 7-2 W vs VGK)
Analysis: With Mike Smith on the bench, the Flames went on a bit of a run last week, winning two straight after a disappointing 3-2 loss to the Montreal Canadiens on Nov. 15 where poor play from Smith was arguably the cause of the team's downfall. Calgary has now won five consecutive David Rittich starts, and it appears as if they may have found their new franchise netminder.
Player of the week: Matthew Tkachuk – 4 goals, 2 assists, +1
This week: Wed vs WPG, Fri at VGK, Sun at AZ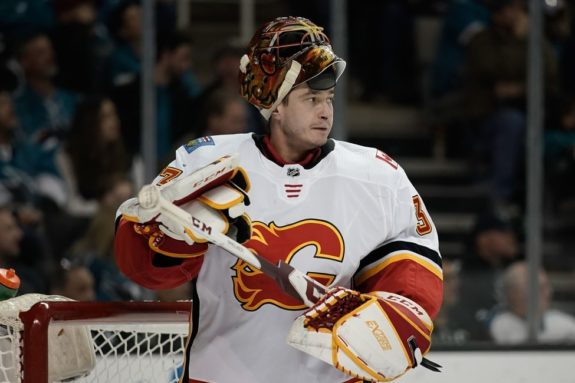 Edmonton Oilers (10-10-1, 21 points)
Last week: 1-2-0 (4-2 L at CGY, 6-3 L vs VGK, 4-3 OTW at SJ)
Analysis: The Oilers boasted an 8-4-1 record back on Nov. 3 after defeating Detroit 4-3, but they then proceeded to lose six of their next seven in regulation and were forced to make a coaching change as a result. Todd McLellan is out, Ken Hitchcock is in, and the team won their first game with Hitch behind the bench as they came back from a third-period deficit and beat the first-place Sharks in overtime on Tuesday night. The Oilers have missed the playoffs 11 times in the last 12 seasons, so Hitchcock has the potential to be the savior in Edmonton.
Player of the week: Leon Draisaitl – 2 goals, 4 assists
This week: Fri at ANA, Sun at LA, Tue vs DAL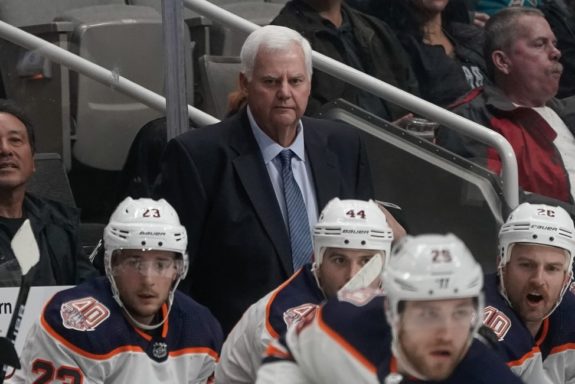 Los Angeles Kings (7-12-1, 15 points)
Last week: 2-1-0 (2-1 SOW at CHI, 5-3 L at NSH, 2-0 W at STL)
Analysis: The Kings still have the worst goal differential and record in the NHL, but things are looking up. Los Angeles picked up four points during their three-games-in-four-nights road trip through the Central Division, and now they'll return home, where seven of their next 10 games will be played. If Willie Desjardins' squad is going to climb back into the conversation in the Pacific Division this season, it's now or never.
Player of the week: Cal Peterson – 3 starts, 2-1-0 record, 101 saves on 106 shots (.953 SV%, 1.64 GAA), 2 saves on 2 shootout attempts, 1 shutout
This week: Wed vs COL, Sat vs VAN, Sun vs EDM, Tue at VAN
San Jose Sharks (11-7-4, 26 points)
Last week: 1-1-1 (5-3 L vs TOR, 4-0 W vs STL, 4-3 OTL vs EDM)
Analysis: Despite losing two of three last week, the Sharks have already clinched a winning homestand, but getting a fourth win over Vancouver on Friday before heading out on a five-game roadie would be a big boost for a squad that has struggled away from home in 2018-19.
Player of the week: Joe Pavelski – 3 goals, 2 assists, +1
This week: Fri vs VAN, Sat at VGK, Tue at BUF
Vancouver Canucks (10-11-2, 22 points)
Last week: 0-3-0 (6-2 L at MIN, 3-2 L vs MTL, 6-3 L vs WPG)
Analysis: Things are unraveling quickly in Vancouver. Since defeating the Boston Bruins 8-5 at TD Garden back on Nov. 8, the 'Nucks are 0-5-1 and have allowed five or more goals on three occasions. Rookie sensation Elias Pettersson has just two points (both goals) during the losing streak. Could he be hitting the dreaded rookie wall? And, if so, can Vancouver recover before its too late?
Player of the week: Nikolay Goldobin – Goal, 2 assists
This week: Wed at ANA, Fri at SJ, Sat at LA, Tue vs LA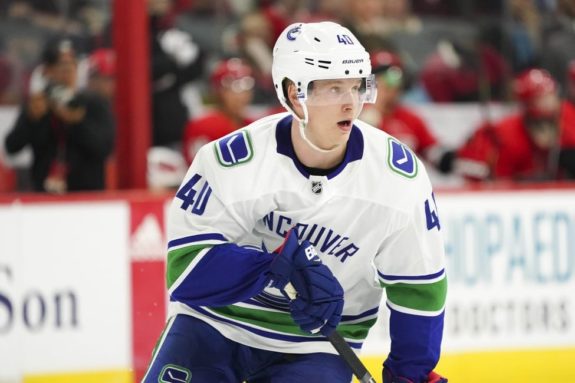 Vegas Golden Knights (9-12-1, 17 points)
Last week: 2-2-0 (5-0 W vs ANA, 4-1 L vs STL, 6-3 W at EDM, 7-2 L at CGY)
Analysis: The Golden Knights continue to wallow in mediocrity this season – they haven't had any consistency in any aspect of their game this season, and they're struggling badly as a result. Max Pacioretty, Jonathan Marchessault, and Reilly Smith have started to pick up the scoring pace over the last few weeks, but until either Marc-Andre Fleury or Malcolm Subban provide consistent goaltending, this team will continue to hover around the bottom of the Pacific.
Player of the week: Jonathan Marchessault – 2 goals, 2 assists, 15 shots
This week: Wed at AZ, Fri vs CGY, Sat vs SJ, Tue at CHI
A lifelong Phoenix resident, Louis has been following hockey since 2010, has covered the Arizona Coyotes since 2015, and has been playing hockey since 2020. So far, Louis has visited eight NHL cities, and one of his personal goals is to eventually make it to all 31 NHL arenas. For any questions or concerns, contact the writer via Twitter @LouisPannone.