Due to the fact he has played on a struggling Arizona Coyotes team in each of the past two seasons, Karel Vejmelka hasn't gotten a ton of attention. The now 26-year-old was signed by the Coyotes to a deal during the 2021 offseason and impressed management enough to earn him a three-year extension prior to the end of the 2021-22 campaign.
Related: 3 Potential Landing Spots for Minnesota Wilds' Jordan Greenway
His game has improved even further in 2022-23, as he has posted a 3.16 goals against average (GAA) paired with a .908 save percentage (SV%) in 36 games. Those numbers are quite fantastic given the situation he finds himself in, though even better is his goals saved above expected (GSAx), which ranks sixth amongst all NHL goaltenders, trailing only a few very elite names in Igor Shesterkin, Connor Hellebuyck, Juuse Saros, Ilya Sorokin and Linus Ullmark.
Given his success, paired with his team-friendly deal that carries a cap hit of just $2.725 million, the Coyotes are by no means rushing to trade him. That said, other teams have inquired, given that the Yotes are still years away from being competitive, and if the right offer comes their way, they may be so inclined to make a deal happen. Here are three teams that may have some interest in the Czech netminder.
Vegas Golden Knights
Let's start with the deal that, if it were to happen, would for sure take place before the trade deadline. After a great start to the 2022-23 season, the Vegas Golden Knights have been struggling immensely as of late and are just barely clinging on to the third spot in the Pacific Division. While injuries like the one suffered by Mark Stone have certainly played a part, the goaltending duo of Logan Thompson and Adin Hill hasn't been nearly as strong as it was in the early months of the season.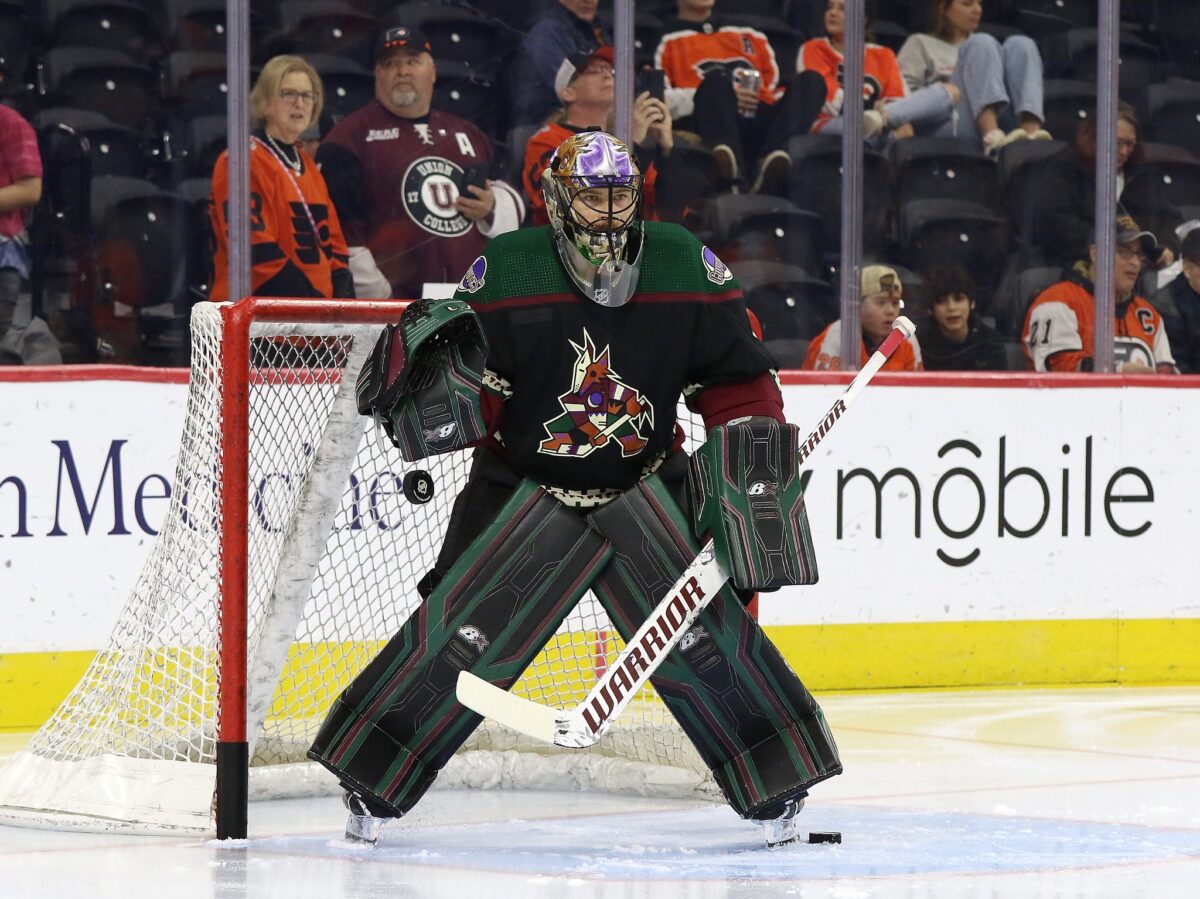 Vejmelka would instantly prove to be an upgrade for the Golden Knights, as he is undoubtedly a better goaltender than Hill, and many would argue that despite Thompson being an all-star this season, as well as in the running for the Calder Trophy, he may also be the weaker of the two. With Robin Lehner out for the season, general manager Kelly McCrimmon may wish to stabilize that position. Not only would Vejmelka be an inexpensive option for the remainder of the 2022-23 campaign, but he would continue to be so for the next two seasons on a team that has had cap issues in recent years.
Of course, in doing this, the Golden Knights would need to send a goaltender back, as they also have Laurent Brossoit currently playing for their American Hockey League affiliate Henderson Silver Knights. All three happen to carry a cap hit within $200,000 of each other, however, meaning the Coyotes could take either back and let them walk in the offseason if they so choose, as both are on expiring deals. Obviously, McCrimmon would have to add more to make this trade worth considering, but it certainly wouldn't be the worst decision to improve his goaltending on what otherwise is a Stanley Cup-contending roster if healthy.
Ottawa Senators
Now we will shift to trades that would be much more likely to occur in the offseason, with the first being the Ottawa Senators. After a number of big deals this summer, the expectation was that the Sens would push for a playoff spot in 2022-23, but that hasn't been the case. Due to their struggles, they are likely to be sellers come the deadline, which could mean that Cam Talbot, who is in the final year of his contract, could be shipped to a contender in the coming weeks.
---
Latest News & Highlights
---
If Talbot does get shipped out, the Senators will be in the hunt for a starting netminder for the 2022-23 season. For a team that is on the up, who better than a young goaltender like Vejmelka on a team-friendly deal? Bringing him in as their number one would give general manager Pierre Dorion some cap relief, which he greatly needs in order to get players such as Alex DeBrincat re-signed.
While Vejmelka wouldn't come cheap, he wouldn't be nearly as difficult to land as some other goaltenders around the league. And on top of that, the Senators have a number of talented prospects in their pipeline right now, several of whom would be of interest to the Coyotes. If Vejmelka does indeed remain in the desert past the deadline, this is a trade that could make plenty of sense for both clubs over the summer.
Columbus Blue Jackets
Similar to the Senators, the Columbus Blue Jackets likely wouldn't pursue a deal for Vejmelka ahead of the deadline, but they could be very interested in the offseason. With Joonas Korpisalo set to become an unrestricted free agent, they may look elsewhere for goaltending help, but may not be able to dish out a ton of money to the position, given that Elvis Merzlikins carries a $5.4 million cap hit.
Bringing in Vejmelka and his cheap deal would fix that problem and help shore up an area that could otherwise be a disaster for the Blue Jackets next season. While Daniil Tarasov has looked up to the task in very limited action at the NHL level in 2022-23, his AHL stats over the past year prove he is far from a sure thing just yet. Having Vejmelka paired up with Merzlikins, who has struggled immensely this season, is something worth pursuing for general manager Jarmo Kekalainen. (from 'Aaron Portzline: Blue Jackets' Elvis Merzlikins on his struggles, his contracts, and 'the haters,' The Athletic 12/23/22).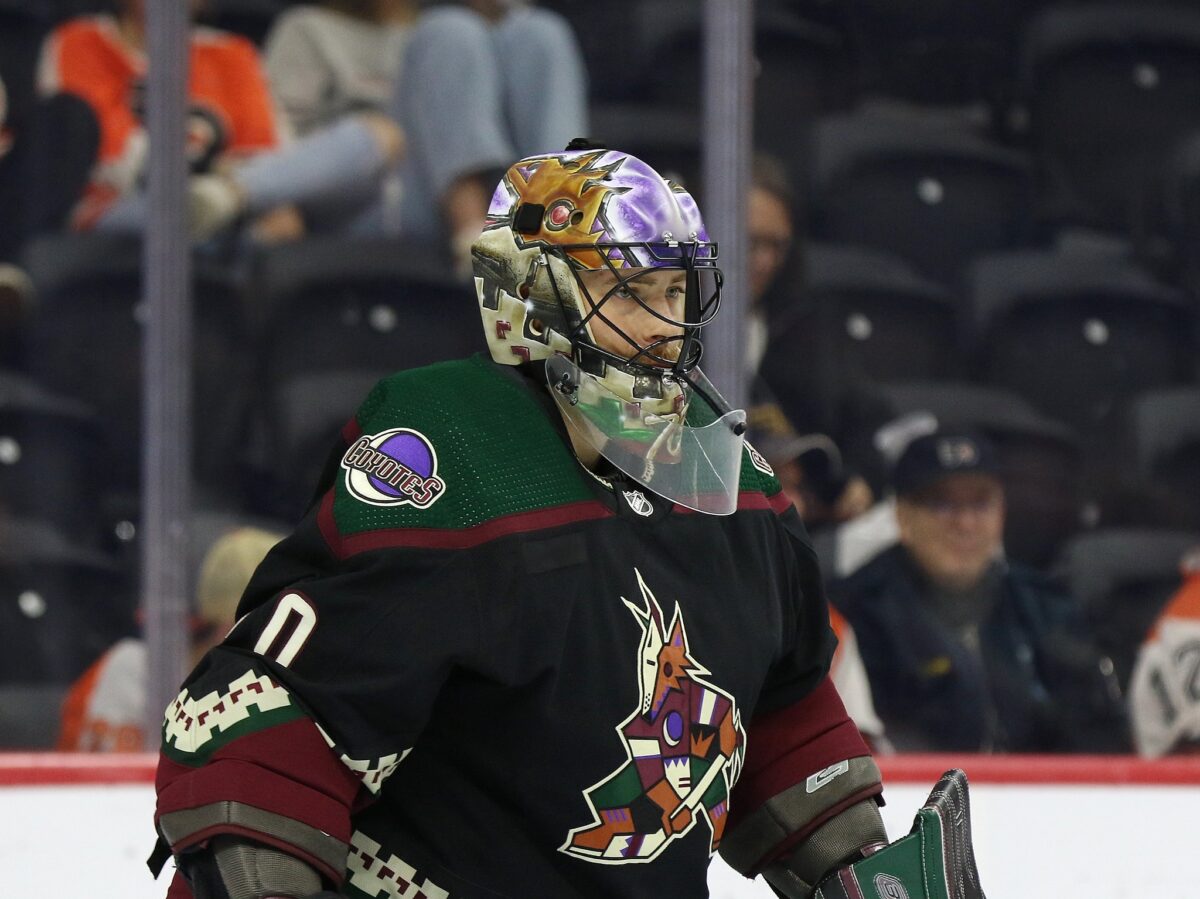 This fit may make even more sense, given the fact that while the Senators do have some good prospects in their system, the Blue Jackets boast one of the best prospect pipelines in the entire NHL. If they are willing to part with one, this has the potential to make both clubs happy trading partners over the offseason.
Coyotes in No Rush To Make a Move
As mentioned, given Vejmelka's term and inexpensive deal, the Coyotes are by no means in a rush to trade him. He has performed admirably for them since arriving a season ago and appears to be a legitimate number one at the NHL level. That said, it isn't likely that the Coyotes become competitive before his deal expires, so if the right offer comes their way, they appear to be willing to explore it. If he isn't moved by the deadline, expect similar chatter to pick up about him throughout the summer months.
---
---