Another exciting week in the CBHL (Coyotes-Blues Hockey League) has concluded, and we have quite a bit to discuss, as it was an eventful three games on the ice for the Arizona Coyotes. Let's jump right into it:
Kuemper Shuts Down St. Louis
Although the 'Yotes were originally scheduled to continue their scheduled six-game road trip in Minnesota and Colorado last week, COVID-19 concerns forced the postponements of both series, and the 'Yotes remained in Missouri for two more games against the St. Louis Blues. The first of these, a Saturday matinee affair, came after an outstanding goaltending performance from Antti Raanta gave Arizona the 4-3 win on Thursday, Feb. 4.
Darcy Kuemper was tending the net for the Coyotes in Saturday's contest, and although St. Louis was facing a different goaltender, the result was the same as Arizona rode a stellar performance from Kuemper to earn a second win in as many games.
It didn't take Arizona long to get on the board on the afternoon, with Jakob Chychrun collecting his second of the season. Arizona's young defenseman came down from the blue line and joined the play – he set up shop to the right of Blues goaltender Ville Husso and buried a nice pass from Nick Schmaltz from in tight to put the Coyotes up 1-0.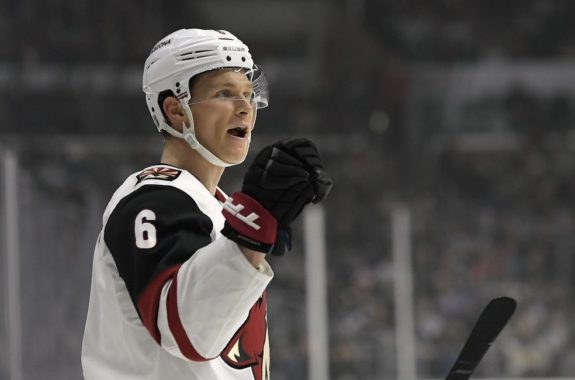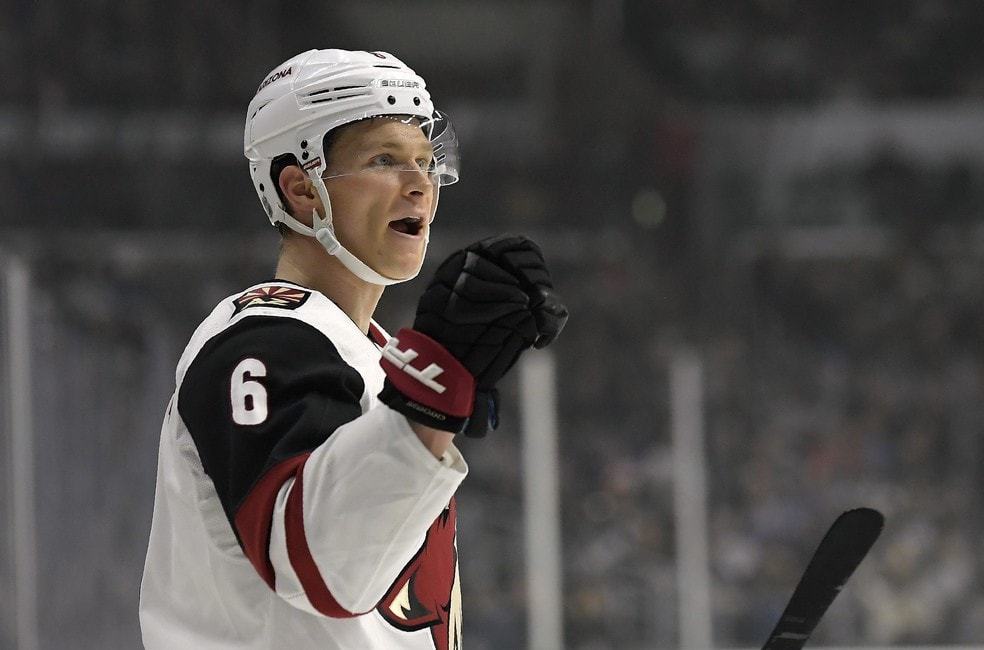 The Blues didn't waste any time in responding, though, as Robert Thomas took advantage of a misplay by the Coyotes. Jason Demers was unable to clear the rebound from a Colton Parayko try that went wide of the net, which allowed Thomas to put his first of the season through Kuemper's five-hole to make it a 1-1 hockey game just over four minutes in, on what was his third shot attempt of the play.
After the two goals in the opening 4:05, there was no further scoring until midway through the second period, when St. Louis native Clayton Keller burned his hometown team in what would become the theme of the week. With Arizona on a power play after a Torey Krug hooking penalty, Phil Kessel carried the puck through the neutral zone with speed and found Keller streaking up the left side of the ice. A perfect tape-to-tape pass allowed Keller to get behind St. Louis' Oskar Sundqvist, and the 22-year-old beat Husso five-hole on a breakaway before either of the Blues' defensemen could get back to pick up the Coyotes forward, resulting in a 2-1 Arizona lead.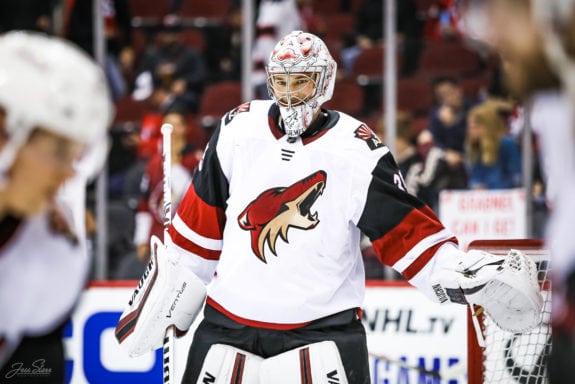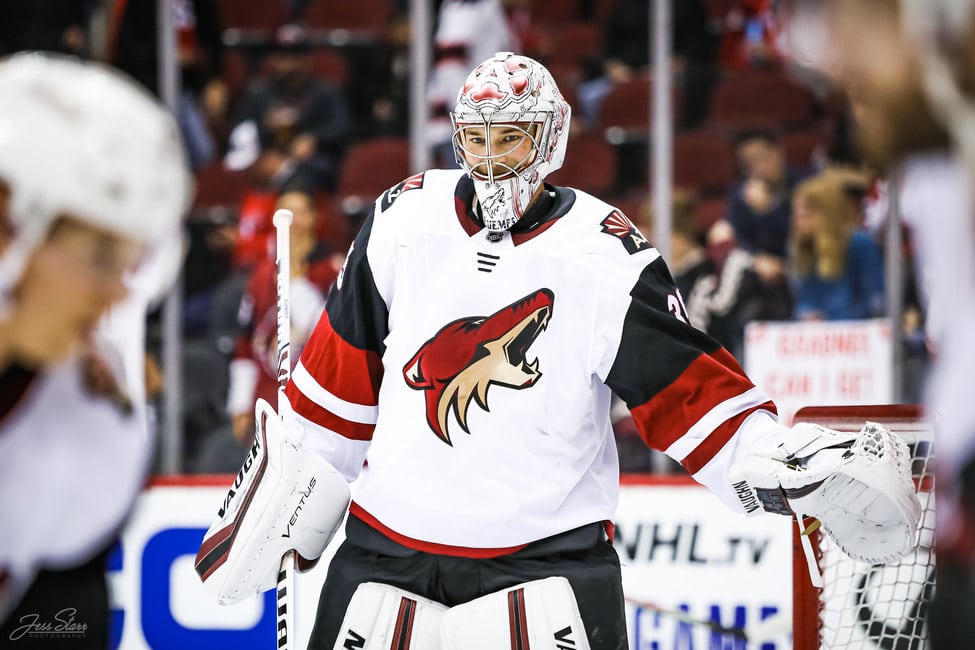 Following Keller's PPG, Kuemper took over the game for the Coyotes. After surrendering the early goal to Thomas on St. Louis' first shot of the game, the Saskatchewan native had things on lockdown at the Enterprise Center, stopping the final 24 shots he faced. With Arizona still leading 2-1 in the waning minutes, the Blues, who had scored three times with the goaltender pulled in the previous game between these teams, pulled Husso for the extra attacker. There would be no late offensive outburst in this one, though, as Chychrun put home his second of the game into the empty net with 25.5 seconds remaining to give Arizona the 3-1 victory.
Coyotes Complete Thrilling Comeback
Two nights later, the 'Yotes and Notes were back in action, with Kuemper and St. Louis starter Jordan Binnington facing off once again in net.
Blues captain Ryan O'Reilly opened the scoring in this one with a power-play goal at 13:29 of the first period, when he put home the rebound from a David Perron shot to give St. Louis the 1-0 lead. The home team held this lead through the end of the period, but it evaporated quickly once Period No. 2 started, when Arizona's Conor Garland was the beneficiary of a pretty passing play by Schmaltz and Keller.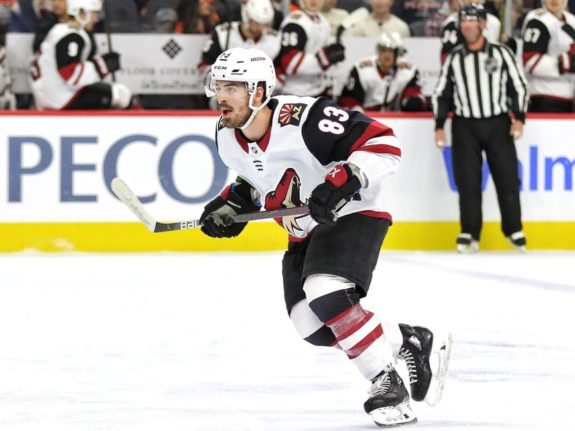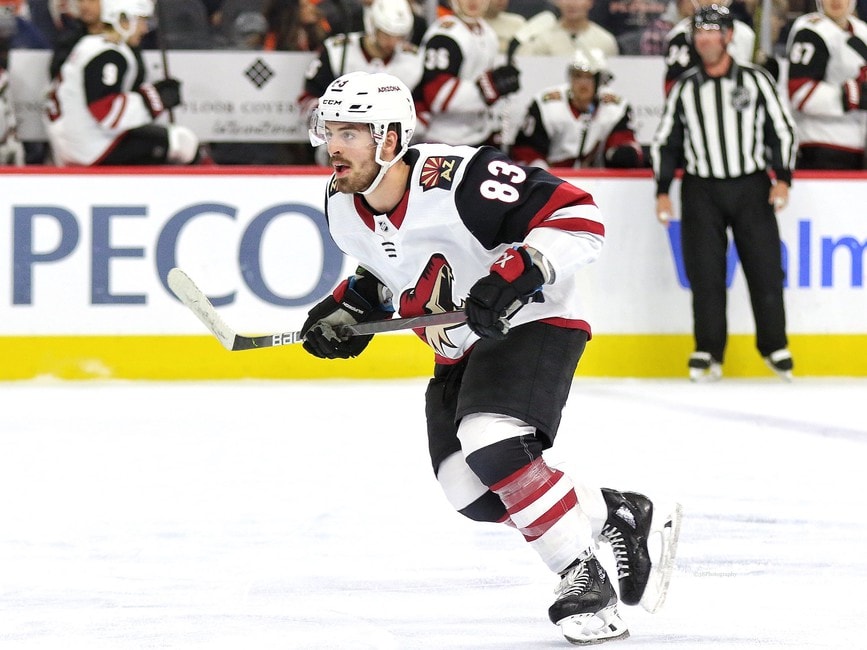 Keller drove hard to the net, and Schmaltz put a pass right onto his tape at the far post. Blues defenseman Niko Mikkola was able to disrupt Keller enough to cause his shot at a wide-open net to go off of the post, but the rebound came right to Garland, who buried his fifth of the season to tie the game at 1:48 of the second period. Perron restored the Blues' lead a few minutes later when he gathered his own rebound and put it past Kuemper, but Arizona's Christian Dvorak answered with a power-play goal to send the game to the third period tied at two goals apiece.
In Period No. 3, O'Reilly once again led by example, giving St. Louis the 3-2 lead less than four minutes in. As the final minutes ran down, it looked as if the Coyotes would have to settle for a split in their four-game stay in Missouri, but a rash of late penalties gave Arizona some extra space on the ice with the extra attacker. Keller was whistled for hooking with 2:25 left, giving St. Louis a power play, but Jaden Schwartz took a high-sticking penalty less than a minute later to send things to a 4-on-4 situation. Garland and Justin Faulk both went to the box with 49 seconds remaining, and Arizona pulled Kuemper to turn things into a 5-on-4 power-play situation. Keller returned from the box with 25 seconds remaining to give the Coyotes a two-man advantage, but little time to work with.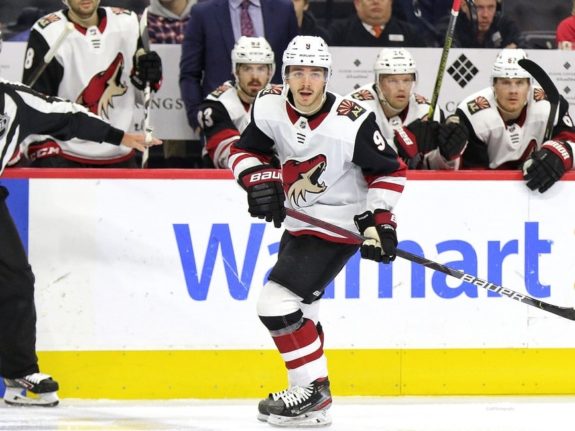 Things were looking bleak as the final seconds ran down – Chychrun's slapshot was blocked by Sundqvist, but he was able to regain the puck and fire another shot towards Binnington. This one was blocked too, but Dvorak gathered the puck and dropped a no-look pass to Keller, who ripped a shot past a down-and-out Binnington as the buzzer sounded. Fans in Arizona celebrated, but had to wait in order to see if the goal would count. Replays later indicated that the puck completely crossed the goal line with 0.7 on the clock, and the game went to overtime.
During the 3-on-3 period, we saw a lot of scoring chances (as we typically do in overtime), but the goaltenders stood tall, and this one went to a shootout. Perron went first and beat Kuemper over his glove to give the Blues the early lead. Schmaltz went next for Arizona and tried to go glove side on Binnington, but the St. Louis netminder was having none of it.
Brayden Schenn went next for the Blues, but he mishandled the puck and ended up dumping it into the corner – not quite what you're looking for in a shootout scenario. Garland was Arizona's next shooter and was once again money, beating Binnington to tie the score at 1-1.
O'Reilly was next for St. Louis and tried a bit of Patrick Kane-esque stickhandling, but Kuemper was able to come up with a huge save to give his team a game-winning attempt at the other end. Dvorak came on for Arizona, and, in a continuation of his breakout season, won the game for the 'Yotes with a forehand-backhand-roofjob on Binnington, giving the Coyotes two points in a game where a regulation loss once seemed the likely outcome.
Blues Exact Revenge at Gila River Arena
Winners of three of four in St. Louis, the Coyotes returned home to Gila River Arena on Friday night for the first time since Jan. 26 in the opening game of a franchise-record 11-game homestand. Undoubtedly looking to make a statement after their blown lead on Tuesday night, the Blues came out strong in Glendale, as Faulk, with the help of his mustache, blasted a power-play goal past Kuemper from the blue line just 2:28 in to open the scoring in what became an entertaining, intense, back-and-forth affair.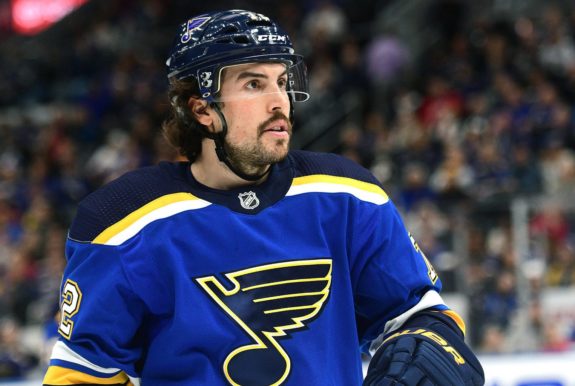 It appeared as if the Blues doubled their lead later in the period, as O'Reilly appeared to score his sixth of the year, but replays indicated that the puck had gone underneath the side of the net, which was lifted off of the ice on the play by Garland, who was defending. The goal was taken off of the board, and St. Louis had to settle for a one-score lead after 20 minutes.
Arizona would answer in the second period, when Johan Larsson picked up his first goal as a Coyote on the rebound from a Jordan Oesterle shot. It looked like they'd take a 2-1 lead into the third period when Garland scored with 1:08 remaining, but the Blues challenged for offside, and replays clearly indicated that Arizona's Christian Fischer did not touch up at the blue line before the puck was carried into the zone.
With a goal from each team being taken off of the board, and with both goaltenders playing well, this one stayed at 1-1 deep into the third period, until the Blues struck for the eventual game-winner, when Faulk pinched down from the blue line and found some quiet ice in the slot, where he zipped one past Kuemper with 6:55 remaining.
The Coyotes very nearly pulled another rabbit out of their hats with the extra attacker, but Keller's golden opportunity with 1:35 remaining went harmlessly off of the post. The Blues gained possession a few seconds later, and Ivan Barbashev iced it with an empty-netter. Schenn added another empty-netter for good measure later, and the Blues picked up a 4-1 victory in Glendale.
What's Next? (You Already Know – the Blues)
Do we really even have to pose the question of what's coming next for the Coyotes? It's two more games against the Blues on Arizona's home ice.
The next two matchups will make it seven consecutive games against one another for the Coyotes and Blues, extending the teams' own newly-set record for most consecutive regular-season contests against the same opponent. Many bring up Wayne Gretzky's points record as the most unbreakable record in hockey, but this one that Arizona and St. Louis share might just take the cake. We'll probably never see this again.
This weekend's schedule is as follows:
Saturday, Feb. 13 at Gila River Arena, 6:00 P.M. local time
Monday, Feb. 15 at Gila River Arena, 2:00 P.M. local time
Obviously, there's not a whole lot more we can say about this matchup that hasn't already been written about over the past two weeks. With Arizona holding a 3-2 lead in the season series entering Saturday, expect the Blues to push back and try to win some road games of their own. Many have likened this unique seven-game series to a postseason matchup, and, indeed, Friday's game was a chippy, fun-to-watch affair. Chances are we'll see some more playoff intensity as these teams grow increasingly familiar with one another.
West Division Roundup
Exactly 30 days have passed since the 2020-21 regular-season started, and there haven't really been too many surprises in the West Division to date, as the preseason consensus top-three teams have indeed been the top-three teams in the division so far. Here's a look at how Arizona's rivals stack up:
Anaheim Ducks (6-6-3, 11 pts, 4th place)
Last week: 2-1-0 (2-1 SOW vs SJ, 5-4 L at VGK, 1-0 W at VGK)
Analysis: Ducks fans, we have some good news and some bad news. The bad news? Your team hasn't won yet this season when allowing two or more goals in a game (0-6-3). The good news? They haven't lost when allowing one or fewer (6-0-0). John Gibson just needs to play a near-perfect game every night, and the Ducks will be your 2021 Stanley Cup champions, guaranteed.
Player of the week: Kevin Shattenkirk – 3 assists, +2
This week: Mon at SJ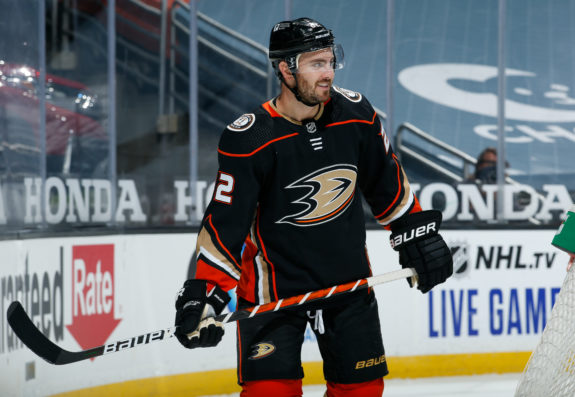 Colorado Avalanche (7-3-1, 15 pts, 3rd place)
Last week: N/A – didn't play
Analysis: The Avalanche are on a roll right now, as they've earned points in each of their last five games (4-0-1). Unfortunately, though, they haven't played in nearly two weeks due to COVID-19 concerns. They're tentatively scheduled to return to the ice on Sunday in Vegas, so it'll be interesting to see how rusty they are after the lengthy mid-season break from game action.
Player of the week: N/A – didn't play
This week: Sun at VGK, Tue at VGK
Los Angeles Kings (4-6-3, 11 pts, last place)
Last week: 1-1-1 (4-3 L at VGK, 4-3 SOL vs SJ, 6-2 W vs SJ)
Analysis: Last week, we wrote in this space that backup goaltender Cal Petersen deserved to start over the Kings' longtime franchise netminder, Jonathan Quick, and it looks like head coach Todd McLellan also arrived at the same conclusion. Petersen started all three games last week, going 1-1-1 with a .913 SV%. While that's nothing to write home about, it is light years ahead of where the 35-year-old Quick has been at over the past few seasons. LA has a top-15 offense this season – they can win on a regular basis if they receive better goaltending from Petersen.
Player of the week: Anze Kopitar – 3 goals, assist, +1, 8 SOG
This week: Tue vs MIN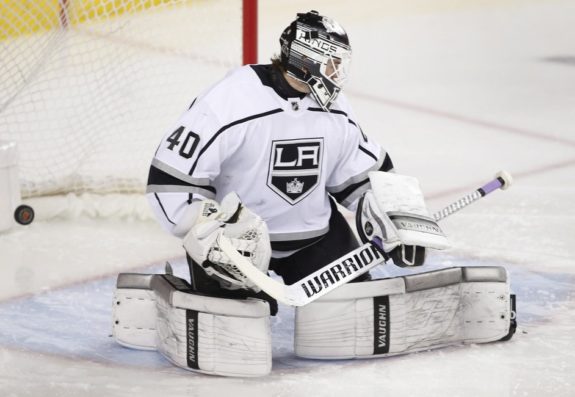 Minnesota Wild (6-5-0, 12 pts, 6th place)
Last week: N/A – didn't play
Analysis: The Minnesota Wild have not played since Feb. 2, due to a reported 13 players ending up in the NHL's COVID-19 protocols. The team is tentatively scheduled to return to action this coming Tuesday at the Staples Center against the Kings, but it still remains to be seen if that game will be played or not.
Player of the week: N/A – didn't play
This week: Tue at LA
San Jose Sharks (5-6-1, 11 pts, 7th place)
Last week: 1-1-1 (2-1 SOL at ANA, 4-3 SOW at LA, 6-2 L at LA)
Analysis: Instead of boring you with another paragraph about how inconsistent San Jose's goaltending has been, let's talk about the offense this time – the Sharks scored just six goals in three games last week, which dropped their scoring average all the way down to 26th in the league, at 2.50 per contest. Also, Martin Jones allowed six goals on Thursday to an LA Kings team that had previously lost five straight. Sorry, we couldn't help ourselves – this team has no prayer unless they can somehow lead Dominik Hasek to the fountain of youth and then sign him. Having Erik Karlsson – who has just three assists and a minus-five rating as the league's highest-paid defenseman – tag along with Hasek wouldn't hurt, either.
Player of the week: Logan Couture – 2 goals, 2 assists, +2, 10 SOG
This week: Sat vs VGK, Mon vs ANA
St. Louis Blues (8-4-2, 18 pts, 1st place)
Last week: 1-1-1 (3-1 L vs AZ, 4-3 SOL vs AZ, 4-1 W at AZ)
Analysis: The Blues have to be getting sick of playing the Coyotes – they're 6-2-1 against the other 29 teams in the league this season, but just 2-2-1 against Rick Tocchet's group. Once this seven-game series is wrapped up, they'll play Arizona only once more over the rest of the season, which is a positive development.
Player of the week: Justin Faulk – 2 goals, 2 assists, +4, 11 SOG
This week: Sat at AZ, Mon at AZ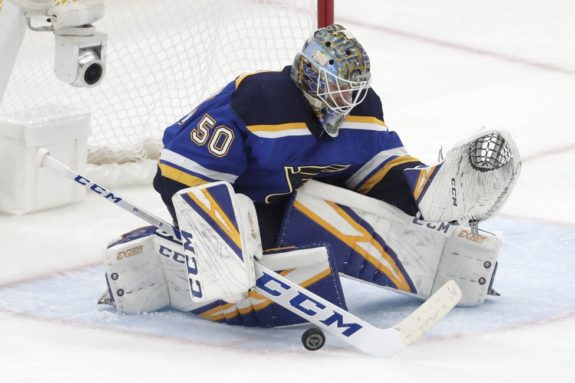 Vegas Golden Knights (8-2-1, 17 pts, 2nd place)
Last week: 2-1-0 (4-3 W vs LA, 5-3 W vs ANA, 1-0 L vs ANA)
Analysis: The Golden Knights picked up two wins last week to earn an 8-1-1 start through 10 games, but their momentum was halted in Game No. 11, as Vegas was "Gibsoned" on Thursday night – Ducks goaltender John Gibson kept all 21 shots he faced out of the net as Anaheim won a tight 1-0 decision to hand the Golden Knights their first home regulation loss of the season. They're still in good shape in the division, though, and have three games in hand on the first-place Blues.
Player of the week: Chandler Stephenson – 3 goals, assist
This week: Sat at SJ, Sun vs COL, Tue vs COL
---
---
A lifelong Phoenix resident, Louis has been following hockey since 2010, has covered the Arizona Coyotes since 2015, and has been playing hockey since 2020. So far, Louis has visited eight NHL cities, and one of his personal goals is to eventually make it to all 31 NHL arenas. For any questions or concerns, contact the writer via Twitter @LouisPannone.