Cal Petersen has been a gem in the Los Angeles Kings' goaltending prospect pool. He was a dominant force at the University of Notre Dame and had a stellar AHL career. In both 2018-19 and 2019-20, he gained the opportunity to play in the NHL, where he excelled during both of his short-lived stints, posting a .923 save percentage (SV%) in 19 total games played. In 2020-21, he cemented himself a roster spot in the Kings lineup, resulting in him playing phenomenally while splitting starts with Jonathan Quick.
Petersen's 2020-21 Campaign
Petersen has started in 40% of LA's games and has played in 50% of them, highlighting how he and Quick have been swapping games and getting similar opportunities to play. Petersen struggled in his first two games of the season, but has been fantastic since then.
Related: Quick Should See a Decreased Role with the Kings
Petersen's first two starts of the season were on Jan. 19 and 23, when he skated against two of the top teams in the NHL – the Colorado Avalanche and St. Louis Blues. In these two games, he allowed six goals against on 53 shots, for a .887 SV%. Afterward, he became a brick wall in the crease, which has seen his stock rise to the moon.
On Jan. 26, he laced up in LA's game against the Minnesota Wild, where he posted a sensational .970 SV%, making 32 saves on 33 shots. He nabbed a start during the Kings' first game of February, which saw them facing the rival Anaheim Ducks. He made the most of the opportunity despite LA losing the game, as he boasted a .952 SV% and made 40 saves.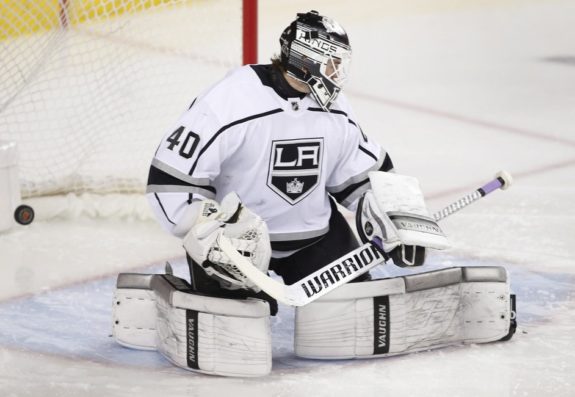 Petersen even did great in a game where he was substituted in for Quick. On Feb. 5, Quick let in four goals on 10 shots against Vegas. Subsequently, he was pulled, and Petersen managed to make 25 saves on 26 shots, for a .962 SV%.
Petersen's slow start in the first two games could be explained by him missing part of training camp, suggesting his latter games are better indicators of his playing level thus far.
Where he Ranks Compared to Other Goalies
Petersen's total save percentage this season is an impressive .935, which ranks fifth-best in the entire league. This spectacular number isn't due to Petersen having played in a small sample size of games, as three goalies who have higher save percentages have guarded the crease in fewer games than Petersen. This list includes two notable names, such as three-time Stanley Cup champion Marc-Andre Fleury and emerging star Mackenzie Blackwood.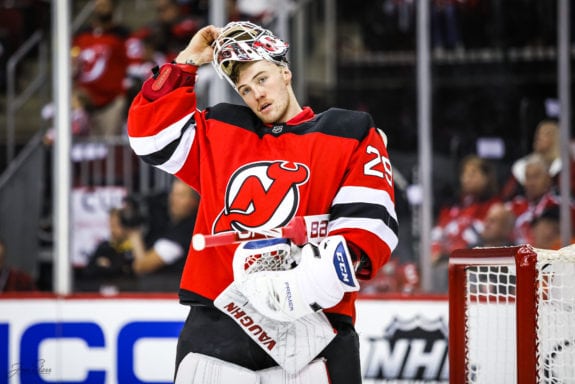 Petersen's goals-against average (GAA) is also among the league's premiere netminders; his 2.18 GAA currently ranks 11th in the NHL. A predominantly star-studded group of goalies have better GAA than him, including Fleury, Blackwood, Semyon Varlamov, Phillip Grubauer, Jake Allen, and former Vezina trophy winner and reigning Stanley Cup champion, Andrei Vasilevskiy.
Diving into his Analytics from 2020-21
Petersen's analytics further make his play more impressive. At even-strength play, he has a dominant .950 SV%. His shorthanded SV% is even more outstanding, as it is 1.000, meaning he hasn't allowed in a single goal while the Kings are on the power play. In fact, he hasn't let in a shorthanded goal since 2018-19, which is two seasons ago.
Related: Kings' Special Teams Playing Important Role in Early Season Success
Petersen has also proved to be clutch this season, as he has saved numerous high-danger scoring chances (HDSC). Throughout the four games he started in, the Kings have given up 16 HDSC at even-strength with him in net, equivalent to four high-danger opportunities per game. He has shown tons of poise on these chances, as he's posted a high-danger scoring chance save percentage (HDSC SV%) of .938. For perspective, Blackwood (who plays for New Jersey, which is known to give up tons of shots) has a HDSC SV% of .875, despite seeing eight fewer high-danger chances/1.4 less per game than Petersen.
Petersen also has a great goals saved above average (GSAA) of 3.37 in his four starts during 2020-21.
"Goals Saved Above Average is calculated by the league's average save percentage with the number of shots a goalie has had. The resulting number is the average goals a goalie in whatever league you're evaluating would've surrendered if they took the same number of shots as the goalie you're evaluating

Then, this number can be evaluated against the number of goals given up by the goalie in question, finally resulting in a plus / minus number, GSAA."

Goalie Coaches
This means Petersen has been playing well above the league average in regards to stopping pucks, as these statistics take into account how many shots a team surrenders.

How it Bodes for the Team's Future
Petersen's level of play bodes very well for the Kings' future. The 26-year-old is set to be the franchise's next great starting goaltender. With an abundance of youth and skill waiting to be injected into the Kings lineup via the team's prospect pipeline, Petersen should be the wall in net that will allow the team to shine.
Stats per Hockey Reference, HockeyDB and NHL
---
---