New Jersey Devils goaltender MacKenzie Blackwood is still on the COVID-19 protocol list and has missed the team's last three games, but that doesn't mean we can't talk about how great he's been. 
Blackwood played 23 games during the 2018-19 season but emerged as one of the top goalies in the league and New Jersey's likely goaltender of the future during the 2019-20 season. In 47 games, he had a .914 Save Percentage (SV%), .937 Fenwick Save Percentage (Fsv%), .939 Expected Fenwick Save Percentage (xFsv%), 7.08 Goals Saved Above Average (GSAA), and -0.54 Goals Saved Above Expected (GSAx).
These are good numbers, but what Blackwood has done in his three games during this young season has been even better. So far, the 24-year-old has a .948 Sv%, .959 Fsv%, .933 xFSv%, 4.76 GSAA, and 3.9 GSAx. Let's compare these numbers to some of the other young goalies in the newly-formed East Division. Blackwood has played fewer games than several of these players, but drawing comparisons is still possible. 
The Numbers Give Blackwood the Edge
After bidding veteran goaltender and all-time great Henrik Lundqvist goodbye during this past offseason, the New York Rangers came into the 2020 season with a young, but incredibly promising, goaltending tandem.
Alexandar Georgiev, who had served as Lundqvist's backup over the past few seasons, has also played in three games. During that span, he's recorded an .894 Sv%, .927 Fsv%, .936 xFSv%, -0.81 GSAA, and -0.94 GSAx. Blackwood's numbers are clearly much better, but Rangers fans would argue that Georgiev is considered to be their team's backup goalie, and comparing a starter to a backup means nothing.
Let's turn to Igor Shesterkin, then. Shesterkin made his NHL debut during the 2019-20 season and was lights out for the Rangers in net. He entered this season as the Calder Trophy favorite and is considered to be Lundqvist's heir, the Rangers' goalie of the future.
Unfortunately for the Rangers, Shesterkin has gotten off to a less than ideal start. In four games, Shesterkin has an .892 Sv%, .923 Fsv%, .929 xFSv%, -1.24 GSAA, and -0.77 GSAx. No team wants their starter of the future to begin a season with such poor numbers, and his play has been significantly inferior to Blackwood's. 
Ilya Sorokin of the New York Islanders has drawn comparisons to Shesterkin, his fellow countryman and childhood friend. Sorokin made his NHL debut this season and, although head coach Barry Trotz named him Semyon Varlamov's back up to start, is also considered to be his team's goalie of the future. Sorokin has played just two games for New York, but they haven't been pretty.
He has an .884 Sv%, .920 Fsv%, .933 xFSv%, -1.3 GSAA, and -1.1 GSAx. Granted, the Islanders as a team have gotten off to an unimpressive start to the season and appear to be struggling, but Sorokin hasn't looked convincing in the net. Blackwood 1, Sorokin 0.
Tristan Jarry of the Pittsburgh Penguins is an interesting player. He wasn't considered to be more than a backup until he took the starting job from Matt Murray last season and never looked back. He looked good last season but hasn't been particularly sharp so far in 2020.
In five games so far, the 25-year-old netminder has an .873 Sv%, .906 Fsv%, .929 xFSv%, -4.33 GSAA, and -4.18 GSAx. These numbers are the worst of the group and are the polar opposite of Blackwood's outstanding stats. 
Next up is Philadelphia Flyers goalie Carter Hart, who has taken the league by storm and is expected to become one of the better goalies in the NHL. So far, it doesn't look like that'll happen this season. In five games, Hart has an .880 Sv%, .907 Fsv%, .934 xFSv%, -4.1 GSAA, and -5.5 GSAx. Blackwood versus Hart might become quite the rivalry in the future, and for years to come but, right now, Blackwood is clear. 
The Washington Capitals have an intriguing goaltending situation this season. Ilya Samsonov, along with Shesterkin and Sorokin, are the three young Russian goalies in the east who are expected to be their respective team's number one option in net for years to come.
However, the Capitals have another young goalie in Vitek Vanecek, who has been very impressive and has been their number one netminder to begin the season. Samsonov has played in just two games and has an .865 Sv%, .898 Fsv%, .939 xFSv%, -1.97 GSAA, and -2.64 GSAx. These numbers can't even be placed in the same tier as Blackwood's.
Vanecek, on the other hand, has a .918 Sv%, .941 Fsv%, .943 xFSv%, 2.05 GSAA, and -0.47 GSAx. While these numbers are better than Samsonov's and every other aforementioned goalie, Blackwood's are still superior.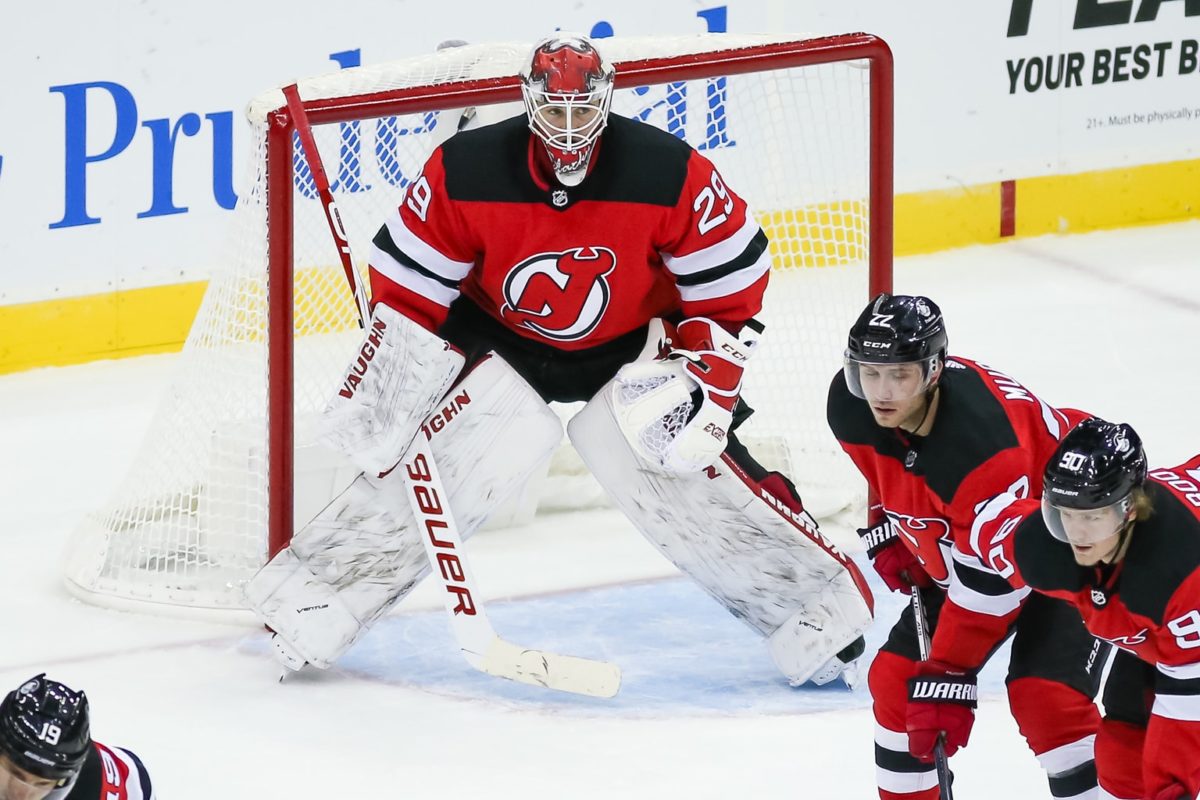 The numbers are proof that, at the moment, Blackwood is the best young goaltender in the East, but what makes his elite performance even more impressive is the fact that he plays on a relatively weak team.
Blackwood's Outstanding Play on a Mediocre Team
Coming into the season, the Devils were projected to miss the playoffs and finish second-to-last in the division, just ahead of the Buffalo Sabres. They're currently in sixth but are just one point out of fifth, two out of fourth, and four out of second. Their place in the standings is also a little misleading, as they've been playing impressively well.
Youngsters like Jack Hughes and Ty Smith have been phenomenal for the Devils, and the team seems to have bought into new head coach Lindy Ruff's system, but Blackwood is a major factor as to why the Devils have been so good. Blackwood is 3-0 and seems to cover up the team's weaknesses when he's in net. Granted, backup goalie Scott Wedgewood actually hasn't been terrible in his starts since Blackwood's been out, but it isn't the same.
In his first start of the season, Blackwood made a whopping 37 saves and then outdid himself in his third game, saving 47 shots against the Rangers. Even when the defense in front of him falters, Blackwood stands tall. He's also conceded just one high-danger goal on eight high-danger shots against. It's, quite frankly, difficult to put into words just how clutch Blackwood has been for his team.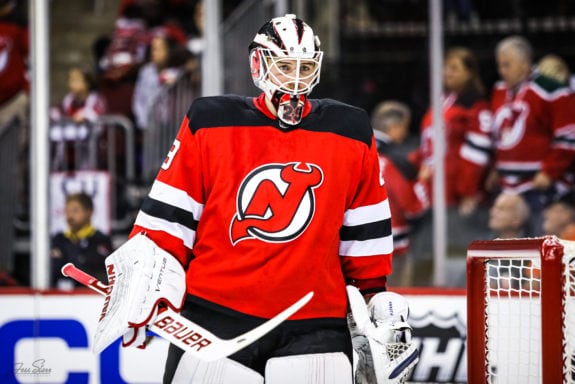 The Devils are a young and inexperienced team that has its weaknesses. Their defense isn't great, they aren't good on the penalty kill, and they're awful at faceoffs. When Blackwood is in net, the viewer tends to forget about these issues. 
Is there a chance that these goalies live up to the hype and end up becoming some of the best in the league and better than Blackwood? Of course. But right now, in terms of goaltending, the Devils are in great shape in net and have a guy that's more than capable of bailing them out when need be. Blackwood for the Vezina, anyone?
All stats are courtesy of Evolving-Hockey. 
---
---