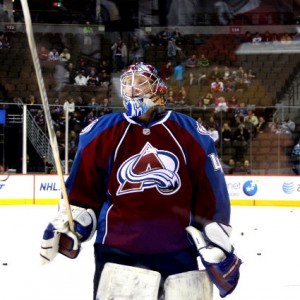 As the current NHL season winds down, Ottawa GM Bryan Murray announced on Monday morning that he had taken care of some important business for next season. Recently acquired goaltender Craig Anderson was signed to a four year, $12.75 million contract extension. It is an important step for the franchise and the hope is that they have solidified a key position moving forward.
Since arriving in Ottawa, Anderson has impressed his new boss and teammates, posting a 6-4-1 record with a 2.11 goals against average and a .938 save percentage. For a team that has not been able to catch a break in recent years with their goaltenders, Anderson has brought stability and some timely saves with him from Colorado.
"The position is one that we need if you're going to retool, rebuild and improve this hockey club moving forward," Murray said yesterday. "Craig has stepped in and allowed our team to play hockey the way we think we have to play going forward and with that secure building block, now we can address some other issues."
"When I made the trade to acquire him to start off with, he was the guy we had a chance I felt, that if we could get him in here to talk to him, we could sign. There are other goaltenders but very few are unrestricted this year. The numbers made sense for us. I just wanted to see him fit in this room, what he could bring to a younger group, give us some confidence and stability, and I believe that he has done that."
While he struggled with the Avalanche earlier in the season, since he arrived in Ottawa in the February 18th trade for Brian Elliott, he has returned to the form that impressed so many in the league during the 2009-2010 season. In his first real opportunity to carry the workload as a number one goaltender in the NHL with an up and coming Colorado team, Anderson posted a 38-25-7 win/loss record with a 2.64 GAA and a .917 save percentage. His numbers dropped dramatically this year, but the fresh start with the Senators appears to have rejuvenated the 29-year-old Park Ridge, Illinois native.
"It's been a great spot to come in and get the opportunity to show what I can do," Anderson said of his trade to Ottawa. "The fans have been very welcoming and have made it very easy to make my decision to want to play here. My first impression of the organization, the city and Bryan Murray has been an unbelievable first impression. From the moment I got here, the people in the organization have really taken the time to go out of their way to make me feel like I'm at home and they've done everything they possibly can to make my time here as easy as possible."
"For me, it's not about the money," Anderson said when asked about not waiting for unrestricted free agency on July 1st. "It's about having a good fit and finding a place where I'm going to be happy. A place where players are treated with respect and the organization communicates with their players. From day one, I've had some great talks with the coaching staff, the goalie coach and the General Manager; they have all gone out of their way to make me feel like part of the team. It's been a great feeling – one that makes you smile and want to come to the rink, you can't put a price tag on that."
A few questions have been raised about the fourth year of the contract Anderson signed, especially with Robin Lehner waiting in the wings as the team's goaltender of the future, but the fourth year was most likely necessary to complete the deal. Other goaltenders will be available in July, but it is unlikely that the two biggest names, Ilya Bryzgalov or Tomas Vokoun, would have any interest in a rebuilding Senators franchise and once the bidding starts on July 1st, their price tag would easily surpass what Ottawa was willing to spend. By signing Anderson now, Bryan Murray has a goaltender in his price range and more importantly, a goaltender he knows likes the city and is a good fit in the dressing room.
How does this deal affect Lehner's future? Quite simply, it allows him the time he needs to develop into a legitimate NHL goaltender. His first year in professional hockey has not gone according to plan, as he spent much of his time travelling between Ottawa and Binghamton serving as a backup to Brian Elliott while Pascal Leclaire battled one injury after another. Having Anderson signed allows the young goaltending prospect to spend at least one, perhaps two years in Binghamton, perfecting his game and developing into the goaltender the Senators organization believes he will become. If Lehner excels in Binghamton and proves that he is ready for the NHL, Anderson does not have a no-movement clause in his contract and the organization can act accordingly. With the struggles Ottawa has had trying to solidify the goaltending position in recent years, having two NHL calibre goaltenders on the roster in the future is a problem they would love to have.
Bryan Murray has accumulated a good supply of draft picks for this June and youngsters like Bobby Butler, Zack Smith, Colin Greening and Erik Condra have made a positive impression on Senators fans. The team also has a solid core of veteran leaders with Daniel Alfredsson, Jason Spezza, Chris Phillips and Chris Neil. With a few timely saves next season from Anderson, the rebuilding process may not take as long as first anticipated. Stanley Cup contenders? No… In the hunt for a playoff position? If Anderson can steal a few games, well, stranger things have happened…
Andrew Rodger is an independent sports columnist and member of the Canadian Association of Journalists. Along with operating The Voice of Sport, he covers the Ottawa Senators and writes the "Ask the Alumni" series here at The Hockey Writers. He is the resident writer for the NHL Alumni Association and a contributor on CBC News Now.