Compared with the remarkable transformation that occurred last summer, the 2013 offseason has featured only a small trickle of news for Minnesota Wild fans. There were no high draft picks, there were no headline grabbing free agent signings and there were no major trades. Make no mistake about it though, the 2013 offseason has the potential to be remembered as an absolutely critical summer in the development of this franchise.
Fletcher may not have made a splash like July 4, 2012 when he unveiled the twin signings of Ryan Suter and Zach Parise, it is unlikely that he will ever have a day like that again, but he did make some critical gambles that could be crucial for both the short and long term success of the Wild. We break down Fletcher's offseason performance move-by-move so far.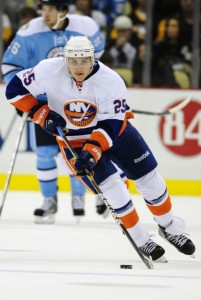 Welcome To Minnesota El Nino
Fletcher dealt his 2013 first round pick in the trade for Jason Pominville and generally entered the draft in New Jersey at the end of June with limited picks. Rather than allowing that to prevent him from acquiring top end talent, Fletcher made a trade to acquire disgruntled top forward prospect Nino Niederreiter.
Niederreiter was the fifth overall pick in the 2010 NHL draft. He was touted as one of the most exciting young potential power forwards in the world at that point. However, a difficult start to his NHL career and internal disagreements with the New York Islanders franchise meant that Niederreiter became trade bait this summer.
The 20-year old cost Fletcher popular, physical forward Cal Clutterbuck and his third round pick in 2013. Niederreiter's upside is terrifically high. He scored 28 goals and 50 points in 74 games with the Bridgeport Sound Tigers in 2012-13 and should be better prepared in terms of strength and conditioning for the NHL this time around.
The concern with Niederreiter is his intangibles. He was roughly treated by the Islanders, but there are prospects who have been given fewer opportunities. He will need to work hard and earn his place into Minnesota's starting line-up.
Matt 'Troublemaker' Cooke Heads To The State Of Hockey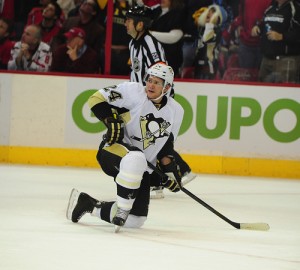 Matt Cooke is best known as the NHL's resident villain. The Ottawa Senators took that to an extreme during the course of last season when GM Bryan Murray and owner Eugene Melnyk unleashed their anger very publicly in the wake of what remains an uncertain incident involving their star blue liner Erik Karlsson and Cooke's skate.
Still, Cooke's overall improvement in play cannot be over-looked. This is a player who declared the desire to change his ways. The evidence suggests that he has generally been pretty successful. The past two seasons have seen a very different player in just about every way. Not only has he cut down significantly upon major incidents, but he has generally found a better balance between being a physical agitator and a dirty hockey player.
Cooke is a solid third line player who can contribute offensively and has become one of the league's strong penalty killers. He can provide scoring, physicality and a veteran presence on a young Minnesota roster.
Of course any border-line play involving Cooke will be treated differently. The league was up in arms when the 34-year old was guilty of checking Boston defenseman Adam McQuaid from behind during the 2013 Eastern conference finals. The reality is that the hit was no different from those delivered by Henrik Zetterberg and Marian Hossa during the same playoffs, but of course the reaction was very different.
Cooke comes at a bargain $2.5 million per year price. He will bring much of the edge lost with the departure of Clutterbuck and perhaps just a little bit more. Pittsburgh writer Meesh Shanmugam perhaps put it best when he asked for Minnesota to give their new forward a chance. [See Meesh's article here: Dear Minnesota, Please Give Matt Cooke A Chance].
Niklas Backstrom Remains Man Between The Pipes
There was speculation in the early part of the offseason that the Wild were looking to move on from their goaltending situation. They were apparently pretty close to acquiring highly-touted and former Los Angeles Kings back-up Jonathan Bernier, but the 24-year old was dealt to the Toronto Maple Leafs instead.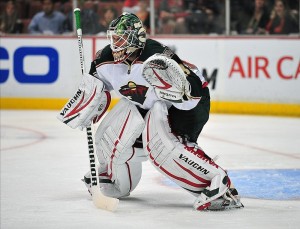 Instead, Fletcher re-signed veteran Niklas Backstrom. Minnesota's long-time starter took a significant pay cut on his new deal. He will make $3.4 million per year over the next three seasons after making $6 million annually on his previous contract. That pay decrease was crucial as Fletcher aimed to make his roster salary cap compliant ahead of the 2013-14 season.
Backstrom has been a reliable presence between the pipes since taking over the starting role in 2006-07. However, there are concerns about his fitness and form as he hits the age of 35. For now Fletcher should be credited for sticking with the Backstrom-Josh Harding tandem as it provides extra time for promising prospects Darcy Kuemper and Johan Gustafsson to develop.
Acquiring Bernier would have accelerated Minnesota's progress in net, but it remains a positive position for the organization as a whole.
Ballard And Blum Part Of Blue Line Solution?
By far the biggest concern for the Wild in the lockout shortened 2013 season was the blue-line. Head coach Mike Yeo struggled to find a consistently reliable blue line pairing beyond the top duo of Ryan Suter and Jonas Brodin.
Fletcher knew he didn't have much salary cap room to play with, but he also knew that he needed to re-vamp the defensive corps in some way. The final solution was to trade Justin Falk and use a compliane buyout on Tom Gilbert, while signing Keith Ballard and acquiring former Nashville defenseman Jonathon Blum on a two-way contract.
Gilbert was a major and expensive disappointment last season, while Falk showed promise but was a part of an immobile and inexperienced back-end.
Ballard brings an experienced presence to the bottom pair, while Blum will join top draft pick from 2012 in creating competition for places. Fletcher will also be counting upon Jared Spurgeon and Marco Scandella to bring more consistency to their respective games after erratic performances over the last couple of years. [See also: Marco Scandella: Pleasant Playoff Surprise For Minnesota Wild].
Veteran Departures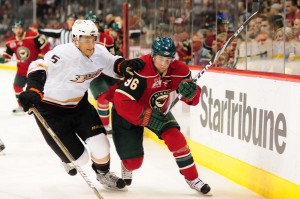 Fletcher also had to make some difficult decision on a number of key veterans during the past offseason. The departures of Gilbert and Clutterbuck have already been mentioned, while Pierre-Marc Bouchard and Matt Cullen were also allowed to leave via free agency. That's three experienced forwards from the top nine being replaced by just one veteran addition (Cooke), and a top four blue liner with no obvious replacement.
Much of that decision making was obviously made based on the salary cap situation. However, it is also a sign that Fletcher, under pressure to put together a roster capable of returning to the playoffs, is ready to trust his younger players. Few teams will be as dependent on youth when the new season starts in October. After stocking their cupboards over the past few years, the 2013 offseason suggests that Fletcher hopes to reap the rewards of the franchise careful building process.
All in all the 2013 offseason should be reflected upon as a positive one for Chuck Fletcher. He re-tooled his roster under difficult conditions with the lowered salary cap and has found a balance between building for the future and competing in the presence. He knows that his team is heavily dependent upon the play of young players in the 2013-14 season, but that is an okay point for this franchise to be at right now.
Seb has been writing about the NHL and ice hockey online for over a decade. A long-time passionate Bruins fan, it's a dream of his to be writing about this team, but don't expect him to hold back from telling some hard truths when necessary. Follow him on twitter @seberead