The Flyers very well may be cursed in Columbus. By the time the orange and black pay their next visit to Nationwide Arena next season, they will have gone winless in that building for over a decade, or close to it. Philly's current six-game losing streak in Ohio's capital city may not be their longest drought in an opponents' barn, but it's certainly turning out to be quite convoluting.
Cursed in Columbus
It's been a while since Philadelphia handled the Blue Jackets in their home building – Dec. 13, 2005 to be exact.
The last time the Flyers exited Nationwide Arena in Columbus with a pair of points in hand, Peter Forsberg and Robert Esche were on the team. Ken Hitchcock was in his fourth full season as head coach, and Gold Digger by Kanye West was flooding the airwaves with modernity.
Since Hitchcock's depature, however, John Stevens, Peter Laviolette, and Craig Berube have combined to go 0-4-2, with Berube getting the only points throughout the current winless streak. That doesn't give the second-year coach any satisfaction, though, as he openly criticized the team's two best players, Claude Giroux and Jakub Voracek, after Friday's 4-3 overtime loss.
"[They're] not playing the right way for the most part, for me," said Berube of his top line stars.
Despite adding an assist apiece on Friday, combining for 115 points on the season, the pair of the league's top 10 scorers have collectively been held scoreless in three of of the Flyers' last five games. Coincidentally, each provided an assist as well in Philly's 3-2 overtime loss in Columbus on Dec. 9.
"They're not working together very well," Berube added. "They have to work harder, first of all, and they have to play a simpler game."
With Philadelphia's last win in Columbus coming in 2005, both Giroux and Voracek have yet to win there as Flyers. And since Mike Richards and Jeff Carter are no longer with the team, no player on the roster has either – as a Flyer, anyway.
Sure, the Jackets are new to the Eastern Conference, joining Philadelphia's divisional ranks last season. And since their last victory at Nationwide Arena, the Flyers have only gone back twice before the Blue Jackets joined the Metropolitan Division. But that doesn't ease the blow of six losses in their last eight overall meetings, and it clearly doesn't excuse not taking advantage of favorable circumstances.
Columbus has been decimated by injuries to key players all season long. Currently, goalie Sergei Bobrovsky (groin), forwards Nathan Horton (back), Brian Gibbons (knee), Boone Jenner (back), Jeremy Morin (accelerated heart rate) and defenseman Ryan Murray (high ankle sprain) are all on injured reserve. — Tim Riday, CSN Philly
Blue Jackets goalie Sergei Bobrovsky has battled several injuries over the last two seasons, leaving backup Curtis McElhinney fair game to Philly's firepower. The only problem, of course, is the Flyers seized that opportunity once, with Friday's loss dropping their overall record against the backup goalie to 4-1-0.
https://twitter.com/_Karaaaa_/status/566395405190328323
McElhinney has now won three straight against the Flyers, giving up three goals in all three tilts. Friday's overtime loss was merely insult to injury, as Berube's squad blew a two-goal third period lead.
"Can't let that happen," said forward Wayne Simmonds, who scored a pair of goals and an assist. "Fine, seven minutes left, eight minutes left, we're up 3-1. There's no excuses."
The Flyers picked an inopportune time to blow a late lead. Before Friday's result, the Blue Jackets were 0-20-0 on the season when heading into the third period trailing. The wasted opportunity wasn't just the latest chapter in Philly's struggles in Columbus, but also ripped a valuable point away in the midst of an outside shot at the playoffs.
"It's pretty embarrassing," said Sean Couturier. "We're in the playoff hunt. You can't have an effort like that. You're not going to go far the way we've played."
Whether it's 2008, or 2015, the Blue Jackets have bullied the Flyers at Nationwide Arena, smothering white jerseys with a dominant forecheck. Columbus' 183-159 home advantage in shots on goal since Dec. 27, 2008 was culminated with their 33-25 edge in shots on Friday.
The Flyers haven't won a game in Columbus since 2005. I weep.

— Matt (@TheOrangeNBlack) February 14, 2015
Friday's contest featured Columbus' signature pressure, pinning the Flyers into their own zone for lengthy periods of time. And although they were able to escape the Buckeye State with a point, Friday's loss marked the Flyers' third one-goal loss in their last five games.
"These last two games have been pretty embarrassing, the way we're losing these games," added Couturier.
"There's something wrong, losing these games the way we're losing them. We got to fix what's wrong and play better for 60 minutes."
While the team's possession issues can be identified in a handful of ways, the Flyers have to be relieved their time in Columbus for the season is up. But then again, they're not quite out of the woods. Philly will welcome their divisional foes to the Wells Fargo Center on Feb. 17.
The Captain's Respect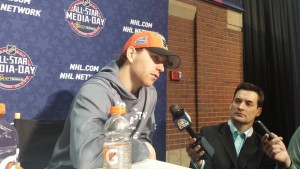 If there's one player who isn't surprised with Columbus' success at home against the Flyers, it's captain Claude Giroux.
When fielding questions last month during the All-Star Media Day, the face of Philly's franchise was asked which underachieving team he thinks has the best chance to rebound during the post-All-Star break portion of the season.
"I mean, Columbus has a good team," Giroux answered. "Maybe their record hasn't really shown, but they have good pieces – last year, they were a really dominant team, and they're a really hard team to play against."
At that time, the Blue Jackets were saddled in sixth place in the Metropolitan Division with a 20-21-3 record, two points behind the Flyers. Giroux's high praise came, of course, after the Jackets had won two of the first three meetings, including Dec. 9's overtime win.
Since Giroux's All-Star break assessment, though, the Blue Jackets have continued to struggle. Despite downing the Flyers are Friday, Todd Richards' squad sits two games under .500 with a 24-26 record. Columbus' 51 points through Feb. 13's action stations them in sixth place, the same standing the Jackets were in at the break.
The Flyers' defensive effort has been piss poor tonight. Look at their positioning on all three Columbus goals. Can't happen.

— Tim Riday (@TimRiday) February 14, 2015
With an on-ice Corsi-differential of minus-318, Columbus has been victimized by pucks being thrown in their direction all season long. Their 46.4 percent Corsi-for percentage is 25th in the league, trailing every team below them in points throughout the league.
Perhaps those numbers would be different if the Blue Jackets played the Flyers every game. On Friday, Columbus' 56-39 Corsi-for advantage was very indicative of the recent results between the two teams. Especially when playing at Nationwide Arena.
"They're a good team," Giroux reiterated on Friday. "They're pretty fast, they can get on you pretty quick, and when we settled down and stopped making plays, that's when we got out of the game."
While Nationwide Arena is hardly the most tormenting building the Flyers have played in recent years, it's arguably the most frustrating.
The Flyers have lost 10 straight regular season games against the New York Rangers at Madison Square Garden, while losing seven straight on the road against Tampa Bay and Colorado. But while Philly has traveled to Denver only twice since 2011, the Blue Jackets are statistically nowhere near the Lightning or Rangers.
For whatever reason, though, the Flyers are cursed in Columbus. At least they have an idea of how the Chicago Blackhawks, or the Pittsburgh Penguins feel. The Flyers have won 10 straight regular season home games against the Western Conference powerhouse, while they've downed their loathed divisional rival in six straight (four on the road).
It may not make sense, but it doesn't have to. Hockey is a funny game.