The Flyers may have lost their seventh game in their last eight outings on Tuesday night, but by all admissions, they were lucky to gain a point. You know the drill. Another trip to Nationwide Arena, another loss. Make it five straight there, to be exact. But it could've been much worse, which is why Philly will thankfully take the lone point in Columbus.
Blue Jackets 3, Flyers 2 (OT)
It didn't take long for the Jackets to fire off their obnoxious cannon after Philadelphia gave them their first power play. Boone Jenner pushed a rebound off of Braydon Coburn into a wide open net, ending the Flyers' three-game streak of scoring the game's first goal, and possibly damaging Philly's psyche in the process.
Brayden Schenn would later tie it – the first of his two goals on the night – but Columbus was too much for the Flyers to handle all night. Our old pal Scott Hartnell gave the Jackets their second lead of the night on a power play goal in the second period.
"They got another power play, battle in front (of the net)," said Flyers goalie Steve Mason, who had just made his first career start at Nationwide Arena as a member of the visiting team. "I haven't seen the replay, but I thought I had contact – pushed me out of the net and didn't put me in a position to get back. The puck was sitting there in front, and Hartnell banged it in."
It was a lead they would hold all the way up until the 19:04 mark of regulation. That is, of course, until Schenn notched his second of the night. But even Schenn's equalizer would prove to be difficult, as it was initially waved off for what appeared to be inadvertent whistle. Nonetheless, the play was reviewed, and deemed a good goal.
https://www.youtube.com/watch?v=ksU4gaV-dTE
"He (the official) said he wasn't sure if he blew the whistle or not," said Schenn. "He said he was going to go upstairs and check it out. It was actually nice to get that goal, but it would've been nice to get a win."
Schenn's game-tying goal, though, did secure the Flyers their fourth point in their last three games, as well as keeping his team ahead of the surging Blue Jackets – who have now won four in a row.
"It's satisfying, but it's a lucky point too," added Schenn. "It was a tough game from our standpoint. We didn't generate a whole lot, weren't great in our own end, and we're lucky to squeeze into overtime."
Flyers are a season-high 7 pts out of a playoff spot (3rd place in Metro would do it); they are 10 pts. behind wild card spot

— Tim Panaccio (@tpanotchRET) December 10, 2014
Kevin Connauton's second career NHL goal – and first as a Jacket – came in overtime, rushing past a tired Matt Read before beating Mason for the game-winner. Afterwards, coach Craig Berube blamed the overtime breakdown on a shift that lasted too long.
"I thought the shift was overstayed by the forwards," said Berube. "They stayed out there too long and got spread out a little bit…. I thought (Matt) Read and (Sean) Couturier stayed out there too long."
Regardless of who's to blame, the Flyers now gain a point in consecutive games for the eighth time this season. And with the Carolina Hurricanes on a three-game losing streak, the Flyers sit sandwiched between their next opponent, the New Jersey Devils, and Columbus – who now sit just a single point back of the sixth place Flyers.
Frustration on the Road
Tuesday's loss may have added a point to Philadelphia's point column in the standings, but it did nothing to ease their road woes. Columbus' defeat of the Flyers dropped their road record to 3-9-3, marking just the sixth time in 15 chances the orange and black left a visiting arena with at least one point in hand. And while one point is certainly better than nothing, another loss is exactly that – a loss.
When asked about the difference between winning at home and the road, and why the team can't play well on the road, Steve Mason struggled to find words to explain his baffled thoughts.
"I honestly couldn't tell you," said Mason. "It's frustrating to…. you know, you win one game, you feel good, and you go right back to that losing.
"Guys have to understand the importance of putting together a streak where you can actually start making ground. You can't take two steps forward and two steps back. It's not going to get you anywhere. It's just too much right now of inconsistent play and not strong enough play that's going to win hockey games."
https://twitter.com/JohnBorukCSN/status/542442281513394177
Coming off of a 2-1 win in Los Angeles on Saturday, the Flyers have yet to win consecutive games on the road now.
Mason's teammates, aside from Brayden Schenn, did little to help him in his first start in the building he once called home. Tuesday's pair of goals marked the eighth time in the last 10 games that Mason was given two goals or less by his offense, while Mason himself, has now allowed two goals or less in five of his last 10.
The Blue Jackets' heavy forechecking, along with their smothering presence in the corners and along the boards, limited the Flyers to just 21 shots. That's with an extra attacker added in the third period, and over three minutes of overtime hockey as well.
"I think it's a huge part of the game," said defenseman Nicklas Grossmann. "You have to win one-on-one battles. I think that's what the game comes down to. You have to be physical and skate. That's what I feel is the main component to playing good hockey, and if you don't do that, it's going to be a tough for you."
Kevin Connauton is just 3rd in @BlueJacketsNHL history to record first goal for the club in OT (also E. Moreau, J. Wisniewski). @EliasSports

— NHL Public Relations (@PR_NHL) December 10, 2014
A tough game is exactly what it was for the Flyers, who mustered up only five first period shots on net. Sloppy passing turned into messy puck handling, which in turn, turned into a bundle of defensive and neutral zone turnovers. Columbus was equally off point, as they racked up 10 giveaways of their own. And had it not been for the late push by Schenn, Couturier, and Jakub Voracek, the Flyers would be returning home tied in the standings with the Jackets.
Where there's a silver lining, however, there's a negative event to draw it from. Connauton's game-winner was the product of the many turnovers and odd-man rushes the Blue Jackets generated. On top of that, Philadelphia's ongoing failure to clear pucks have led to the majority of the 85 goals allowed on the season now, including Tuesday's overtime backbreaker.
"I kind of saw Mason outside of the net," recalled Grossmann. "I tried to go down and cover as much as possible, and I saw 'Reader' down too, and then couldn't really find the puck, but it got through."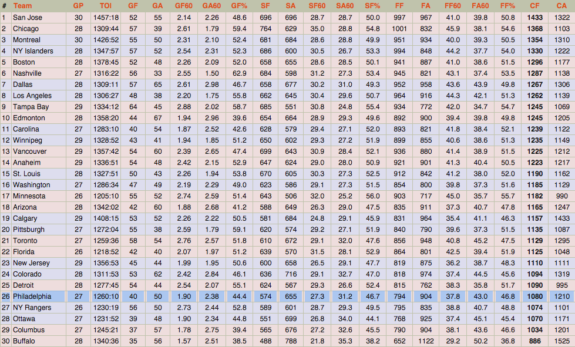 The Flyers have made a habit of finding themselves in situations like these, and the possession numbers on the year show exactly that. Through 27 games, the Flyers are 26th in the league with a five-on-five 1080 Corsi For, and 19th in the league with a 1210 Corsi Against.
After a not-bad week in California that even had ol' Ed Snider happy about the direction this team was headed in, tonight we saw a lot of similar things to what we've been seeing for most of the season. An inability to execute the simplest of passes and motions that any NHL team should be able to make. Prolonged stretches spent in the defensive zone, waiting on the goalie to bail them out. An overreliance on special teams, which blows up in their faces when some bad execution (and, in fairness, bad luck) on the penalty kill finds them in an even bigger hole. — Kurt R., Broad Street Hockey
With possession numbers near the bottom of the league, it's not difficult to see how and why the Flyers have been forced to fight for their lives in their own end. But with Schenn's latest third period heroics, the point in Columbus is the consolation prize for a team that looked as if they knew they couldn't win in Nationwide Arena coming in.
Tidbits from the Buckeye State
R.J. Umberger Returns
R.J. Umberger, who spent six seasons with the Blue Jackets, returned to Nationwide Arena for the first time since assisting in Columbus' game-winning overtime goal in Game 6 of last season's quarterfinal against Pittsburgh. Umberger was held scoreless on 19 shifts, but did receive a weak "tribute video," which was met with minimal applause. Even Umberger himself briefly glanced up with no emotion.
https://twitter.com/pattisonavenue/status/542482528003952641
Jake Voracek Watch
After being blanked on the scoresheet for only the sixth time of the season on Saturday, Jake Voracek continued his bid for the top spot among NHL point scorers on Tuesday. Voracek's assist to Schenn's game-tying goal in the third period was his 25th of season, giving the top line forward his 34th point of the season. Voracek sits two points off of the leader, Tyler Seguin, and just one behind Pittsburgh's Sidney Crosby. He has yet to be held scoreless in consecutive games.
"Flyers first line takes the ice!"
**pays attention**
"Giroux and Voracek head to the bench …"
**flips back to Roadhouse**

— Mikey D, O&BP 🤙🏼🏴‍☠️ (@MikeyD_OandBP) December 10, 2014
Hartnell Scores
Lost in all of the hustle and bustle of Philadelphia's frantic attempt to save their sinking ship this season is the presence and production of Scott Hartnell. In his third game against his former team, the 32-year-old power forward finally recorded his first point. It would be a costly one, however, giving the Jackets their second power play goal on Philadelphia's second penalty. Hartnell's fourth power play goal of the season broke a 1-1 tie in the second period.
I mean let's be real Hartnell hadn't scored a goal in a month we all knew he was potting one tonight.

— Kurt (@Kurt_BSH) December 10, 2014
A Date with the Devil(s)
The Flyers will look forward to returning home for a Thursday date with the New Jersey Devils. Although New Jersey sits four points ahead of the Flyers in the Metropolitan Division standings, a trip home doesn't equate to an automatic win. The Devils will enter the Wells Fargo Center with a three-game win streak in that building, last losing there on Mar. 15th, 2013.
https://twitter.com/Cody_Ost/status/542745234451730432
The Flyers have won just three of their last 11 meetings against the Devils, including Oct. 9th's 6-4 failed comeback attempt. Thursday's matchup will be the first of a four-game homestand, which is nice considering the Flyers are 6-4-2 at home.
Andy is a contributor for The Hockey Writers, covering the Philadelphia Flyers. He holds a Bachelor's Degree in Communications from Walsh University. He enjoys spending time with his family, golfing, and reading. He is married with a daughter. You can follow Andy on Twitter @ADudones.