There are characters in movies with defined roles, ones whose positions are clear as day.
And there are characters of hockey such as Curtis Lazar, characters who nobody can truly figure out.
Before the 2012-2013 season, Lazar was considered a serious candidate to go in the top ten. That's not the case anymore.
But that doesn't mean he won't be one.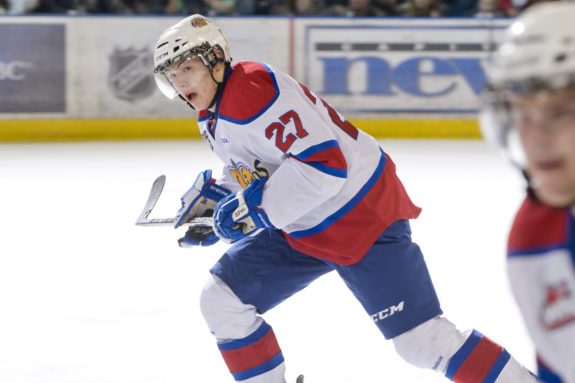 Lazar first came on Canadian hockey fans' radar as captain of British Columbia's squad at the 2011 Canada Winter Games. After finishing the tournament with seventeen points in six games, including three goals in B.C.'s gold medal-winning final, Lazar established himself as a true top prospect.
Back then he was a real scorer. But even after scoring 38 goals for the Edmonton Oil Kings this past season, Lazar isn't seen as an offensive threat at the next level.
Seems odd for a former figure skater, doesn't it?
"When I turned 5, the Salmon Arm Silverbacks Junior A hockey club came into existence," Lazar told NHL.com. My sister [Jenna] had skating at the rink and I was always watching the Silverbacks practice at the same time — that's where I developed a passion to play the game."
Talented skater or not, Lazar is projected to be a "character forward" in the National Hockey League.
Of course, there's nothing wrong with being a depth leader. Every championship team needs those. But consider what scouts have said, and there's real potential for an offensive specimen at the next level.
"The first thing that stands out about Lazar is his skating ability," Future Considerations wrote of Lazar. "He's got very impressive acceleration and very good mobility. He gets to his top speed very quickly, and uses that speed to beat defensemen out wide. He's very strong and has great balance that he uses to his advantage. He thinks the game very well, and is often in the right position. He shows a good compete level and the willingness to outwork opponents. Lazar isn't afraid to mix it up with any opponent, even those bigger than him. He possesses impressive puck skills, and an ability to make plays at high speeds. He's strong when he drives the net and uses his puck protection skills. He's very efficient with the puck and doesn't try to be overly creative.
"Lazar has a real natural ability to score goals. His shot is one of the best in the entire draft class."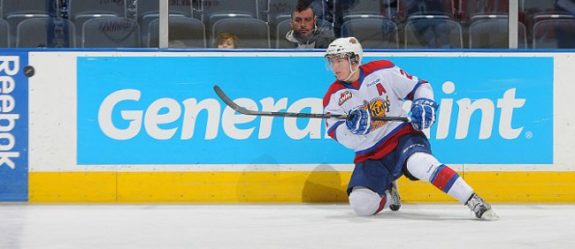 Toss in what International Scouting Services reported, and Lazar suddenly becomes less imposing.
"It's been an up and down season for Lazar in terms of his prospect status," ISS said. "[Lazar] can be simply dominant and the best player on the ice at times, but he can also fall into long lapses where the offensive potential is nowhere to be found. Even so, he is consistently an effective player, who plays with good determination and high skill. He can grind with players much larger than himself, has very good smooth hands and can shoot the lights out from almost anywhere on the ice. He's not the biggest kid, but he plays without fear or trepidation. The big knock so far has been in high exposure events [the CHL Top Prospects game and Hockey Canada's U-18 camp] he has looked very average."
International Scouting Services went on to project Lazar as a second or third line player with powerplay potential, one who "could evolve into a top line sniper."
Then he's compared to Dustin Brown.
The next day, people pick up The Hockey News' draft preview and hear from a scout who says, "I don't know how he has so many goals."
All sounds very confusing, right?
"I won't 'wow' people with my offensive numbers, but it's the little things that I take great pride in," Lazar said. "If it's blocking a shot or winning a faceoff in the [defensive] zone, those are the types of things I like to do."
Curtis Lazar told me one team asked him for the one thing he hated about himself. He responded, "How hard I am on myself" #goodanswer

— Mike Morreale (@mikemorrealeNHL) May 29, 2013
I am sure if Curtis Lazar had a bit more time to prepare he would've scored better in the strength tests. The kid is a beast. #WHL #Combine

— Zenon Herasymiuk (@ZenonHerasymiuk) June 1, 2013
Lazar has developed the confidence needed to be successful. As a rookie during the 2011-2012 season, hesitation was inevitable. Coming into this past season with wet feet prepared Lazar for a leadership role.
Being named an assistant captain at 17-years-old was a huge step.
"I help out the young guys with school or on the ice," Lazar told Future Considerations. "I know what they're going through and I like to help them. I'm playing a bigger role so I have to embrace that."
Back we go to "roles." Different types of characters are expected to perform unique tasks.
For Lazar, he's comfortable in a variety of different settings. He's a believer that everything will be taken care of the way it's meant to be.
So, offensive leader or character forward?
Ideally, with time, Lazar will develop into both.
___________________________________________
David O'Connor is a managing editor with the Sunbelt Hockey Journal. His writing has been on the Los Angeles Times' website, among other places. O'Connor also does some scouting work for the local Junior B hockey club. Please feel free to contact him at davidoconnorhockey@gmail.com.