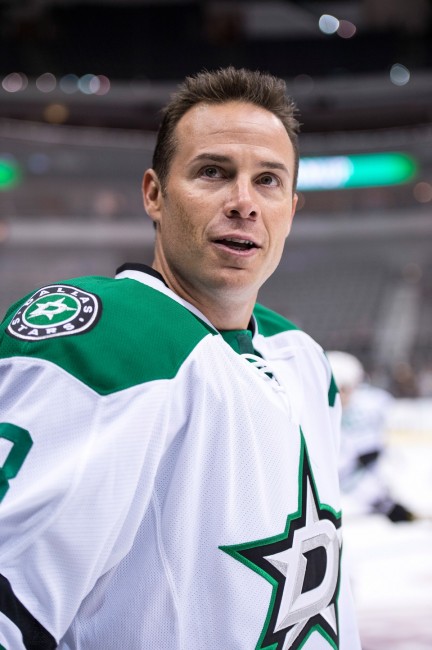 In Tuesday night's 3-2 loss to the Colorado Avalanche, Dallas Stars center Shawn Horcoff was a noticeable player.
He won 67% of his faceoffs, fired four shots on net, including some very high-quality chances, made smart passes with the puck, won a few tough puck battles, and was an effective penalty killer, all in just 16:13 total time on ice.
The good news? It was, easily, his best game so far this season for the Stars.
The bad news? It was, easily, his best game so far this season for the Stars.
As good as Horcoff was, the Stars still lost the game. Despite the nice chances he had in tight and his smooth movement of the puck, he was still held pointless on the evening. He also finished a -1.
His best, simply put, wasn't quite good enough.
Looking good against Colorado was made easier by the fact that he struggled in the four games prior. Through five games this season, Horcoff is still without a point, and has a combined -3 rating.
Now, this isn't meant to be a hit piece on Horcoff. His individual play this season is not why the Stars currently sit in second last place in the Western Conference with a record of 2-3.
But rather, it serves as a perfect example of one of the main reasons why Dallas is off to a slow start this year: they aren't getting enough production out of their veteran players.
Horcoff isn't alone. Ray Whitney, Erik Cole and Sergei Gonchar are all in the same boat.
Sure, Whitney logged 19:00 minutes of ice time against Colorado, and set up Cody Eakin for a game-tying goal in the second period. Yeah, Erik Cole started the season on Dallas' top line. I'll credit Gonchar for helping the Stars' powerplay, which was messy last season, look more confident and poised on the job. There are certainly positive things that can be said about all three players.
Yet, at the same time, Whitney hasn't scored a goal this season, and only has two assists in five games. Cole has looked slower than his usual speedy self, and has disappeared for large stretches in almost every game. He has a goal and an assist on the season.
Gonchar has been especially troubled. He has only one assist in five games, and sports an ugly -5 rating. For a defenceman that specializes in moving the puck, his handling of it has been lackluster, including multiple catastrophic mishaps.
This weak attempt at a pass was the latest, allowing Colorado to tie the game at 1-1, a huge turning point against the Stars:
Some of Dallas' vets are holding the fort. Stephane Robidas has been his usual reliable self, despite being a step slower than he used to be, and Vern Fiddler provides some nice stability as a 3rd/4th line center, but they need help.
Now, the argument could be made that performance at a high level shouldn't be too heavily expected out of players at those ages. Whitney is 41, Gonchar 39, Horcoff 35 and Cole 34.
However, all the Stars really need out of their veterans is performance at their highest possible level, which isn't being achieved right now. Whitney had 29 points in 32 games last year, and looked ten years younger than his age. Gonchar was second on the Ottawa Senators in points with 27 in 45 games. Erik Cole is a season and a half removed from 35 goals, and Horcoff was a reliable depth player for the Oilers in 2013. All of these players are capable of more than what's been seen so far this season.
The Dallas organization is the middle of a transition stage with the changing of the guard, and has already passed the torch to a new influx of core players in Jamie Benn, Tyler Seguin, Alex Chiasson, Brenden Dillon and others. The problem is that the same Stars core is still young, too young, and needs veterans that can not only carry some of the weight, but also provide consistent, reliable leadership, on the ice as importantly as off of it.
The off-ice leadership is there, but the on-ice portion of it isn't, and it's starting to set the Stars back. The new, young core could potentially seize the reigns and take control on their own, ahead of schedule, but it could be a long and bumpy path without the proper veterans there to show them the way.
Derek Neumeier primarily covers the Dallas Stars, but also other various topics related to the sport of hockey. A Journalism graduate of Mount Royal University, Derek also writes for Defending Big D, and has done previous work with the Edmonton Oilers as a communications intern and Hockey Canada as a freelance writer. You can follow him on Twitter at @Derek_N_NHL