It is no secret that the goaltending in Edmonton has not been what the team hoped for going into this season.
Starter Devan Dubnyk has looked like a goaltender who has lost his confidence and has given up 19 goals in his 4 games. Jason LaBarbera, Dubnyk's backup, has given up 11 in the same amount of games.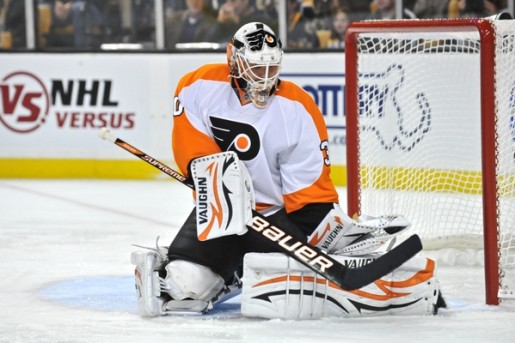 With the early struggles, many fans are calling for a change. Naturally all of the rumoured names out there are thrown into the mix as possible fits. There are goaltenders such as Ryan Miller who could be available through trade, but would not come cheap and has an expiring contract.
There are also a few goaltenders on the market who have yet to find jobs. Jose Theodore is one name out there, but the most intriguing is former Flyers enigmatic netminder Ilya Bryzgalov.
The Russian netminder did not return to the KHL as many thought but is still in North America looking for another NHL job.
"Bryz will train at home in [New Jersey] until the right NHL job comes around," his agent Ritch Winter told ESPN.com via email Wednesday night. "He has turned down one NHL offer recently and will wait until the right opportunity presents itself. There is no rush. He is in great shape and ready to go when the right opportunity arises."
Might that opportunity be Edmonton? He's a better goaltender than the other free agent options and would cost far less than someone like Miller in a trade situation.
A Proven No. 1
It's easy just to remember Bryzgalov as a Philadelphia Flyer and the inconsistent play and controversial statements, but there is a reason he was given the big time money he was given.
Looking at his body of work in the NHL, he has been one of the games best goalies at different times during his time in Anaheim and Phoenix. In his two final seasons with the Coyotes he put up very impressive numbers
2009-10: 69 GP, 2.29 GAA, .920 s%
2010-11: 68 GP, 2.48 GAA, .921 s%
No one is saying to just forget the last year and a half and how rare such an enormous contract just gets bought out, but the fact is that Bryzgalov has proven to be a legitimate No. 1 option in the NHL and that is something the Oilers goaltending does not have.
Having a pairing of Dubnyk and Bryzgalov as opposed to Dubnyk and LaBarbera would make a big difference. With all due respect to Jason LaBarbera, he is not what the Oilers needed when they were looking for goaltending help.
Craig MacTavish did not necessarily need to bring in an elite level goalie, as Dubnyk earned the right to at least share top spot with his play last season. They did however, need to bring in at least a 1b goaltender, someone to push Dubnyk but then also capable of winning games if he did falter. LaBarbera is a good backup, but not an option that can be relied on for more than 15-20 games in a season.
Improvement or Distraction?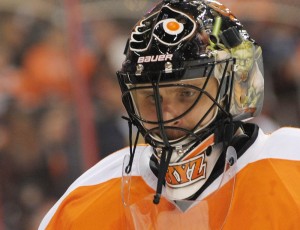 The big question with Bryzgalov is not necessarily even his play, it's everything else. The issue with he and Philadelphia was as much over personality as it was his play.
Playing previously in Anaheim and Phoenix there was not the same media attention so any quirks or odd behaviour did not get national attention. Edmonton is not going to be any better than Philly. They are a hockey crazed city with the Oilers the main attraction in town and any Bryzgalov controversy would be across Canada in hours.
Is that something the Oilers would want to risk? Certainly it has to be a discussion in terms of the pros and cons of making him an offer.
In the end it's about wins and losses and the Oilers have just one of the former so far. They are already last in the conference, so any upgrade may be worth a potential personality issue if it means more points.
Would He Come to Edmonton?
Another issue would be whether he would even agree to come to Edmonton, regardless of the situation. It was much publicized during his days in Phoenix that did not want to go to Winnipeg should the team relocate there.
Well, for those looking at a map, Edmonton is not that far off Winnipeg. For all the issues he had with going to Winnipeg, not many will change with Edmonton.
The one big difference though, is circumstance. At that time in Phoenix, Bryzgalov was still an elite goaltender and knew that in a contract year, his options were many.
Times have changed and he doesn't have the same leverage as then. Whether he wants to come to Edmonton or not, he make have to accept it is the best situation for him.
Ilya Bryzgalov doesn't like Winnipeg, but if he wants to get back in the NHL, he might have to like Edmonton.

— Adam Proteau (@Proteautype) October 13, 2013
The fact is that the Edmonton Oilers are a last place team after seven games, and while there is 75 games left to turn it around, they will need to show improvement soon or the hole will be just too big to climb out of.
It's been no secret that Dubnyk has struggled, however I don't believe the Oilers should cut ties or give up on him. He's still young at 27 and has improved each year he has been in the league.
I have maintained all along that it's not necessarily a case of replacing Dubnyk, but finding a compentent goaltender to partner him with, and unfortunately Labarbera isn't him.
A good example is the Pittsburgh Penguins who signed Tomas Vokoun last season. No.1 Marc-Andre Fleury struggled with his play and his confidence, similarly to that of Dubnyk. The Pens had the option of a second proven NHL goaltender and were able to not lose any ground.
It's up to MacTavish and the Oiler's brass if they want to make a move now or see if Dubnyk rebounds and improves his play. Even if that's the case, having a former No.1 goaltender on the roster with Dubnyk is not a bad idea. Even if Bryzgalov turns out not to be what the Oilers wanted, he's just on a one year deal, and let's face it, the situation can't get much worse.
A decision on a destination for Ilya Bryzgalov will likely come sooner rather than later. The jury may be out on whether he would be a good fit in Edmonton, but is there a team with a bigger need for goaltending help at this point?
________________________________________________________________________________
Follow Carl on twitter @maloney3383 and Google+ for more articles
Carl covers the Edmonton Oilers for THW as well as providing additional prospect coverage. Follow him on twitter @carlTHW, connect on Facebook or contact at carl.maloney@hotmail.com for questions, comments or if you're interested in him writing for you.