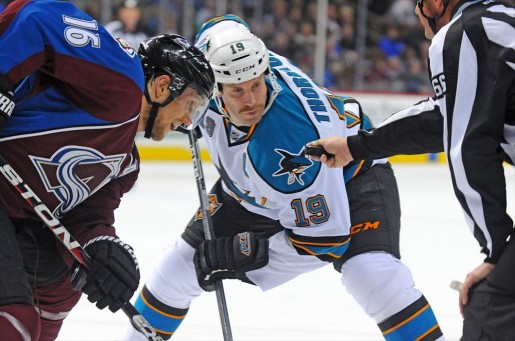 In early September of 2004, a young Kevin Roche is twiddling his thumbs while flipping channels at his grandmother's house. As he turns to ESPN, his jaw hits the floor. The NHL will likely be cancelling the 2004-05 season in its entirety. After years of hysterical fan-hood, it was time to put the youth medium Jumbo Joe Thornton jersey back on the shelf.
[Don't Miss: The Best Daily Fantasy Site Around]
Frustration boiled over for the players, owners and fans alike. After 10 months and 6 days, a new collective bargaining agreement marked the return of the NHL. However,the league we knew and loved returned with some serious changes; these changes resulted in the highest scoring NHL season ever featuring 7,443 goals.
More penalties and no two line passes shredded defenses apart. Furthermore, regular games no longer ended in ties. After 5 minutes of 4-4 over time, the extra point was fought for over a penalty shootout for the first time.
Whether or not you like the shootout, it is a huge part of the way NHL standings shake out come April. Since the introduction of shootouts, teams have squared off a whopping 1,245 times! Roughly 13.2% of NHL games have ended in a shootout over the past 9 seasons.
If more than 1 out of 8 NHL games ends in a shootout, why are the statistics completely ignored in fantasy hockey? The goals, misses and saves that occur when the clock shows only zeroes are given absolutely no consideration.
Blocked shots and shots on goal are important stats to keep and help teams win games. Shootout stats are no different. Shootout scoring and shootout save percentage can be the difference in touching Lord Stanley and reaching for a 9-iron.
In the L.A. Kings' magical 2011-12 season, resident stone wall Jonathan Quick was 10-0 in shootouts with a .818 save percentage. Imagine if Quick had an average 5-5 record in shootouts. With 5 of those points taken away from the Kings and a losing effort to Calgary in their shootout on January 19, the Flames are your 8th seed out West and the Kings are the first place losers.
With the inclusion of shootout statistics, Johnny Quick would be even more of a fantasy juggernaut. Here are 2 more goalies and 3 skaters that would receive a similar boost in fantasy hockey rankings.
Patrick Kane, LW, Chicago Blackhawks
This man needs no introduction. The USA's best scorer is lethal with only the goalie to beat. The man known simply as Kaner in the Windy City scored on 6 of his 11 attempts in the lockout shortened 2012-13 season. 3 of these goals were game winners. What makes Kane so deadly is his arsenal of moves. He has been known recently to slow down to a crawl and stick handle goaltenders to sleep. His hands were showcased on a recent Bauer commercial that defies logic. Since it is impossible to show just one of Kane's absurd dangles, here are 10.
Semyon Varlamov, G, Colorado Avalanche
Varlamov is entering his third year as starting tender for the up-start Av's. The only thing hotter than Patrick Roy's temper is Varly's blazing .965 save percentage. Yikes. Aside from his 5-0 start, Varlamov is the active leader in shootout save percentage at .775 (minimum 20 games). Assuming a few teams eventually play Colorado to an even tie at the end of 65 minutes, Varlamov will look to improve upon his 13-7 career record.
Not in a shootout, but my goodness what a save. In the playoffs. Against a decent player named Sidney.
T.J. Oshie, RW, St. Louis Blues
Remember that Quick guy I was talking about? Well Mr. Oshie got the better of him on this night. Oshie is a career 50% shooter at 18 goals in 36 in his career attempts. He, like Kane, has a flare for the dramatic. Half of his 18 career shootout goals have been game deciders.
Henrik Lundqvist, G, New York Rangers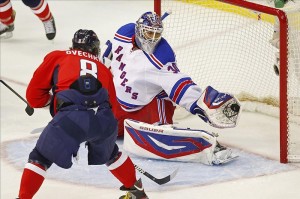 Henrik Lundvist is a Vezina trophy winner and is the only goaltender ever to win 30 games in each of his first 7 NHL seasons. Aside from being one of the best positional goalies in the game, he has the most shootout wins in NHL history. What does that mean? Did he break it? Regardless of the scenario, Hank is up to the task. He is normally a shoo-in for a top-5 fantasy goalie performance, and is essentially the top-1 goalie in shootouts.
Here is a series of 3 saves that were good enough for one of Lundqvist's 45 career shootout victories.
Frans Nielsen, C, New York Islanders
Datsyuk. Jokinen. Parise. What do all these names have in common? These players are all regarded as some of the best shootout scorers in the NHL. They also all score at a lower percentage than Frans Nielsen. Nielsen is off to a hot start this year with 7 points in the Islanders first 7 games including 2 power-play points. This could be Nielsen's first year as a big fantasy contributor. If shootouts were included, he'd be a no-brainer. Nielsen is the only player in NHL history to score on over 50% of his tries (52.1%) with more than 40 attempts. His 25 career shootout goals are only 8 behind Datsyuk for the all time lead. Nielsen is the only player to score 25 shootout goals in fewer 50 attempts. Watch some of his magic.
Hopefully this will help your shootout problems.