When it comes time for the NHL Draft and you just finished participating in the Stanley Cup Final, chances are you will be selecting a player at the end of the 1st Round. That was the case for the Dallas Stars, who are still recovering from losing to the Tampa Bay Lightning in the 2020 Cup Final. Imagine their surprise when a player who was pegged to get drafted in the middle of the 1st Round fell into their laps when it was time to make their pick at 30th overall.
Not only does Mavrik Bourque have a great name for a team based in Dallas — (I mean they do share an arena with the NBA's Dallas Mavericks) but he brings a skill set to the team that fits in really well with the other young talent they have assembled over the past few seasons. One of the players that Bourque likes to model his game after is Brayden Point, so if he can become a player like that, well then the Stars may have found themselves a hidden gem buried at the bottom of the 1st Round.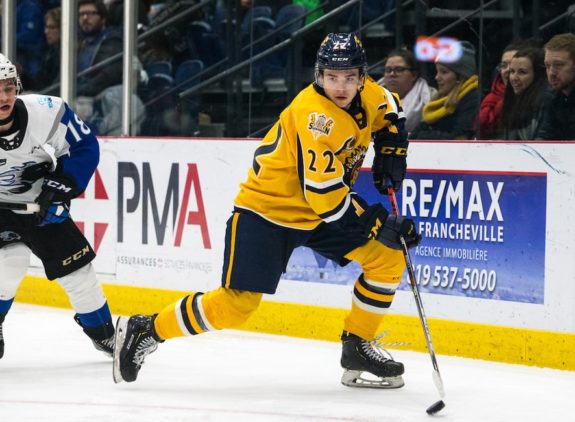 Two years ago – and 17 picks higher – the Stars nabbed forward Ty Dellandrea and while he and Bourque are seen as identical players, Bourque is more of a playmaker than Dellandrea who is more of a scorer.
Who is Mavrik Bourque?
Bourque tied for the team lead in points (71) this past season with Shawinigan (QMJHL), and his 25 goals the previous season was tied for the league lead among rookies. This past Feb.1 he racked up seven points (2g-5a) in a game against Halifax. Last November he was named QMJHL Forward of the Month.
THW Prospect Profile: Mavrik Bourque
He's 5-foot-10 but has a physical edge. He can win face-offs, but could still slide to the wing at some point in his career. Our team at THW had him pegged to get picked anywhere from 18th to 21st, and Bob McKenzie had him slotted 28th overall. 
Scout Speak
Bourque has been called a "supremely talented offensive forward" who does have some "inconsistency" in his game. He's "the type of player who sees the game a step ahead of most" and he "thrives on the man-advantage."
His strengths: Hockey IQ, Puck Control, Hands, Passing, Vision, Shot.
Things to work on: Add Strength, Defensive Consistency, Top Speed.
It'll take him a few years likely, but he will be an NHL player if he continues on the current trajectory.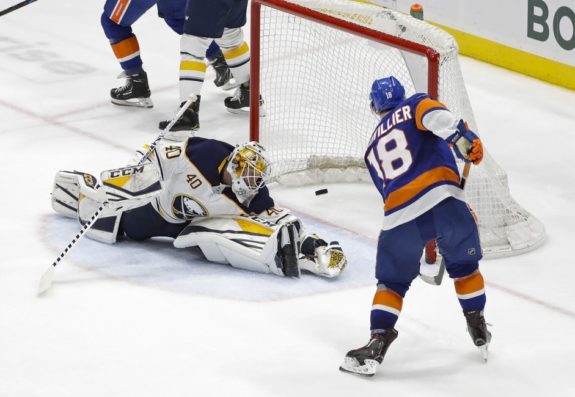 Comparables: Anthony Beauvillier, Travis Konecny.
Dallas Mavrik
As we mentioned, it won't happen immediately but he will eventually get to the NHL, and when he does he could be a top-six player for the Stars. They love his compete level, and of course his scoring prowess.
"Once you get past that top-10, top 12 players, you're talking guys that are going to need some time, but that is part of the development process," said GM Jim Nill.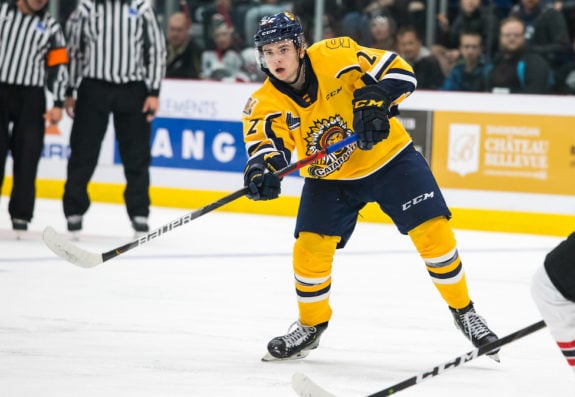 Joe McDonnell, Dallas' director of amateur scouting, revealed that he (like our experts referenced above) had Bourque rated higher than he was selected. "He was after 15, put it that way. But we definitely didn't have him at 30."
Bourque comes across as a hard-working, humble kid, which matches up with what scouts have said. "I like to watch hockey and I learn a lot of stuff when I watch hockey. It's a good reason why I have hockey sense."
Up Next
The Stars have four picks during Day 2 of the 2020 NHL Draft. Currently, they have picks 123, 154, 162, and 185.