Day 1 of the 2020 NHL Entry Draft is in the books and the New Jersey Devils made quite the splash keeping all three of their first-round selections, adding more valuable prospects to an already impressive pipeline of young talent. Despite speculation surrounding the possibility of maneuvering around the draft board, it is now abundantly clear that general manager Tom Fitzgerald was more than happy to stay put and let premier talent fall into the team's lap.
7th Overall: Alexander Holtz (RW)
"Holtz is a sniper. I think as an 18-year-old, there are only two other 18-year-old players playing in the Swedish League who have better stats than Holtz and those two guys are Markus Naslund and Peter Forsberg so I think that says a lot about him as an offensive player and a sniper."

– Goran Stubb, NHL director of European scouting
Player Breakdown
AGE: 18
COUNTRY: Sweden
HEIGHT: 6-0
WEIGHT: 183 lbs
POSITION: Right Wing
SHOOTS: Right
The 18-year-old Swedish sniper was the first selection by the Devils and with plenty of big names such as Marco Rossi, Cole Perfetti, and Yaroslav Askarov still available, it is clear that Fitzgerald wanted to use this pick to solve a more direct need. The Devils finished the 2019-20 season 24th in the league in goals for and at times really struggled to get pucks into the back of the net.
Related: Our Free NHL Draft Guide
Enter Holtz. The 6-foot-0, 183-pound right winger who arguably possesses the best shot in the entire draft class. His elite shot allows him to be a scoring threat from anywhere on the ice. As a U18 in the SHL, he scored nine goals and a total of 16 points which ranked him top 10 in the league's history in scoring and tied him for third-most goals by a player that age.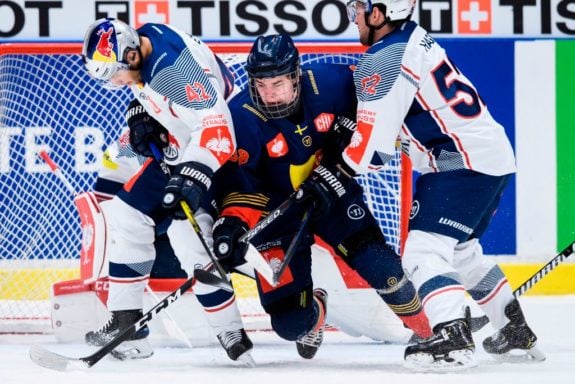 Holtz is renowned for his goal-scoring ability, yet he is certainly more than a one-trick pony. He is also an elite puck handler and has proven to be a very unselfish player who possesses all the tools to be a very talented playmaker. Former teammate and fourth overall selection in this year's draft Lucas Raymond, compared Holtz to the one and only Alexander Ovechkin. In a pre-draft interview with TSN's Mark Masters, Holtz offered his own opinion on who he believes his game is comparable to:
"I think I'm more like David Pastrnak or Filip Forsberg. I love to watch them. Both are right handed and you love to watch the righties more, because you can see yourself in them. Pastrnak had an amazing year as did Forsberg. He did the lacrosse move and both guys are really creative on the ice. It's lovely to watch."

– Alexander Holtz
NHL ETA
Currently playing for Djurgardens IF in the SHL, Holtz will gradually see a larger role as his game progresses. The SHL is one of the best leagues in the entire world, of which, the talent is at a much higher level than what most 18-year-olds are currently competing against. If he can consistently grow his game overseas, you can more than likely expect to see him in the NHL in 1-2 years max.
18th: Dawson Mercer (C/RW)
"Mercer plays a lot bigger than his 6'0 frame, excelling below the hash marks and around the crease. Equal parts playmaker and goal scorer, he looks to have the makings of a strong complementary piece on a scoring line."

– Brock Otten of McKeen's Hockey
Player Breakdown
AGE: 18
COUNTRY: Canada
HEIGHT: 6-0
WEIGHT: 179 lbs
POSITION: Center/Right Wing
SHOOTS: Right
Mercer is undeniably a player who flew under most people's radar prior to the draft, despite being ranked 10th amongst North American skaters by NHL Central Scouting. Although listed and playing a majority of last season at the center position, he is capable of playing wing. Mercer averaged over a point per game in the 2019-20 season with the Drummondville Voltigeurs and Chicoutimi Saguenéens of the Quebec Major Junior Hockey League.
Now, there isn't necessarily anything spectacular or flashy about his game and his stats might not jump off of the page, but, Mercer is perhaps one of the safest selections in this draft. While he does have flaws within his game, he is an extremely well-rounded, two-way forward, with a very high hockey IQ and possesses great skating ability. High hockey IQ and good skating typically make for an amazing combination in the NHL.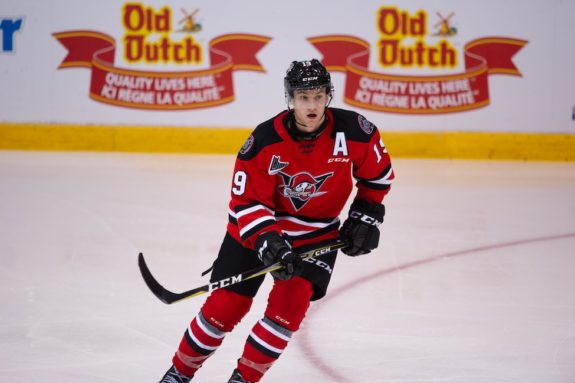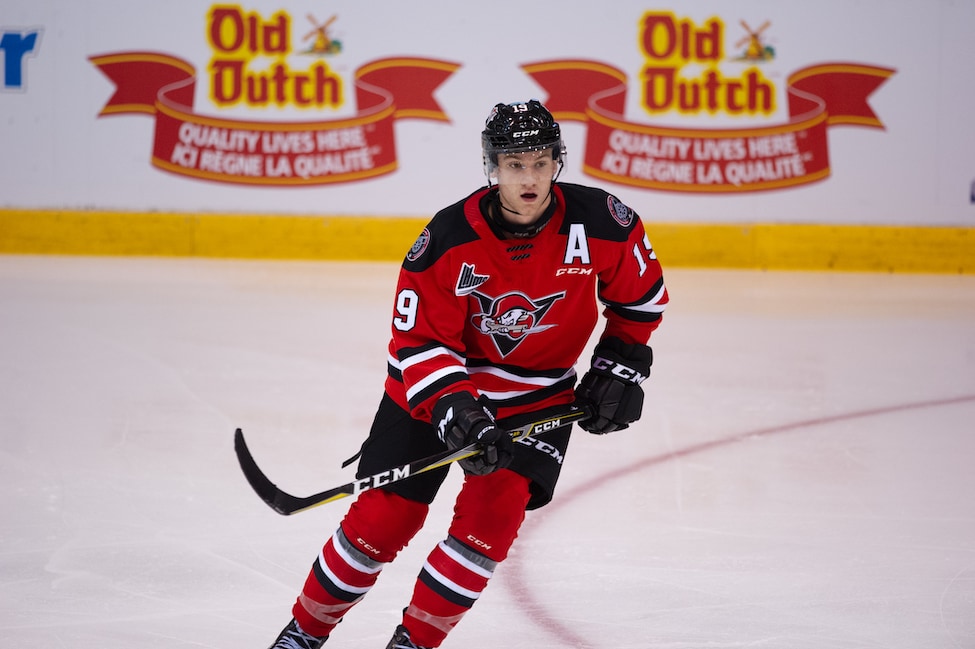 After watching highlights of Mercer while playing for Team Canada at the World Juniors, it is so apparent that he does all of the "little things" right. Aside from inconsistent production, he plays the game the right way, easily breaks down defense coverages and consistently is involved in puck battles on both ends of the ice.
Mike G. Morreale of NHL.COM described Mercer as a "smart, heads-up skater who finishes checks, and is strong on the power play and penalty kill." He is the webster dictionary definition of a pure two-way forward who, at times, looks as if he is a 10-year veteran playing out there.
NHL ETA
Mercer is entering his fourth season in the QMJHL and as Corey Masisak of The Athletic mentioned, Fitzgerald stated that he doesn't think any of these first 3 selections will even make it to camp. But, Mercer has a very good base to build around. If he can spend his later years in the QMJHL closing the gap on his inconsistent play he could certainly be in the league within 1-2 years.
20th: Shakir Mukhamadullin (D)
There will always be a market for 6-foot-4 defensemen who can skate well, and Mukhamadullin certainly qualifies. The pGPS (prospect Graduation Probabilities System) system that Jeremy Davis developed tags with an 84 percent chance of making the show; it's the seventh-highest figure in this class. Mukhamadullin has a cannon for a one-timer, and he's not shy about using it.

– EliteProspects
Player Breakdown
AGE: 18
COUNTRY: Russia
HEIGHT: 6-4
WEIGHT: 179 lbs
POSITION: Defense
SHOOTS: Left
To be honest, this selection surprised most Devils' fans and more than likely most of the hockey world. But, New Jersey had a pressing need to add a defensive prospect. With Brenden Schneider selected just prior to the Devils' final first round pick by the New York Rangers and a few highly talented forward's still available (Jacob Perreault, Noel Gunler, Mavrik Bourque, ect.), the Devils' reached for the specific need to bolster the team's defensive pipeline.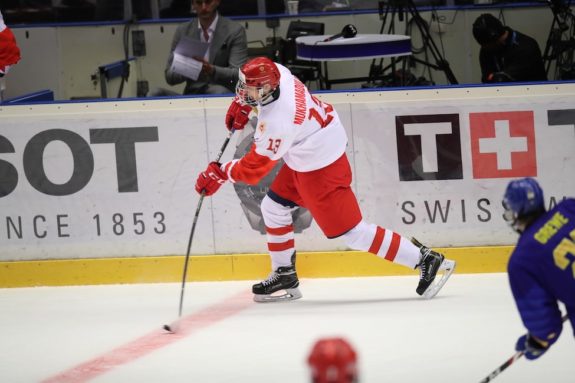 There are concerns surrounding his skating abilities with a few scouts questioning if his skating is even remotely good enough to play at the NHL level. Despite there being a fair share of red flags surrounding Mukhamadullin, there is still plenty to like about the 6-foot-4 Russian defensemen.
First of all, he possesses an absolute Howitzer of a one-timer. The 18-year-old is currently playing in the KHL and producing at a very solid pace posting six points in 16 games playing for Salavat Yulaev Ufa. With his powerful shot and size, Mukhamadullin has everything that an NHL franchise typically looks for in a blue-chip defensive prospect and it'll be interesting tracking his progression over the next couple of seasons.
NHL ETA
For Mukhamadullin, there is a lot in question. The Devils front office clearly sees a strong enough base for him to continue working on for them to take a flyer on him in the first round. Remember, the Devils' do not own a second-round pick in this draft and this could very well be a case of the front office really falling for a player with doubts that he would be available come the third round. As NHL ETA is concerned, he is 18 playing in the second-best league in the world, so 2-3 years should be a safe estimate.
It's uncertain whether the Devils' got exactly who they wanted with these selections or if it was just a case of taking the best available. What is certain, is that the team went directly after organizational needs and by taking two forwards with the seventh and 18th pick, proved that Fitzgerald is clearly committed to surrounding the nucleus of Nico Hischier and Jack Hughes with the talent necessary to catapult this rebuild.
---
---
Contributor – New Jersey Devils