To say to 2013-14 season was a disappointment for Damien Brunner would be an understatement as both he and the New Jersey Devils struggled to find consistency throughout the seven-month marathon known as the NHL season. The games he really excelled in for New Jersey last season he was hovering around the net, making slick passing plays, and working well with the playmakers on the Devils power play. But there were too many games where he was not a factor, where he didn't have any jump and on some nights he was frankly invisible at times.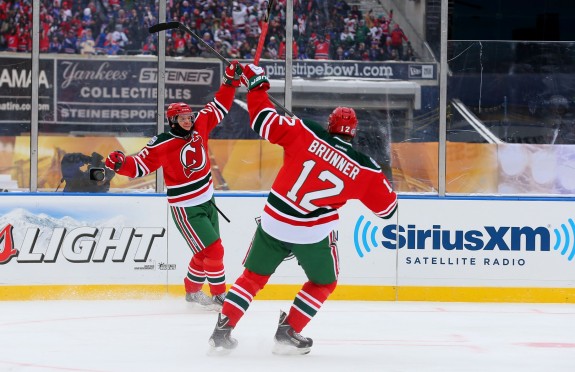 This upcoming season the team has added Martin Havlat and Mike Cammalleri to the forward group; a group that is all but unchanged from last season save for Ryan Carter (still an unsigned UFA that the Devils would like to bring back). As their roster looks currently there are 14 forwards signed, which could mean a trade is inevitable, especially if they bring Carter back; Brunner is young enough (28) that other teams would be interested in him, but our gut feeling is he is staying put.
In Brunner's defense, it was his first full 82-game NHL season – his rookie season was the 48-game lockout-shortened campaign with the Detroit Red Wings. But as he said, that's not really an excuse he wants to use in explaining his up-and-down season in New Jersey. "I was still having a hard time sometimes (during the season), it was a tight schedule because of the Olympic break. I tell you, it's tough," Brunner explained to The Hockey Writers following the final game of last season, "when you play your whole life in Europe, you're not used to the traveling, time differences and especially the amount of games too."
Damien Brunner shows some power play prowess in Edmonton:
"Sometimes it creeps up on you and you find yourself just tired; the problem is that when you are tired you couldn't find time to refill your energy so I just have to find ways. I have to be better at that next season, find ways to get back on track quicker because in an 82-game schedule, everyone has lulls. I have to keep them short, and just try to help the team (however I can) and not make too many mistakes."
Most of his points were scored in bunches, and a knee injury (as well as healthy scratches) interrupted his productivity. "I've talked about it a lot during the season, and at the end," Brunner said, "there were a lot of ups and downs. But after the Olympic break I thought I played pretty good hockey, (was) playing the right way. I think I still can improve, like scoring more — I had a lot of scoring chances; I have to be better next year."
Chemistry shouldn't be much of an issue, and Brunner will have a full year under his belt now of understanding the system that coach Pete DeBoer is employing. "I'm looking forward to it; I really liked working with the coaching staff," Brunner said to THW. "I have a lot of respect for Lou (Lamoriello), how he handles this organization, how he treats us. It's good when you have guys around you that look you in the eyes and you know what they think instead of yapping and going behind your back. That's what I like about this organization, everyone is straight forward and that's how you get better." There were a few times during the season where teammates (Patrik Elias, Dainius Zubrus) got in his face on the ice about missing an assignment or messing up a play.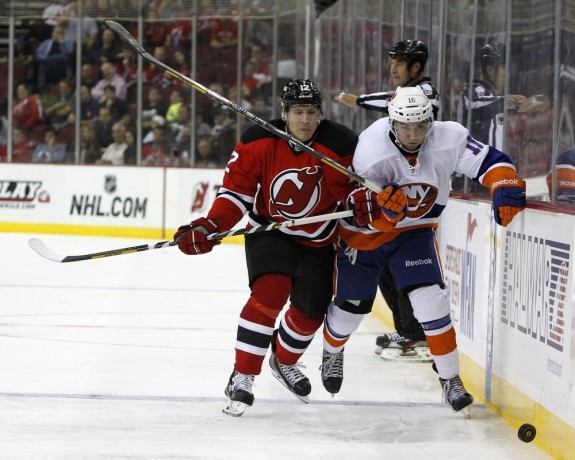 Many who watched the Devils season game-in and game-out realize that Brunner was a lot better at the end of the season than he was in the middle or beginning and he agreed. "I was way better at the end of the year, the last twenty games," the Swiss winger told THW. "The coaches have taught me that as long as you create scoring chances, don't be frustrated, it comes back; and for me it was real important to see that, and get my legs underneath me too, I really got that jump again. When I feel I have that jump I can beat guys one-on-one, I can create scoring chances for my linemates; for me I take a lot of positive stuff out of the last twenty games — even though I didn't score that much — I really got that feeling again that I can be a good player in this league."
Damien Brunner displays some of the moves he is capable of pulling off:
The Devils also believe that he can be a good player in this league and if he can put up say 50 points this season, it would likely mean they are in the hunt for a playoff spot in the Eastern Conference. Last season he complied 25 points (11g-14a) in 60 games in a crazy schedule — factoring in good health, comfort in the system and with his teammates, 50 points in 82 games doesn't seem too far fetched; but time will tell.
Dan Rice can be reached via Twitter: @DRdiabloTHW or via Email: drdiablo321@yahoo.com