I know my NHL; I'm a student of the game since 1988. I generally know the names of 90-95% of the 700 or so active players in the league, but when the Ottawa Senators visited New Jersey on February 18, I have to admit they had more than a few players I was unaware of. The reason I was so unsure of their team that day is the Senators have experienced a rash of injuries since the NHL resumed play on January 19, including most notably Jason Spezza's back surgery & Erik Karlsson's surgery to repair his Achilles tendon that Matt Cooke of the Pittsburgh Penguins thought was part of the ice.
Justin Glock examines the Karlsson-Cooke incident and whether it was intentional or not
Entering that game against the Devils, the Senators hadn't scored a goal since the devastating injury suffered by the reigning Norris Trophy winner: after being tied 2-2 with Pittsburgh, they lost 4-2 and then were shutout by the Toronto Maple Leafs two nights later. New Jersey scored 1:19 into the game and it seemed as if Ottawa was destined to lose its third straight game. But 6'7" goalie Ben Bishop kept their hopes alive by not allowing another goal and longtime captain Daniel Alfredsson potted the equalizer with just over 12 minutes left in regulation time. The Sens eventually came out on top in the shootout as rookie Jakob Silfverberg netted the only goal in the tiebreaker.
Silfverberg scored in his first career NHL shootout attempt against Martin Brodeur:
Ian Cameron McLaren breaks down the silver linings for this Senators season
As far as Alfredsson was concerned they only reason that his team had a chance this game (and going forward) is and will be the play of their goalies. "They get an early goal and then they have two power plays where they had some great looks, and he (Bishop) comes up big, keeps us in the game and gives us a chance to win it," he said afterwards. "Goaltending has been outstanding for us all season and it's allowing us to have a chance to win every night."
It was also important to get back to winning hockey, a feat they duplicated the next night against the New York Islanders with a 3-1 victory. "It feels really good; I don't know if I can say how important it is. We've been battling hard, we've been in games," Alfredsson explained to THW after the win in New Jersey. "To fight back like we did coming from behind and winning it in the shootout, it feels great. It gives us some confidence going forward, but we know we have to play like this every night. Keep battling until the end (of the season), there's not going to be a lot of easy nights for us, but we are getting great goaltending and everybody is pulling their weight."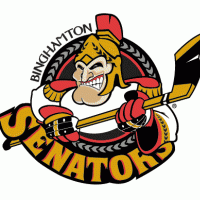 Those who are pulling their weight are generally the players referred to at the beginning of this article. If you aren't a Senators fan, did you know whom any of these players were before this season started: Eric Gryba, Dave Dziurzynski, Derek Grant, Patrick Weircioch, Stephane Da Costa, Kaspars Daugavins, Andre Benoit, Mark Borowiecki? Respect is never given, it's always earned, and these kids certainly earned some respect as they walked into the home of one of the Eastern Conference's best team and walked out with two points.
As the team captain for 13-seasons and a 17-season NHL veteran, Alfredsson has his finger on the pulse of the organization and he was pleased with how everyone has responded since being called up. "I've been around this league and this team a long time, I've seen this before," he explained. "We're fortunate where we have a good system down in Binghamton where they play a similar style; it's not a huge adjustment for the guys coming up. They know what is expected of them and they've done a really good job. That's nice to have that kind of depth in the organization."

Don't fool yourself, Alfredsson and his teammates know that no one believes they can make any noise this season with the amount of injuries to key players piling up, they don't really care what anyone else thinks outside of their room though. "We have to keep believing in what we are doing," said the 40-year-old Senators captain. "We can't get frustrated or try to do too much. If everybody does their share we will be fine."
As I was finishing this article, the Senators lost goalie Craig Anderson to a sprained right ankle in the game against the New York Rangers and is day-to-day. Bishop came in and backstopped Ottawa to a 3-2 shootout win that went seven rounds. At press time they can be found right near the top of the crowded and ultra-competitive Northeast Division.
Other Senators of note that are currently injured besides Spezza, Karlsson and now Anderson are: Guillaume Latendresse, Milan Michalek and Jared Cowen.
Dan Rice can be reached via Twitter: @DRdiabloTHW or via Email: drdiablo321@yahoo.com
Dan Rice is in his 9th year of reporting for THW & has covered NJ Devils home games for 15+ years at various websites. He began his journey working for legendary broadcaster/writer Stan Fischler from 2002-04 & completed an internship at the ECHL; he also has been writing features for the NWHL (nwhl.zone) website since 2016.