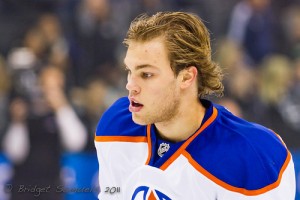 Needless to say I hope you are not using Taylor Hall in your daily leagues this weekend as it looks rather likely that he will be seeing some sort of vacation from the NHL. How much remains to be seen at this time. However, here is video of the hit and we will let you be the judge. Remember, any vacation results in no pay for Hall and no pay for you, daily fantasy hockey fans.
As always, DraftKings offers you a true one timer. Just make a nice deposit into your new account, and they will match it 100%. Think about how nice it feels to double your money with minimal effort. That feels pretty good. Right? Exactly! This is the kind of offer that appears only in your dreams so take advantage of it while you have the chance.
Last night was a tough hit for the fantasy hockey player. There were quite a few injuries and honestly it feels like a broken record. I know those in higher stake money leagues have been saying to me over and over how lost they are with the frequency of maladies. I feel their pain and understand completely. This is a year like no other. At every turn, something seems to happen and it is rarely good. If you think about it, there are already around 100 injuries in the NHL and the Ottawa Senators have lost Erik Karlsson, Jason Spezza, and now Craig Anderson. Thankfully Anderson is only day to day with an ankle sprain. He may miss a couple games but honestly every daily fantasy player cringed when they saw him going off the ice like he did last night.
Quickly, we move onward to our recommendation of the weekend. We will be doing this on the column every week for the foreseeable future so get used to it because it really is that simple. If you have just one dollar in your pocket, why not turn it into a few more dollars, maybe even ten times that amount by just going over to the NHL Daily Dollar contest at DraftKings. With a $50 guaranteed prize pool, all you have to do is choose your players (takes a few minutes) and you can then watch it. Set it and forget it. It is that simple. Everybody loves minimal risk for maximum reward. Go check it out today!
While we won't offer too much as far as concrete players to watch this week, we will say the following. I highly recommend searching the entire database for every position. This sounds mundane but sometimes a player you wanted to pick is unexpectedly closer to the bottom than you realize. That saves you money ultimately as you spend up to your $55,000 cap, or not depending on your case. More importantly, it may mean the difference between finishing in the money as opposed to walking away without a dime.
Good luck this week daily fantasy hockey fans and if you have any questions at all, just place them in the comments section or on Twitter via @ChrisWasselTHW. Yes we will try to answer all of them, I promise. Have a great weekend and see you next week.