December 2016 was a good month for the Pittsburgh Penguins. The reigning champions won their first seven games and their final four while registering just one regulation loss in 15 games for 26 points. There weren't any major areas of concern. The offense scored 64 goals and the penalty kill was a superb 39 for 47. Sidney Crosby had his most productive month of the season with 20 points and Evgeni Malkin was the NHL's Second Star of the Month.
As Pittsburgh cemented its status as the favorite to win their second straight Stanley Cup, a star named Jake Guentzel was born in the American Hockey League who would ultimately put them over the top.
The circumstances are different for the Penguins now as they find themselves in need of a huge second half for even a chance at a three-peat. But a familiar story could be developing.
AHL Rookie to Conn Smythe Contender
Guentzel debuted with the Penguins in late November against the New York Rangers, scoring on his first shift and twice in the game. He finished the month with four points in five games before returning to Wilkes-Barre/Scranton where he dominated with points in nine of 10 games. His 11 goals and six assists earned Guentzel December Rookie of the Month honors, a first for a Penguin since 2007. He returned to the NHL on Jan. 16, jumped on a line with Crosby, and notched an assist in Pittsburgh's wild 8-7 overtime victory against the Washington Capitals. Guentzel went on to register 29 points while playing 35 of the Penguins' final 40 games.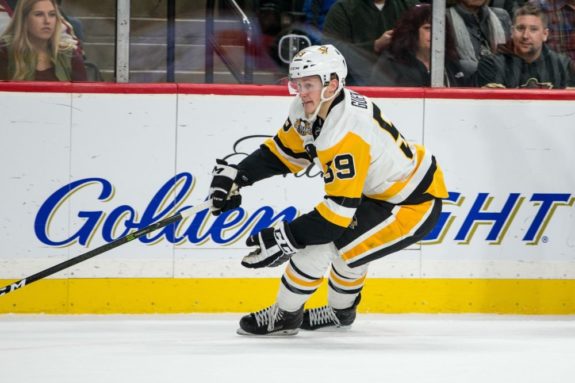 While many rookies may tire of the long season, expectations come with playing for the defending champions and skating with Crosby, and Guentzel took his game to a new level at the beginning of the Stanley Cup playoffs. He fell one goal shy of tying Dino Ciccarelli's rookie postseason record but set the rookie record with five game-winning tallies on his way to 21 points in 25 games. He even displayed a veteran's savvy by enduring an eight-game goal drought and demotion to the fourth line only to bounce back with four goals in the finals against Nashville.
While Crosby eventually won the Conn Smythe, Guentzel joined the conversation for most of the postseason. And deservedly so, as the Penguins wouldn't have repeated without him.
Injury Plagued Penguins Call On Sprong
December 2017 was not as memorable for the Penguins. In fact, it was completely forgettable. Their only back-to-back wins came against the last-place Buffalo Sabres and they managed only six victories for the month – half in overtime or a shootout. The offense averaged just 1.5 goals per game in Pittsburgh's eight losses.
One of the lone bright spots was AHL rookie forward Daniel Sprong. The Netherlands native had 14 points in 12 games for Wilkes-Barre/Scranton with three game-winning goals. On Tuesday, he was rewarded with Rookie of the Month honors, just like Guentzel. And the similarities don't end there. Both players are explosive skaters with quick triggers. Sprong's impressive play landed him back on the Penguins roster. And, like Guentzel, Sprong found himself playing alongside Crosby.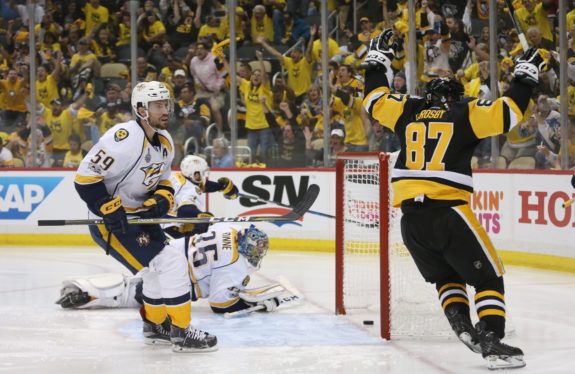 Sprong failed to register a point in his first three games but was productive. He logged over 15 minutes of ice time against the Carolina Hurricanes on Thursday with two hits and three shots while playing on different line combinations. In the deflating 4-0 loss, Crosby, Malkin and Phil Kessel combined for just three shots.
Less than 24 hours later, Sprong was flanking Crosby on the top line against the New York Islanders, playing like it was a December AHL game. Early in the second period, Sprong flew down the ice and took a beautiful feed from Crosby for the game's first, and ultimately game-winning, goal. He later assisted on a Crosby goal and wrapped up a career night with a slick finish in front. Sprong had three points on a team-high six shots as the Penguins won 4-0 to stay above .500.
Three stars in black and Pittsburgh gold. Killin' it on the road. pic.twitter.com/QKZw1h0Uz8

— Pittsburgh Penguins (@penguins) January 6, 2018
Impressing Sidney Crosby
Sprong certainly can't be called upon to help salvage Pittsburgh's season or even be expected to produce statistically the way Guentzel did as the circumstances are just too different. But what he can do, and did against the Islanders, is be a spark and the wild card.
If the 2017-18 campaign ultimately ends in disappointment for the Penguins, at the very least Sprong can leave a lasting impression on his captain. In helping him to his first four-point game of the season Friday night, Sprong showed the ability to do what Crosby's most successful wingers do: be in the right place at the right time. And be ready.
Just like Jake Guentzel.
Shawn Nicholls covers the Pittsburgh Penguins for The Hockey Writers and is a veteran of the book publishing industry and a former staff writer and hockey correspondent for Sports Illustrated for Kids. Shawn resides with his family in Brooklyn, New York.