Following somewhat of a skid that came with the holidays, the Washington Capitals have shown a lot of improvement of late; they are riding a three-game winning streak and finding their stride offensively. Still, head coach Barry Trotz believes there is room for improvement and sees a few areas where Washington has to clean up its game.
"We're trying to do different things," Trotz said. "We want to be a little bit sharper."
The Capitals haven't played since Tuesday and have since had time to not only relax and refresh but to work on finetuning their game in practice while also holding a scrimmage, which helped them address turnovers and other flaws in their game.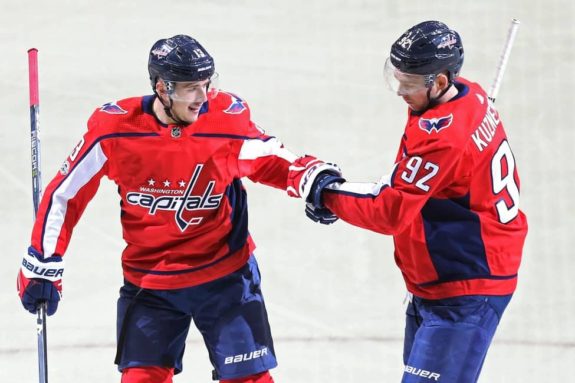 Entering the midway point of the season, the Capitals find themselves in a decent position. They sit atop the Metropolitan Division and boast a 7-2-1 record through their last 10 games. Even with a younger roster and players like Christian Djoos, Madison Bowey and Chandler Stephenson still making an impact and adjusting to the NHL ranks, Trotz believes the team has found its identity.
"About halfway through, you have a feel for what your team is capable of," Trotz said. "You have a feel for each player, you have a percentage of trust for where their game's gonna be in terms of are they reliable offensively and defensively, can you trust them in a consistency area, all those types of things. I think you're getting that and halfway through, you know what guys, when you put them together, sort of have a little chemistry."
Niskanen, Burakovsky Expected to Return
After "tweaking" something against the New Jersey Devils on Dec. 30, Niskanen was deemed out with injury and was not in the lineup Monday against Carolina. He participated in his first full practice since Saturday's game and looks set to return to the lineup Sunday against the Blues.
"It looks good," Trotz said. "Unless we have a setback, he's good to go."
Niskanen said that he felt good in the full practice and also talked about how he was somewhat of a beneficiary of the schedule.
"I only had to miss one game. It's a fortunate break," Niskanen said. "I could have easily missed five with a different schedule. We'll see how things go the rest of the day and if I'm good tomorrow, hopefully, I am, and we'll go from there."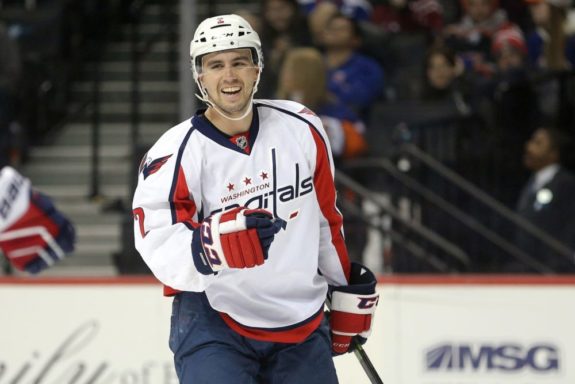 The 31-year-old blueliner appears likely to slot back in alongside Dmitry Orlov on Washington's top-four, which likely means that Taylor Chorney will slot out as the healthy scratch.
Andre Burakovsky is also expected to draw back into the lineup against the Blues after being a healthy scratch for the last two games.
"I'm going to [learn] a little bit of a lesson here from being healthy scratch," Burakovsky said after he was scratched. "I want to be out there help the team compete and help them win. It's obviously coach's decision, I'm just going to learn from my mistakes here and come back and play like I'm supposed to."
Trotz said it was important for him to get the 22-year-old back in the lineup and to give him an opportunity to not only prove his worth but to get him going and see what he can do with the opportunity, especially with a competition brewing on the Capitals' forward lines.
"I think he's a young player and to credit the 12 forwards that are in, they're making my decision really hard, which is what you want," Trotz said. "We'll see where Andre is tomorrow and go from there. We're in the mode where we're trying to get a couple players going."
Based on Saturday's practice, Burakovsky will start on the fourth line alongside Jay Beagle and Alex Chiasson. While Chandler Stephenson was rotating in on the third line wing, it's unclear who will slot out for Burakovsky.
Sammi Silber covers the Capitals beat for The Hockey Writers and is an NHL contributor with Sporting News. She has also contributed to USA TODAY College, Huffington Post, FanSided and the Nation Network. Silber has written four books and recently worked on graphics for the film, The California Golden Seals Movie.