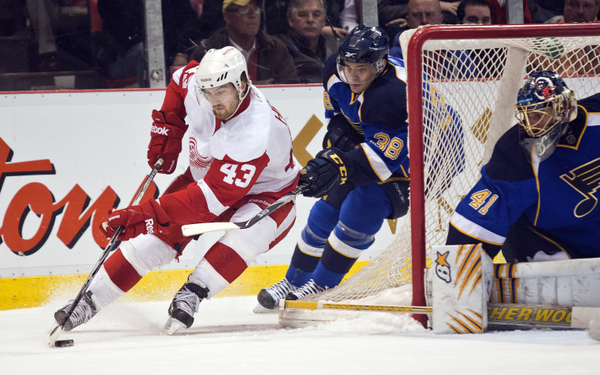 Each day this week leading up to the start of the 2013 NHL season I will profile one returning Detroit Red Wings player who needs to elevate their game to ensure the Wings have a successful season and make the playoffs for a NHL best 22 straight seasons.
Darren Helm
As the beginning of the NHL season is upon us, fans are eager to see if the Wings can be successful in a post-Lidstrom era. Unfortunately one player we must wait to see elevate his game is Darren Helm. Helm is currently sidelined for a week with a sore back. This is a big blow to the Wings as Helm is a key component to the team and they need his speed in the line-up. Helm was slated to centre the third line between Todd Bertuzzi and Dan Cleary which has a nice mix of youth and experience and would be a difficult line for the opposition to match up against.
Helm is arguably one of the best, if not the best skaters in the NHL today. However for Helm to elevate his game and positively impact the Wings he needs to develop better finishing skills. This is in no way a knock on Helm's skills. At 25 Helm has already scored 32 goals in the NHL over the past three seasons including last year's injury riddled season where he scored 9 goals in 68 games.
Helm has a knack for burning the opposition with his blazing speed. He often creates turnovers at the defensive blue line and then it is off to the races – if you can even considered it a race (he's just too fast). What Wings fans would like to see is Helm bury more of those breakaway chances. Would it not be a good idea to maybe ask Pavel Datsyuk about how to finish on a breakaway? He seems to make it look easy.
[Also: 2013 Detroit Red Wings Predictions: Will They Win it All?]
Helm is a well-rounded centre on the Wings that can contribute in all aspects of the game especially the defensive side. If he can increase his offensive upside this season then the Wings may just find themselves in the playoffs for a 22nd straight year. My season expectation for Helm is to rack up between 22-25 points this season while maintaining his solid defensive play.