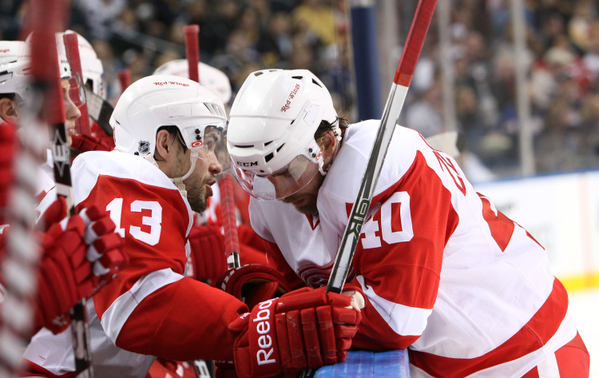 Now that a shortened NHL season is upon us and as usual Leaf's fans are jumping back on the Stanley cup bandwagon I have decided to jump on the predictions bandwagon. Writers often provide some outrageous predictions on the NHL season, none the less they are always interesting to read and to look back on as the season progresses. Here are my 10 predictions for the 2013 Detroit Red Wings:
1)      The Wings will make the playoffs for the 22nd straight year. It will be tough but they will do it.
2)      Brendan Smith will lead all Wings defensemen in points this season. Smith with narrowly edge out Kronwall for the lead in points.
3)      Pavel Datsyuk will lead the team in overall scoring this season with Zetterberg close behind. Expect them to be within five points of each other.
4)      Damien Brunner will be a success for the Wings contributing 15-20 goals on the season.
5)      Johan Franzen will rebound from inconsistent seasons and place second on the Wings in goal scoring this season.
[Also: Jonathan Ericcson: Detroit Red Wings Impact Player]
6)      Patrick Eaves will play for the Wings this season, even if it is just one game.
7)      Someone will get Kronwalled! Hopefully it happens more than once to be honest.
8)      Gustav Nyquist will play in Detroit this season. Once he is called up he is going to make it extremely difficult for the Wings brass to send him back down. I expect he will stay after his second call up this season.
9)      Jordan Tootoo will lead all Wings skaters in hits. This is probably a no brainer.
10)     The Detroit Red Wings will reach the Stanley cup finals….and Win it all!
Regardless of what you think of these predictions it will be interesting to see which ones come to fruition during the course of the NHL season. If these predictions do not get you excited about the upcoming season, the video just might get you excited about watching Datsyuk this season.