David Tendeck
2017-18 Team: Vancouver Giants (#30)
Date of Birth: November 25, 1999
Place of Birth: North Vancouver, British Columbia
Ht: 6'2″ Wt: 165 lbs
Catches: Right
Position: Goaltender
NHL Draft Eligibility: 2018 first-year eligible

Rankings
Goaltenders are often a challenge to rate and project at the major junior level. Between maturing physically and mentally and the ongoing challenges of adjusting to facing increasingly talented shooters, it's difficult to figure out what they can become. The best bet is aiming for goaltenders that have played a lot and have a large "book" of outings from which to project improvements. Vancouver Giants netminder David Tendeck, a Western Hockey League starter at 18 year of age, is one of the better teenage netminders in his circuit.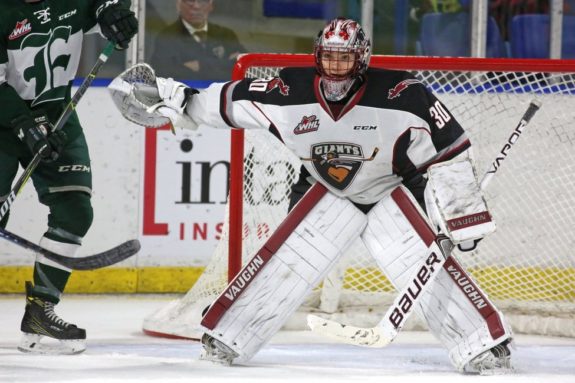 It's worth stating at the outset that the Giants aren't exactly giant-killers in the WHL. The last time they made it past the first round of the playoffs was 2010, and as a result they've been churning through some decent prospects and trying to get their feet underneath them. Those circumstances have created a great situation for Tendeck, though, as he was able to play 22 games as a rookie in 2016-17. He didn't win a ton, but the Giants had the ability to give a young prospect some reps in net to help him develop – it may have been a challenge for Tendeck to crack the lineup card of a deeper squad.
Tendeck's taken advantage of the opportunity. After winning 5 of 22 appearances last season, with an .868 save percentage, he won 25 of 48 games as a sophomore with three shutouts and a .912 save percentage. His percentage ranked seventh among regular WHL netminders and second among draft-eligible goaltenders, just behind Joel Hofer (who played half as much as Tendeck did).
Tendeck's a scrambley goaltender who sometimes seems to be battling the puck. When his style works well, he's a strong netminder who can be a lights-out presence in net – as evidenced by his three shutouts. When it doesn't work, sometimes things go off the rails a bit. Needless to say he needs to improve his consistency, but it's worth noting his improvements since taking the reins in Vancouver.
Related: THW's 2018 NHL Draft Guide
Tendeck is a promising young netminder that has played a lot in the WHL already at the age of 18, and is a good bet to continue to be the go-to guy for the Giants for the next few seasons. If you're the type that subscribes to the notion that goalies need to face a lot of shots to improve, Tendeck's status as the undisputed starter on a transitioning team should be good news. He's already shown improvements in the WHL and if he can add some consistency to his game he could be an effective asset in any NHL organization.
David Tendeck – NHL Draft Projection
Tendeck's performance thus far in the WHL and his prominent position as a starter likely will see him selected in the fourth, fifth or sixth rounds of the draft.
Quotables
"…the ability to read plays is a very important area of his game. He is normally smart about making aggressive moves out at shooters – but needs to work on his recovery when he does make a poor read. Plays tend to spiral out of control at an alarming rate the moment his poor read is exposed. If he misses his spot moving back to his post, look out. It's scramble city. His hands are very good and can compensate for some of these mistakes at the junior level, but won't fly in the professional game." – Greg Balloch, In Goal Magazine
Strengths
Good anticipation and reactions
Effective positioning in the crease
Quick glove hand
Under Construction (Improvements to Make)
Needs to improve his consistency
Seems to be battling the puck sometimes
Still very raw, needs to keep developing his game
Other 2018 NHL Draft Profiles
NHL Potential
For now, Tendeck seems destined to be an NHL backup at the pro level. Improving his consistency or adding a level to his game could raise his ceiling.
Risk-Reward Analysis
Risk – 1.5/5, Reward – 3/5
Fantasy Hockey Potential
Goaltender 7.5/10
Awards/Achievements
Tendeck was named a Western Conference Second Team All-Star in 2017-18.
Interview/Profile Links
Videos