Bob Gainey once said that you can never have enough quality players on your team. This may strike some as stating the obvious, but Gainey meant it in the context of players who bring more than goals and assists, more than grit or tenacity; rather, they bring that quality-without-a-name, the intangible love and respect for the game that every such player expresses in his own way. Taylor Vause, an undrafted stand-out from the WHL, is just that kind of player.
TAYLOR VAUSE
DOB: 28 September 1991
Height: 5'10"
Weight: 176 lbs
Position: Center
Shoots: Right
Former team: Swift Current Broncos (WHL)
Current Team: Free Agent (Undrafted)
As a boy growing up in Calgary, Taylor Vause had something of a tradition on his birthday: he and his friends would head to the Saddledome to cheer on the visiting Swift Current Broncos against the Calgary Hitmen. His father had been a Bronco and he had family in Swift Current; when you're young that's enough to make a loyal fan out of you.
His loyalty to the team however had just begun. After leading his Calgary Royals Midget AAA team in points the Broncos took him in the WHL draft, and he arrived in Swift Current amidst plenty of hype. He had a solid rookie year but when his numbers did not improve the following year, questions arose about his ability to perform at the major junior level.
DIAGNOSIS
Broncos coach and GM Mark Lamb told me that in those early years, Vause was always tired, and it was clear that something wasn't right with his health. Still, the diagnosis came as a shock: diabetes.
It is often said that the hockey world is a small one. If so, the diabetic hockey world is minute by comparison, so it comes as no surprise to learn that following his diagnosis, he received support and encouragement from fellow diabetics Nick Boynton and "the gap-toothed diabetic rink rat" himself, Hall of Famer Bobby Clarke.
Both men assured him that learning to manage the disease would allow him to play the game of hockey to the fullest of his abilities. It was an enormous lesson that Vause first took to heart, and later passed on to some newly diagnosed kids in Swift Current.
As he gained a handle on the disease, the results were borne out on the ice. In his 19 year-old season he began to show flashes of what kind of player he could truly be on a consistent basis, but it was in his 20 year old season that Vause became an elite player in the WHL. According to Swift Current play-by-play man Shawn Mullin, it was a development predicted with uncanny accuracy the summer prior by Dallas Stars assistant coach Willie Desjardins.
Named team Captain by coach Lamb in his final year, he would end the season as the Broncos leading scorer (37-46-83 in 72 games), good for 16th overall in the WHL. He was also in the top 15 in the league in both power play goals and game-winning goals. His tireless commitment to community involvement, emphasized by mentoring kids with diabetes, earned him the 2012 Doug Wickenheiser Memorial Trophy as Humanitarian of the Year in the WHL, as well as the enduring admiration of the Bronco faithful.
"Vause is an excellent skater, very strong on faceoffs, good hands, and he works his tail off," says Mullin. "He may have been 16th in the league in scoring, but he scored 30 more points than anyone else on his team. Every other top scorer in the league (with the exception of Jordan Weal) had at least one other elite point producer at their side all season… if not more. Vause carried a massive load on a team that struggled to score and he still produced at an elite level."
PRO HOCKEY TRYOUT
In March of 2012, with his career as a Bronco at an end, Vause signed an amateur tryout agreement (ATO) with the Texas Stars, the primary AHL affiliate of the Dallas Stars. Just as he made his major junior debut against the Calgary Hitmen, he made his pro hockey debut against the Abbotsford Heat, the primary AHL affiliate of the Calgary Flames.
His arrival in Texas was overshadowed by the anticipated arrival of three Dallas draft picks; Hobey Baker finalist Austin Smith (2007), Boston University's Alex Chiasson (2009) and Team USA goalie Jack Campbell (2010).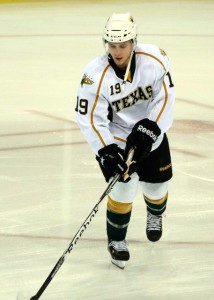 His ATO lasted five games before he broke his foot, but it was undeniably impressive. He outperformed his more highly touted new arrivals in their first five games despite seeing third and fourth line minutes only, and despite skating with linemates not known for their finesse game (such as Eric Godard). Vause scored an opportunistic goal off a turnover against conference powerhouse Toronto; he buried a game-winning shootout goal on a flashy deke against top AHL goaltender Cedrick Desjardins; and on a two-on-one against Hamilton he threaded a pass to Stars enforcer Luke Gazdic who buried it in the back of the net.
UPSIDE / DOWNSIDE
Coach Lamb told me that above all, Vause has superior hockey sense, speed, and puck skills, and that his leadership as Captain was beyond reproach. "He is ready for the AHL," he said. "And once you're there, anything can happen."
Stephen Meserve, who covers the Texas Stars at Hundred Degree Hockey, told me, "Vause brought intangibles of leadership and character along with a scoring touch to the Stars lineup. The nature of his season-ending injury says a lot about him as a player: Blocking shots and commitment to defense was a deficiency on this team this season, and he broke his foot doing just that."
The only noticeable downside is his size, but after saying as much, Lamb seemed to find this hard to defend, and it's no wonder: Lamb, whose own NHL career includes winning a Stanley Cup with an improbable, Gretzky-free Edmonton Oilers team in 1990, was no bigger than Vause in his day. Neither was the aforementioned Bobby Clarke in the 1970s, and neither is Patrick Kane today.
BEYOND HOCKEY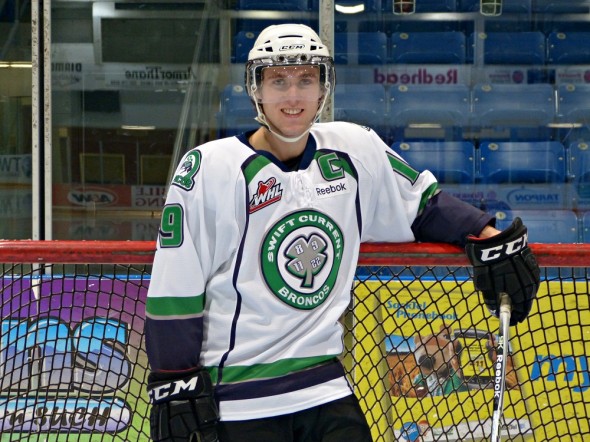 Finally, no profile of Taylor Vause is complete without mention of his graphic design prowess. His NHL Photoshops have a devoted following of their own, and during his final season in Swift Current, Vause designed a memorial jersey to honor the four players killed in a tragic bus accident in 1986 (their numbers can be seen on each leaf of the clover). Auctioned off to benefit the Broncos Education Fund, the jerseys raised over $8,100.
There's little doubt that diabetes slowed Taylor's development in Juniors, and that it likely hurt his chances of being drafted. Yet in accord with Bob Gainey's notion of a quality player, you would never hear Vause say that.
Ross Bonander is a freelance health writer and book editor. He is the editor of 13 quotation collections– six of them hockey-related, including his most recent, Modern Hockey Quotations. His homepage is RossBonander.com.