The Pittsburgh Penguins faithful have very little to complain about recently, as the team now sits in third place in the Metropolitan Division standings despite their slow start to 2015-16. The team has gone 9-2 since starting the season 0-3 and continue to find ways to win, whether it be in blowout fashion or gutting out one-goal victories. Most of their success has been largely due to stellar goaltending but there's not denying that they've seen a ton of improvement up front recently.
However, there's also no denying that this blue line isn't fit for a long-term solution. Change is needed in a major way and I'm not necessarily speaking only to their need to acquire a top-four defenseman. This blue line, currently deployed, simply isn't working out and it's painfully obvious to everyone outside of the Penguins' coaching staff. Or, are they aware of it but unsure of what changes to make?
I give kudos to Mike Johnston for his adjustments to how this defensive group played to start the year. He deployed a system that required a ton of involvement from his blue-liners but found that the Penguins were giving up far too many odd-man breaks with the defensemen getting caught too low in the offensive zone. He didn't completely get rid of their involvement on the rush but if they're pinching low in the opposition's territory you'll notice a forward playing much higher in the zone to cover. It's honestly hockey 101 but something the Penguins struggled with early on.  Pittsburgh is also playing a safer style of hockey and times resorting to a trap-style defense. All of these decisions are being made to insulate this struggling group. But, those aren't the only changes that are needed.
Cole and Letang Pairing Isn't Working Out for the Penguins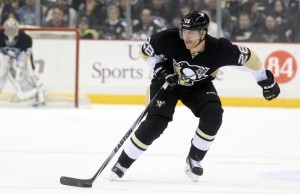 I don't think this is anything new for anyone that has watched this team recently. In what is likely the most basic of underlying numbers in hockey, this tandem's corsi rating tells us a lot about what's happening when they're paired together. With Kris Letang and Ian Cole on the ice, the Penguins' corsi-for percentage is a dismal 45.9-percent according to puckalytics.com. If you aren't a fan of underlying numbers, that essentially means that the opponent is accounting for almost 55-percent of shot attempts during their shifts. An indication that Pittsburgh is spending far too much time in their own end, which is surprising when you consider that both players are such strong puck-movers and by no means lack defensive awareness and execution. Sometimes though, two players just aren't suited to work together.
Of course, you have to ask yourself, what options do the Penguins have? In this scenario, they actually have a lot more options than most may think. A colleague of mine also discussed this pairing earlier today and the topic has circulated throughout the media for a few weeks now. It's widely believed that Olli Maatta should be given the reigns to top-pair duties with Letang and while I don't disagree with the assumption that it would work far better than the Cole and Letang duo, I'm not sure Maatta is the answer just yet either.
Kris Letang likes to take chances on the rush and the Penguins want him to do so. He's a dynamic two-way defenseman that shouldn't be limited in his role. While Maatta is still working his way through some growing pains after missing most of 2014-15 due to injury, the name that makes the most sense is Brian Dumoulin. Are you taking a risk by separating Dumoulin and Ben Lovejoy, since the two have been the best defensive duo for Pittsburgh so far? Sure. But, an emphasis should be put on giving Letang a partner that he can excel with. At this time, Dumoulin is the best bet.
Questionable Personnel Decisions Yet Again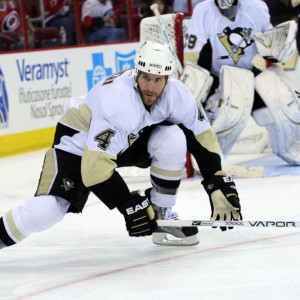 Outside of analyzing line combinations, I often wonder why Mike Johnston and the Penguins coaching staff is so against using Adam Clendening more often. Rob Scuderi continues to struggle and it's extremely evident when facing young, speedy teams like the Calgary Flames. When you're playing three games in four nights on a road trip that concludes with a team built like that, why not insert fresh, young legs into the lineup? This defensive group is far from set in stone and this is the time of year to find out what you have prior to making trades.
Clendening hasn't been spectacular in the small amount of time-on-ice that he has received so far. But, he has been better than both Scuderi and Ben Lovejoy in most cases. In a situation like the Penguins were in this past weekend, with back-to-back games against teams built on the premise of speed and offense, Clendening should have seen the ice. Would he have been the change that Pittsburgh needed to pull off a win against the Flames? Probably not, especially considering that when the puck was behind Marc-Andre Fleury, it was usually Cole and Letang in front of him with their heads hanging. But, it surely wouldn't have hurt.
I'd like to see the following defensive pairings going forward…
Brian Dumoulin – Kris Letang
Ian Cole – Ben Lovejoy
Olli Maatta – Rob Scuderi/Adam Clendening.
It's only a matter of time until Maatta finds his normal level of play. It's also only a matter of time until the Penguins make a move to address this group via the trade market that's shaping up nicely for those in search of blue-liners. Until then, it's up to Johnston to make a the right decisions with the group currently in place and so far, he isn't.
Pittsburgh Penguins writer for TheHockeyWriters.Com and PittsburghHockeyNow.Com. Youth hockey coach, and student of the game.