Following Mike Babcock's departure, Hockeytown had high hopes for Jeff Blashill's first season as the Detroit Red Wings coach. The former Grand Rapids Griffins coach already had experience working with most players on the roster between his AHL coaching stint and one year on Babcock's staff.
After a stellar performance in the 2015 playoffs, Petr Mrazek came into camp battling Jimmy Howard for the starting goaltender position. It took until mid-season and a string of fantastic outings for Detroit to finally announce Mrazek as their starter. Howard would reclaim the role soon after and lead the Red Wings to the playoffs.
Up front, Pavel Datsyuk started the season injured, but quickly regained form upon his return. In his absence, Dylan Larkin made the roster and took Detroit by storm. He combined with Henrik Zetterberg and Justin Abdelkader to form a solid top trio. The troupe started the season on fire, but finished the year in a rut. Other impact players like Gustav Nyquist and Tomas Tatar had up-and-down seasons as well, though their minutes were limited by the presence of Brad Richards and Darren Helm in top-six roles. Detroit's sputtering power play also did not help their statistics.
While the Red Wings made the playoffs for yet another season, they were a quick out at the hands of Tampa Bay in the first round. Surely, Detroit was expecting more from a talent team.
Detroit Red Wings 2015-16 Record: 41-30-11 (3rd in the Atlantic Division)
Offseason Moves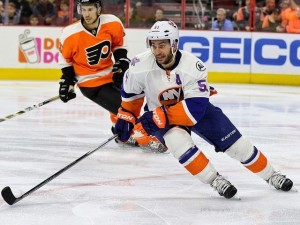 Key Roster Additions:
Frans Nielsen – C
Thomas Vanek – LW
Steve Ott – LW
Key Roster Losses:
Pavel Datsyuk – C
Brad Richards – C
Kyle Quincey – D
Key Organization Changes:
Following the conclusion of the 2015-16 season, the Red Wings made significant changes to their coaching staff. With defensive assistant coach Tony Granato already hired to become the University of Wisconsin Men's Ice Hockey program's head coach, Detroit was already looking to hire someone to guide the defense. A few weeks into the offseason, they tapped former Red Wings defenseman Doug Houda to coach the defensemen. Houda had been Boston's defensive assistant coach for the past ten seasons.
Detroit also made a change with their goaltending coach position. Long-time coach Jim Bedard did not receive a contract extension after 19 years on the job. Bedard was replaced by Grand Rapids Griffins goaltending coach Jeff Salajko, who already has experience working with Petr Mrazek in the AHL.
Finally, offensive assistant coach Pat Ferschweiler was reassigned to an "eye-in-the-sky" press box role. He'll continue to work with players in practice to refine their skills. Replacing Ferschweiler on the bench will be former Minnesota Wild coach John Torchetti, who will manage forward deployment and the power play. In his time as the Wild's coach, Torchetti helped revitalize a struggling offense — something Red Wings fans are glad to hear.
Forwards:
Projected Lines:
| | | |
| --- | --- | --- |
| LW | C | RW |
| Henrik Zetterberg | Frans Nielsen | Gustav Nyquist |
| Justin Abdelkader | Dylan Larkin | Tomas Tatar |
| Darren Helm | Riley Sheahan | Thomas Vanek |
| Drew Miller | Luke Glendening | Andreas Athanasiou |
Extras/Injuries: Steve Ott, LW; Tomas Jurco, RW; Teemu Pulkkinen, RW.
Because Pulkkinen will likely begin the year on injured reserve, Anthony Mantha could start the season with the Red Wings. His presence in the lineup could cause Darren Helm to be shifted to the fourth line and force Drew Miller out of the lineup.
Of the 15 forwards on the Red Wings' roster, a few will have the magnifying glass on their play this season. Let's take a look at three forwards whose personal success will be key to yet another Red Wings playoff appearance.
Henrik Zetterberg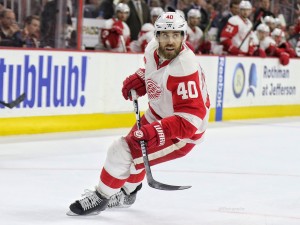 After entering the 2015-16 season on a high note and finishing the year in a terrible slump, Henrik Zetterberg will look to produce a more consistent 2016-17 campaign. The captain led the Red Wings in points last year, but only with 50. If the Red Wings are going to compete without Pavel Datsyuk in the lineup, they'll need Zetterberg to up his game on the ice.
Dylan Larkin
After a breakthrough rookie campaign, the Red Wings are hoping Dylan Larkin will take another step forward during the 2016-17 season. When Larkin returns from his tour of duty with Team North America of the World Cup of Hockey, the Red Wings expect the former center to return to his natural position following a year of playing on Zetterberg's wing. Time will tell if Larkin sticks at center.
Thomas Vanek
When the free agency period began on July 1st, Ken Holland inked recent buy-out Thomas Vanek to a low-risk, one-year contract. If Vanek can contribute 20 goals to an offense that underperformed last season, the Red Wings' $2.6 million investment in the former star will have paid off.
Defense:
Projected Pairings:
| | |
| --- | --- |
| LD | RD |
| Niklas Kronwall | Danny DeKeyser |
| Brendan Smith | Mike Green |
| Jonathan Ericsson | Alexey Marchenko |
Extras: Xavier Ouellet, D.
With only Alexey Marchenko away at the World Cup of Hockey, this fall coaches Jeff Blashill and Doug Houda will have plenty of time to mix and match defensive partners in an attempt to find the best pairings. And with Marchenko missing training camp and most of the preseason slate, players like Xavier Ouellet, Ryan Sproul, and Robbie Russo will have a chance to step up and earn time with the Red Wings.
Here are three Red Wings defensemen who could make a significant impact next season:
Brendan Smith
In the past, Brendan Smith has been the whipping boy of Red Wings fans and media. Now, he's an offensive defenseman who's finally rounded out his game in the defensive zone as well. Most believe Smith deserves more minutes, and he'll get a chance to prove that when training camp opens up later this month.
Alexey Marchenko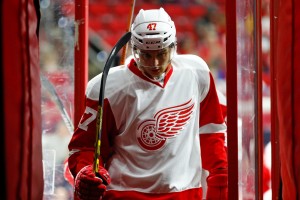 Considering Team Russia's World Cup defensive lineup, Alexey Marchenko could play significant minutes against the world's top competition. He could then parlay a fantastic international performance into an even better 2016-17 NHL season. Despite possibly starting on the third defensive pairing, look for Marchenko to earn more minutes as the season progresses.
Niklas Kronwall
There's no hiding the truth: Niklas Kronwall had a poor 2015-16 season. That statement also includes the fact that Kronwall was dealing with a knee injury throughout the season. If Kronwall is indeed 100% coming into the new season, the Red Wings could see their defensive stalwart return to form.
Goaltending:
While the same two goalies enter camp tending the crease for the Red Wings, there is more certainly about their roles than the last year. Petr Mrazek is penciled in as the number one goalie in Hockeytown with Jimmy Howard serving as his backup. This depth chart listing, however, will not stop Howard from proving his worth and earning more starts with a strong performance. On the other hand, Mrazek will be given the opportunity to take charge of the Red Wings' crease and maintain his starting status throughout the season.
Breakout Player: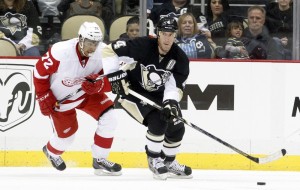 Once the season begins, look out for Andreas Athanasiou to make an encore appearance. The speedy forward burst onto the scene last year following his call-up and made an immediate impact. Though he may start out on the fourth line, it will not take long for Athanasiou to garner more playing time from Blashill. He could even see penalty kill time as well.
Player with Most to Prove:
After signing a new contract over the summer, Danny DeKeyser will have to prove he's worth the big bucks. DeKeyser's six-year contract will keep him in Detroit until his early 30s and will pay him to be one of their best defensemen. It's up to DeKeyser and the coaching staff to see that he becomes just that.
First Players in the 'Call-Up' Line: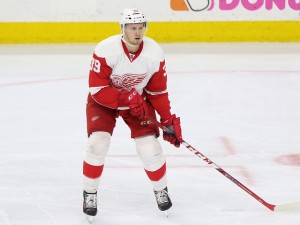 Depending on who goes down with an injury, the Red Wings have a number of viable call-up options in Grand Rapids. First and foremost, Detroit would like to see Anthony Mantha in a top-six role if a spot opens up. If the bottom-six requires an additional skater, Tyler Bertuzzi could receive a phone call from Holland. On defense, Ryan Sproul or Robbie Russo could get a look, though the former will need to clear waivers before being called up.
Season Outlook:
Losing Pavel Datsyuk may be a blessing in disguise for the Red Wings. They will no longer rely on the aging superstar to carry the team, but instead, will have to create offense of their own. Otherwise, Holland, Blashill, and company will make changes.
The Red Wings have the talent to surpass their regular season record from a year ago. And if Tomas Tatar, Gustav Nyquist, and Niklas Kronwall can return to form, the Red Wings will indeed do so. Petr Mrazek has shown the Red Wings have a bright future in net, but will have to show more consistency this season. Perhaps a strong World Cup of Hockey showing could push Mrazek into mid-season form as the Red Wings enter the 2016-17 campaign.
Detroit Red Wings 2016-17 Record Prediction: 46-29-7 (3rd in the Atlantic Division)