The Florida Panthers have signed restricted free agent forward Jonathan Huberdeau to a six-year contract extension worth $35.4 million, the team announced on Wednesday.
Jonathan Huberdeau's #FlaPanthers extension includes a NMC starting in 2019-20. It becomes an eight-team NTC for the final year.

— Chris Johnston (@reporterchris) September 6, 2016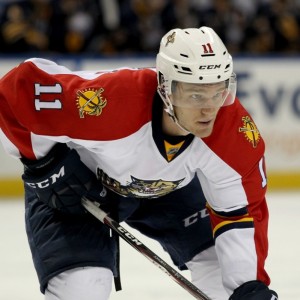 Huberdeau, 23, registered career highs in goals (20) and points (59) in 76 games in 2015-16. Huberdeau made headlines earlier this offseason when the South Florida Business Journal reported on June 24 that he purchased a $2.9-million home in Ft. Lauderdale, which is located near where the Panthers play in Sunrise, Florida. Despite being unsigned with the Panthers at the time, it at least gave fans hope he would re-sign with the club that drafted him third overall in the 2011 NHL Entry Draft.
Huberdeau is part of a young group of core players that include forwards Nick Bjugstad, Aleksander Barkov, and defenseman Aaron Ekblad, each of which has now been signed to long-term deals with the organization. On July 1, Ekblad signed an eight-year, $60 million contract extension that keeps him in a Panther uniform through 2025.
The Panthers have built a team made up of a strong mix of younger players and led by veteran players like forward Jaromir Jagr, defenseman Keith Yandle and goaltender Roberto Luongo. At the end of 2015-16, Jagr signed a one-year contract extension to stay with the club and has spoken about how much he enjoys being a part of the organization.
Steven is a lawyer and writer with a passion for the game of hockey. He's the Lead Writer covering the Tampa Bay Lightning with THW. He's also been press credentialed through the Lightning since 2016. His work has been published at The Fourth Period, LightningInsider.com, Bolt Prospects, The Sports Daily Network, U.S. College Hockey Online and College Hockey News. He's had radio appearances on TSN 690 in Montreal, Lightning Power Play Live and multiple podcasts to give insight and analysis on the team. He can be reached on Twitter @StevenDiOssi and by email at sdiossi@gmail.com.