It's finally over.
After a lengthy dispute that lasted 111 days after free agency opened, Andreas Athanasiou is officially coming back to the Detroit Red Wings. The two sides were $600,000 apart in negotiations that included weighing a KHL offer and a trip to Switzerland. Friday, the two sides settled on a one-year deal worth $1.387 million to end the stalemate.
While it is a relief to have Athanasiou's game-breaking ability back in the lineup, general manager Ken Holland is not out of the woods. That's why the 23-year-old's contract was agreed to "in principle." According to CapFriendly, the Red Wings have $0 in cap space, about $20,000 in long-term injured reserve space, and zero waiver-exempt players on the roster.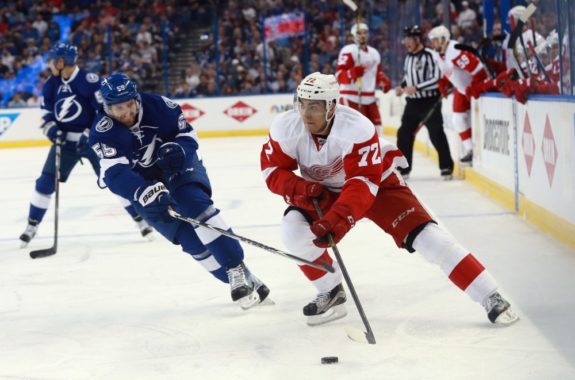 There will be a period of downtime as the London, Ontario native makes his way back to the States. He has business to take care of to get a work visa, travel back to Toronto, and condition himself over the next week or so. In this timeframe, the team will have to clear about $1.4 million in cap space in order for "Double A" to be eligible for the roster.
Thankfully for Holland, there is an abundance of moves he can make to get the Wings cap compliant.
Long-Term Injured Reserve
If Detroit wants a temporary fix until they can find a trade partner, there is the option of putting a player on long-term injured reserve.  A player put on LTIR must miss a minimum of ten games or 24 days of the NHL season. The Wings have Johan Franzen and his $3.954 million cap hit on the shelf as relief with his playing days all but over.
Defenseman Danny DeKeyser has been out since blocking a shot on October 10 and is a candidate to go on the injured list if the pain persists.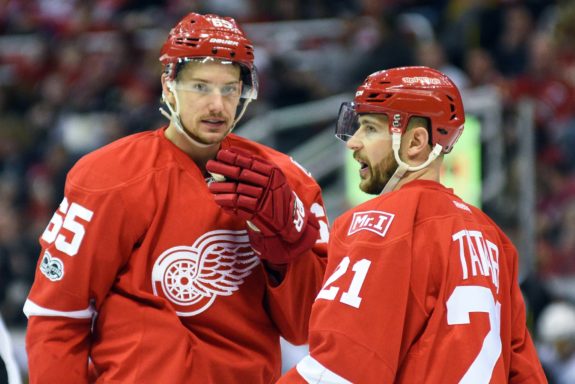 Niklas Kronwall and Jonathan Ericsson are relatively healthy at the moment, but if something were to happen after or during DeKeyser's stint, they too could be candidates with a nagging knee injury and hip pain respectively.
LTIR is ironically the most painless move for the Wings in terms of losing players. However, as mentioned before, it is temporary, serving the purpose of a grace period for the team to gauge the roster. If Athanasiou were to come back in that time frame, his return would create quite the logjam of competition for a top-nine spot. From there, Detroit would choose expendables.
Towing the Waiver Wire
Detroit's bottom six has a surplus of bubble players. David Booth and Luke Witkowski have been interchangeable on the fourth line, while Martin Frk has held a firm grip on a spot in the top-nine either on Dylan Larkin or Frans Nielsen's wing. Since Booth was signed on a player-tryout to begin with, he looks like the odd man out on the waiver wire.
The 32-year-old's two-way contract, if sent down to the AHL, would be buried. The minimum salary for this season ($650,000) plus the buried contract standard ($375,000) equals $1,025,000 of relief for deals sent to the minors under the CBA. This covers Booth's $700,000 cap hit. The same goes for Witkowski and his $750,000 slice of the cap, even though he's on a one-way contract.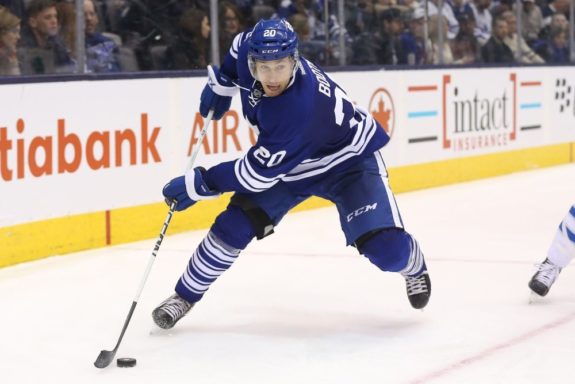 While fans may hope for it, it's highly unlikely that an overpaid veteran like Ericsson gets waived. This is due to his valued contributions vouched for by teammates and the development of up and coming defensemen that need ice time in Grand Rapids. A buyout in the summer would bring better relief as Anthony Mantha, Larkin, and Athanasiou's new contracts linger.
Utilizing the waiver route frees up a roster spot for Athanasiou. However, like LTIR, another move would likely need to follow in order to clear the amount of space required for his deal to be valid. This could be completed with the use of an ever-popular suggestion, the trading block.
Trading a Roster Player
Riley Sheahan's name probably passed through your mind and for a good reason. The Wings, according to Sportsnet's Elliotte Friedman, had a potential deal with the Pittsburgh Penguins all but agreed to in the preseason. Defenseman Derrick Pouliot likely would've been part of the return.
At his season-opening media conference, Penguins GM Jim Rutherford indicated there were three options for the Penguins to consider. Riley Sheahan is one, and I think the parameters are all but agreed to. (I'm wondering if Derrick Pouliot is a possibility, he seems like a sensible gamble for Detroit.)
However, the deal never materialized and Pouliot has since moved on to the Vancouver Canucks. Now that Athanasiou is nearly back in the fold, a trade is almost certain to happen. Sheahan is still the most sensible piece to move with one year and $2,075,000 left on his contract. This monetary mark could be cleared in a deal for a mid-round pick or mid-level defensive prospect.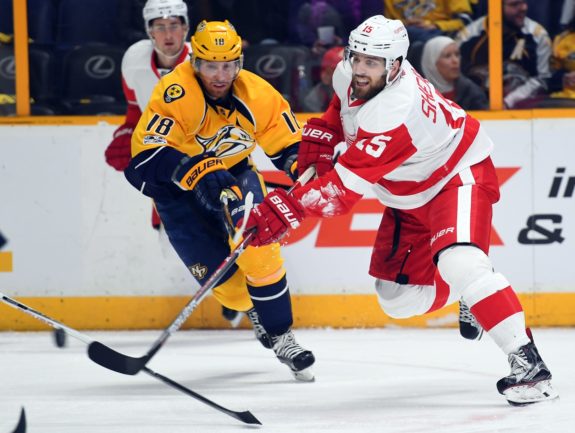 At first glance, it would be smart to hold off on a Sheahan deal until he can improve his stock. Common sense says that he should bounce back from a historically depressing 2016-17 campaign where he was held scoreless for 79 games. However, there's no room for him to do so in Detroit.
Not Many Trade Candidates
Even before Athanasiou decided to come back, Detroit's top nine was set. There was zero opportunity for Sheahan to improve his offensive game next to Luke Glendening, Booth, or Witkowski. He's only fired five shots in eight games this season posting a Corsi-for percentage of 48.21%. Plus, he's played over ten minutes just twice. It's clear he needs a fresh start.
There's not really much in the way of an alternative on the trade route with the number of immovable deals Holland has amassed over the years.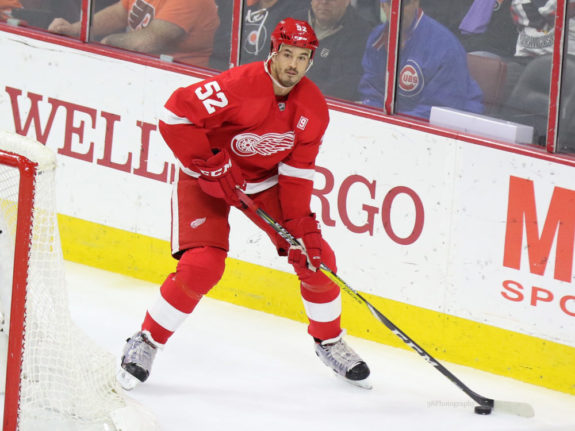 Justin Abdelkader ($4.25 million) and Darren Helm ($3.85 million) have no-trade clauses. Ericsson ($4.25 million) and Kronwall ($4.75 million) are damaged goods. Glendening ($1.8 million) has little value other than being a true fourth-liner. Nielsen ($5.25 million) is valued by the team as a leader and has a no-movement clause.
Each of these players is easily replaceable for teams around the league and would not be worth a pick or asset needed to sweeten the pot for a potential deal. Sheahan is the best candidate and most intriguing case with his prior success. He's scored 14 goals and 36 points before and could get back to that level if given an opportunity in a top-nine role.
It's best for Detroit to get what they can for him right now.
We'll "Siou" Real Soon
A combination of these moves will allow the Red Wings to bring their most electrifying player back into the fold. With Mantha, Larkin, and Frk taking steps this season as younger contributors, Athanasiou will add another element with his incredible speed. He'll likely flank Nielsen on the third line when the process is complete.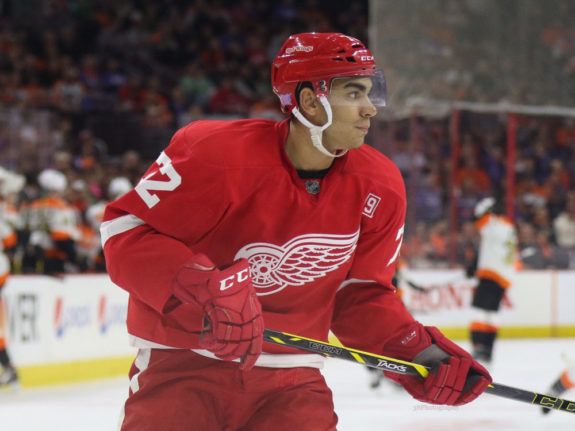 Holland and head coach Jeff Blashill didn't mince words when mentioning the situation. They both wanted him in the lineup from the start of the ordeal. While the holdout did not improve the already critical relationship between the player and coach, the opportunity is here for Athanasiou to ultimately prove what he thought he was worth.
That mission will begin on Holland's call with an evaluation of the roster in the coming days.
Griffin is a Junior at Northwood University in Midland, Michigan pursuing a Sports and Entertainment degree. His passion of writing began when Detroit Red Wings captain Henrik Zetterberg was out for the season in 2014 and he wanted to give his thoughts. Griffin comes from LastWordOnSports.com where he had the role of "associate editor" and wrote nearly 300 articles over three years for their hockey department.