Pavel Datsyuk is 34.  Henrik Zetterberg is 32. Out of all the pieces of news that have left Detroit fans unsmiling, none are as serious as these.  Some "low-information" fans still make the erroneous claim that Datsyuk and Zetterberg are the "future" of the team, but their ages mean that they are destined for a slowdown in production, and that future date isn't exactly that far up the road.
Anyway, without numbers 13 and 40 mesmerizing and dominating the way they can, Detroit is left with nothing.  The front office clearly saw this coming, which is undoubtedly why Detroit has stockpiled a number of celebrated forwards from the junior ranks during previous draft days.  While it's unlikely any of them can rise to the level of Hart Trophy candidates (Datsyuk) or Conn Smythe winners (Zetterberg), there is every reason to believe that the next wave of European exciters will be able to rush the Red Wings up the ice and into continued success, and perhaps even Stanley Cup glory.
With attractive free agents not feeling confident in signing in Detroit, it's clear that the Red Wings' success will have to come from within.  But, as the Elf Witch in "The Lord Of The Rings" said: "Do not let your hearts be troubled."  Each player listed below comes with great praise and excitement.  Most of us in North America will not be able to see these young skaters work their magic outside of Youtube for a time yet, but after seeing their videos myself, the praise and excitement is warranted.  Now, let me present the players who really are the "future" of the team.
Tomas Jurco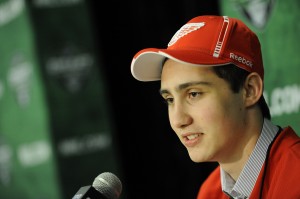 Jurco was dropping so many jaws with his ability to "make the puck talk", that NHL.com featured the young Slovak in their video section doing things with the rubber disc that would amaze the previously mentioned Elf Witch.  Of course, there is more to hockey than tricks with the puck.  Much more, and Jurco has looked like the 19 year old rookie that he is in his first few outings with Grand Rapids.  But Jurco's numbers while playing for St. John's in the QMJHL were impressive, and he put them up with style.  Everyone who has spent time watching the fresh wizard is all but certain he will reach star status in the NHL.  The only question has been when this will happen.
Calle Jarnkrok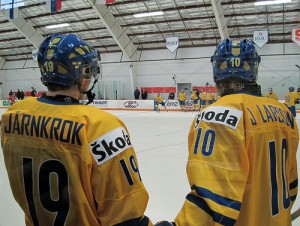 Out of all the skaters with star potential that Detroit has in its system, "Ironhook" is the one mentioned the least.  This is foolish, because the shifty righty currently playing for Brynas in the Swedish Elite League is dynamite.  Often compared to Henrik Zetterberg (Jarnkrok is a more fluid skater), Jarnkrok has the vision and the on ice awareness to excel while wearing red and white.  The most important skill for players to hone, other than skating, is passing.  Players demonstrate how well they understand what is happening on the ice with their ability to make and receive intelligent passes.  This is Jarnkrok's greatest strength, and I expect him to be a regular producer for Detroit in seasons to come.
Teemu Pulkkinen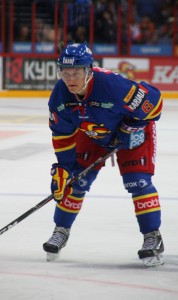 There may be such a thing as having too many skilled passers on your squad.  Whether Detroit has suffered from this malady or not is up for debate, but the master blaster from Finland, Pulkkinen, will not hear screaming pleas from the bench, or the stands, to "shoot the puck!"  It's up for grabs over who Detroit is more excited for: Jurco or Pulkkinen.  These are the two prospects that most agree possess the largest amount of raw skill waiting to be harnessed.  Pulkkinen has an absolute scorcher of a shot.  He plays on his off wing (left) during the man advantage, and beats goaltenders in a way that will remind viewers of Ilya Kovalchuk and Steven Stamkos.  Pulkkinen is off to a slow start in his final season in Finland, and has drawn the ire of fans as a result.  Let's hope his gun is simply jammed because of a boredom in Finland and a desire to get to Detroit, because a gun is what he has, and what Detroit needs.
Martin Frk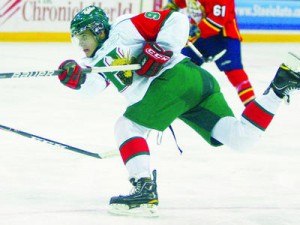 On the Facebook page for the Halifax Mooseheads, Frk's current squad, scoring updates contain the full name of the player who has lit the lamp.  Except when the goal is scored by Frk.  Such scoring updates simply say "Marty."  It's always a good thing when players make an impact on the fan base to a point where they are recognized by a nickname, or a shortening of their own.  By all accounts, Frk is a classic steal made by a Detroit organization who is known for doing so.  Frk (pronounced "ferk") is in the Jiri Hudler mold, but seems to be much more willing to go to the net, and possesses a determination that Hudler did not.  His skating needs improvement, much like Hudler's did, but a more determined Hudler with a nose for the net should work out very well in the Motorcity.  Expect to see "Marty" on Detroit scoring updates in the future.
The next decade of Detroit Red Wings hockey may be the first we have seen in over twenty years where the Wings do not have a player on their roster that can legitimately be called "the best player in the world."  Steve Yzerman and Sergei Fedorov earned this label during the 90's.  Pavel Datsyuk and Henrik Zetterbeg earned it during the 2000's.  But if this happens, it will amount to little more than a blow to our pride.  Four or five very good players basically equals one or two sensational ones.  If this does not happen, it is anyone's guess who will fill the skates of the legends we have been so privileged to watch in Detroit.  The four players above should narrow down your guesses.